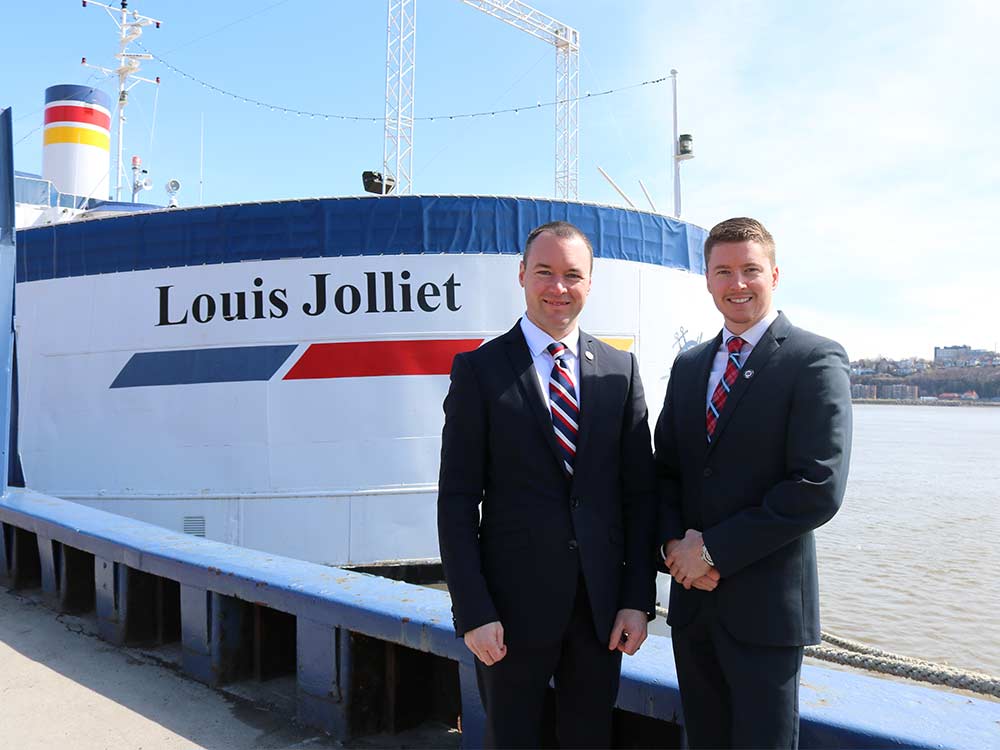 AML Cruises toward success
Yan Hamel's Story
Yan Hamel took over the helm of AML Cruises from his father and uncle. Today he leads the family business along with his brother. 
AML Cruises has always been a part of Yan Hamel's life. Born in 1972, two years after the cruise company was founded by his father, Édouard, Hamel grew up with the business. "I was around when we took over several ships like the Louis Jolliet, I saw the arrival of disco, which really helped our business, the first cruises on the Saint Lawrence... And I also worked on the boats as a sailor," recalls Hamel, who today is president and CEO of AML Cruises.
In 1997, after completing his studies in industrial engineering at Université du Québec à Trois-Rivières, Hamel had only one goal: to get involved in the family business. First working as an employee of the company, he later became a shareholder in 2000 before buying out the shares of his father and uncle, Yves, in 2006. He then for a time became the only man at the helm of AML Cruises. "We made many investments, not just in boats but in the creation of new products," states the 44-year-old.
Over the following 10 years, AML Cruises effected a wave of acquisitions in Quebec, including the purchase of 50 percent of the shares of Croisières Lachance.
"We bought out companies that didn't have any line of succession but wanted the business to continue. There aren't a lot of buyers willing to invest and make sacrifices in this sector."
– Yan Hamel
Keeping it between brothers
Today, AML Cruises is the largest cruise company in Canada. It offers dinner and brunch cruises as well as guided excursions on its fleet of ships travelling the river around Montreal. AML Cruises also includes the travel agency Voyages AML, which specializes in cruise packages within Quebec. AML Cruises employs around 725 people during the province's high season for tourism.
The company welcomes aboard 550,000 passengers annually, of which 65 percent are visitors from outside of Quebec. "Our customers are comparing us to experiences they've had elsewhere. That's why we work hard to make our cruises world-class," says the businessman. To meet such a big challenge—and because he really needed the help at the time—Hamel asked his younger brother, Loïc, to join the company in 2016. Since then, the two men have co-managed the family business, as their father and uncle did before them.
Their roles at AML Cruises are based on their respective strengths and preferences. With a background in engineering consulting, Loïc is in charge of operations—repairs, preventative maintenance and crew management. Yan oversees the company's development, sales and marketing. "The Saint Lawrence River is the lifeblood of Quebec's tourism industry," he states. "That's how we see things, and we're believers. In our worldview, we see ourselves as ambassadors for the province." 
Standing out from the crowd
AML Cruises makes a point of investing in its products, which number close to 50 today, whether the company has had a good year or a bad year. This year is no exception, as seen in its recent circus-themed cruises, during which Quebec circus artists push the limits to entertain passengers.
Their constant concern for quality is what enables AML Cruises to stand apart from its Quebec competitors. "Tourists have limits in terms of time and money," explains Hamel. "So we need to present them with products that are entertaining and different than what is offered elsewhere in the province."
Luckily, the weak Canadian dollar, worldwide growth of tourism and enviable reputation of both Quebec and Canada work in AML Cruises' favour, not to mention the infinite potential of the company's stock in trade. "The river is huge! Quebecers don't know the Saint Lawrence all that well, even though it's right in their backyard," says Yan in closing. 
AML Cruises in Numbers
24: Number of boats in the company's fleet
10: Number of ports in which their ships are anchored
30%: Company's growth over the last three years
Want to learn more?
Visit the AML Cruises website