Entrepreneur Stories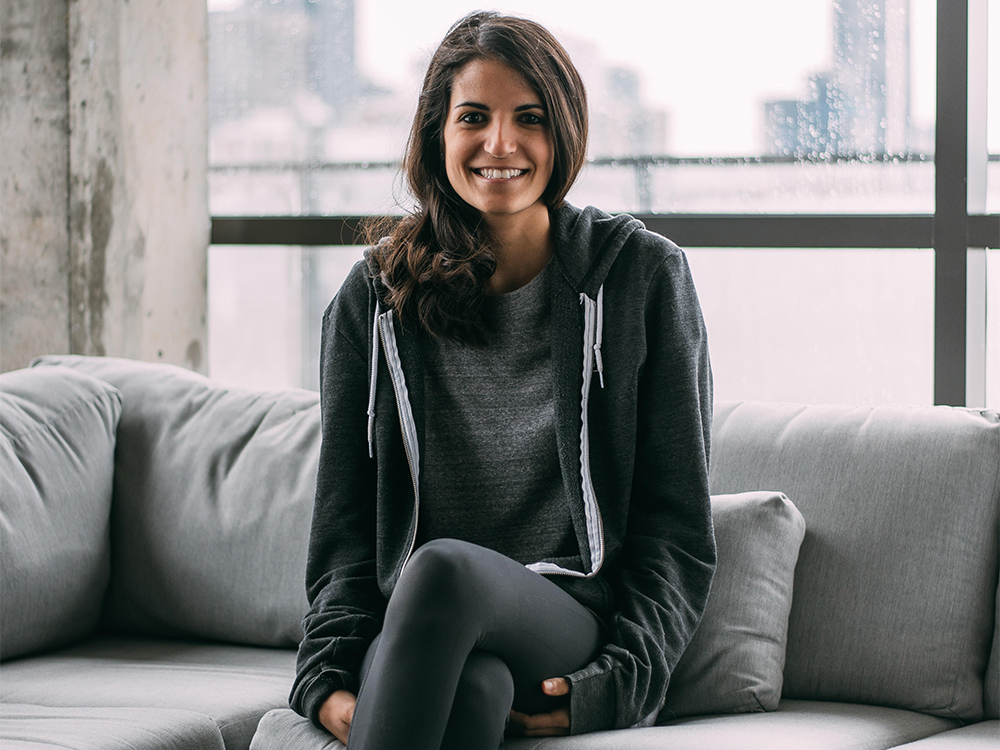 Crew and Unsplash: Connect to Create
Stephanie Liverani's Story
Thursday, August 25, 2016
Stephanie Liverani cofounded Crew in 2012. Her goal? Connect creative freelancers to clients with web-based projects. Unsplash, a parallel web platform, offers free artistic photographs that have been downloaded over 700 million times around the world. This is a portrait of a young, ambitious entrepreneur whose creativity lives beyond the 9 to 5 workweek.
Stephanie Liverani worked for an insurance company after completing her studies in actuarial science. "When I would get home from work, sometimes I would cry in my car. I found my days very repetitive." Her partner, Mickael Cho, suggested they start their own business. She quit her job and cofounded Oomf in 2012 (which became Crew a year later) with him and two other partners.
Crew: Bringing Creatives Together
At first, her family thought she was making an unplanned decision, but ultimately, it became clear that she had thought it through thoroughly. By joining forces to create what has become Crew today, the four entrepreneurs aimed to connect quality creatives with clients to produce digital projects. The face of today's market is changing rapidly and freelancers are thriving.
With Crew, Stephanie wanted to create a custom-fit workspace for this new cohort of workers interested in having more freedom. "There isn't a fixed schedule at Crew. And an employee's presence at the office isn't always required. Employees, much like freelancers, manage their own schedule and it works flawlessly," she stresses.
Even if Stephanie Liverani cultivates this sense of latitude in her role as head of operations, Crew's business model is based on the rigour and quality of its 380 recruited freelancers. Developers, for example, must have worked on at least 5 applications that garnered 4 stars or more on iTunes. As well, Stephanie Liverani doesn't hesitate to turn away client projects that aren't completely aligned with the company's philosophy. 
"I don't play the role of a boss just to be the boss. I hire people with expertise and listen to their advice. That is what's valuable."
The Business Continues to Expand
Stephanie Liverani also started Unsplash in 2013, a website where you can download original, exclusive and free photos. "It was started by accident," she says. Crew uploaded royalty-free photos to their website, and by the next day, they had been downloaded more than 25,000 times. The entrepreneurs jumped on the opportunity and continued to build on this momentum, taking the experience to even greater heights. As a result of this growth, Stephanie and her partners at Unsplash are currently developing a strategy to take better advantage of the high traffic it receives.
On the other hand, things are going well at Crew. During the spring of 2016, after a third round of funding the business moved into Royal Bank's former headquarters. In addition to having new desks, the space now holds a coffee shop as well as a collaborative work place. You can also order food and coffee online directly from your workstation. "We really wanted to cater to freelancers by offering them an inspiring space," explains Stephanie Liverani.
Discover also : The FoodRoom: A collaborative kitchen for culinary artisans
Though Crew has proven itself as a tech-friendly business, it aims to replicate its model in other creative sectors. Just talking about what tomorrow may bring to her company excites the 27-year-old entrepreneur. "I'm happy when I wake up every morning. I always have new challenges that I tackle with my husband. We make a good team," she concludes.
Crew and Unsplash in numbers
36: number of employees

27: Stephanie Liverani's age

11: The investment received in millions of Canadian dollars

4: The turnover in millions of Canadian dollars

50,000: The number of projects evaluated
Want to find out more?