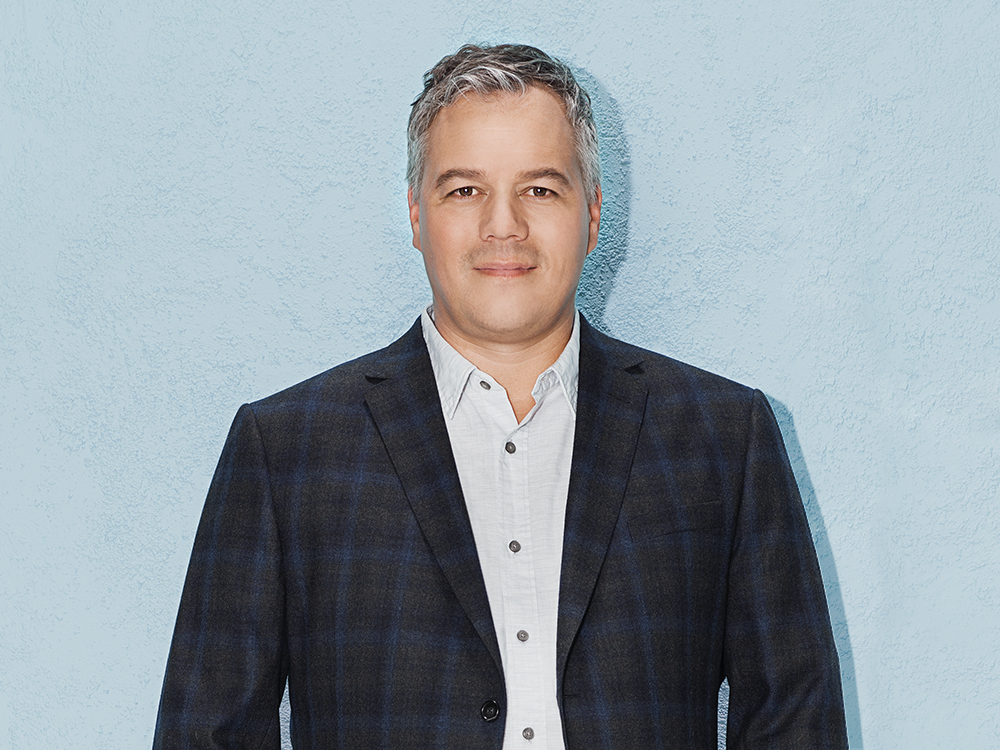 Daring to start over from Scratch
Sébastien Moreau's Story
Sébastien Moreau had a promising career and a very enviable salary as a special effects artist, but he chose to take a leap of faith and create his own company. Rodeo FX, a Quebec digital visual effects studio, has earned a solid reputation and regularly contributes to film and television blockbusters.
As is often the case in business, this success story began with the seizing of an opportunity on the fly. In 2006, Sébastien Moreau was a high-profile visual effects artist in California. He had worked for many of the major special effects studios on productions including Star Wars and Lord of the Rings. When a colleague informed him that he was heading out to Montreal, Sébastien Moreau jumped at the chance to offer him his company's services... the only problem was, he had yet to establish his company!
« I had no children, no condo, no wife. I figured that even if I invested my personal savings and went broke, I could always start again from scratch.  »
 
An inspired entrepreneur
So he quit his job as a special effects artist at George Lucas' renowned studio, Industrial Light and Magic (ILM), and returned to Quebec to establish Rodeo FX. It was the beginning of an entrepreneurial journey that has shown no signs of slowing down any time soon. This year marks Rodeo FX's tenth anniversary.
 
"I had a vision and was determined. I listened to my gut, but understood that some things are beyond our control," he reminisces.  "The first investors I met," he continues, "told me that they do not invest in bankruptcy ... Entrepreneurs need to listen to their instincts when deciding who to keep in their network. "

Sébastien Moreau consulted with an advisory board and together they established a solid financial structure that allowed Rodeo FX to take on ambitious projects.

"Rodeo FX started slowly. The speed of growth needs to match the company's means. It's like rock-climbing: you have to grasp and cling to the hold before thinking about the next move," he explains.
 
Rodeo FX: The collaborative innovation laboratory
In a highly competitive and ever-changing market, a company like Rodeo FX must constantly innovate to stay on the cutting edge of technology. Rodeo FX owes its reputation for excellence to the way it approaches innovation. The Montreal company counts on its 30 programmers dedicated to research and development to continuously improve the company's digital tools. 

Surprisingly, the studio never hesitates to collaborate with competitors in order to improve its production tools. However, those familiar with the special effects industry understand that this collaborative spirit is no new phenomenon. "We are above all artists who face similar challenges," explains Sébastien Moreau. "When we decide to work with Pixar or ILM, we are trying to solve the same problems. Why not join forces and do it together?"
See also: Management that is constantly evolving
Quebec: A world leader in special effects
Today, Rodeo FX plays in the big leagues and is one of the most prominent special effects companies in the field. They've recently been signed to do the special effects for Luc Besson's latest film, Valerian and the City of a Thousand Planets, whose $197-million budget makes it the most expensive film in the history of French cinema. HBO, Universal and Warner Brothers are some of the other prestigious clients that can be found in the Montreal firm's portfolio. Acknowledgement of Rodeo FX's excellence by its peers was made evident by three consecutive Emmy wins for their work on the television series Game of Thrones. They have also recently attracted more positive attention from the community and the public for their involvement in Denis Villeneuve's film Arrival.
 
Sébastien Moreau owes the company's success to his highly qualified teams, trained in excellent Quebec institutions.

"With the rapid growth we face, one of our main challenges is talent management. Quebec has excellent training programs based on a tradition that combines creative fluency and technical finesse. Although talent is not hard to come by, it is not always easy to retain," says Sébastien Moreau.

Rodeo FX continues to garner honours in the field and is not about to stop any time soon. Sébastien Moreau, who took a risk and left everything to start his own business, is still enjoying the climb!
Rodeo FX in Numbers
400: number of employees throughout the company's 3 offices in Montreal, Quebec City and Los Angeles
50: revenues in millions of dollars
76%: studio's annual growth
30: number of programmers dedicated to research and development
Want to know more?
Visit Rodeo FX's website