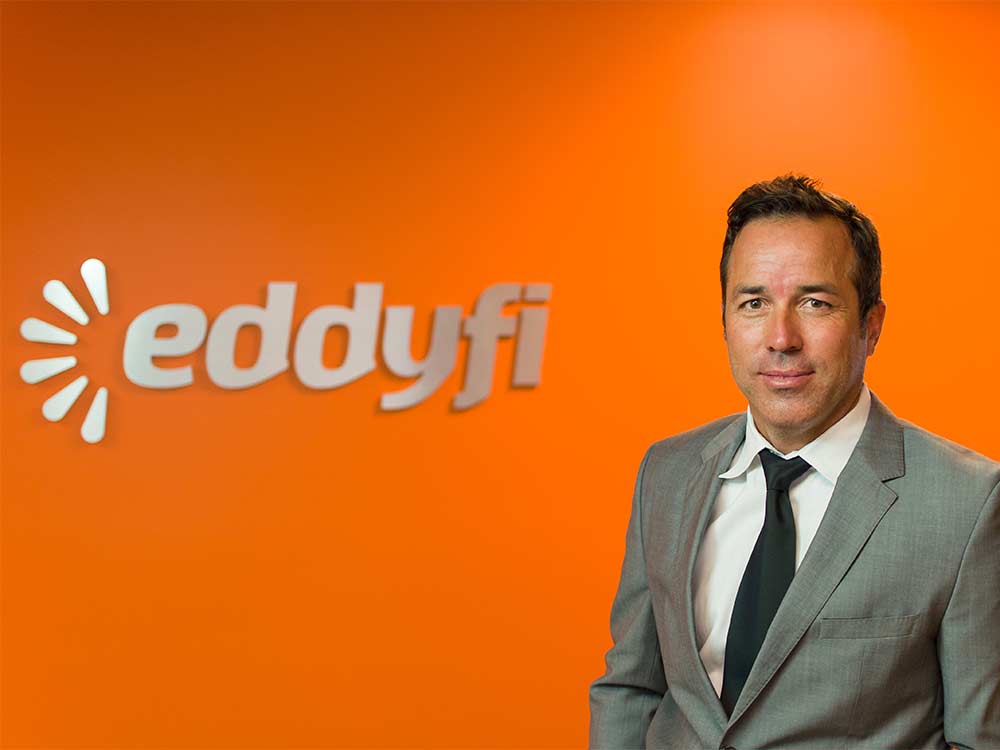 Eddyfi Technologies: A software company in growth mode
Martin Thériault's Story
The idea of creating Quebec's next multinational company was what drove Martin Thériault to launch Eddyfi Technologies in 2009. In less than 10 years, the Quebec company specializing in software solutions for high-tech industries and non-destructive testing has positioned itself as a leader in its field. Here's a portrait of an entrepreneurial career that prioritized growth and innovation.
Martin Thériault's motivation to become an entrepreneur in 2009 was a mix of overarching ambition and deep intuition. With a bachelor's in engineering from McGill University and a master's in business administration from Duke University, he started off as an engineering advisor for a number of big companies, notably Air Liquide, before returning to Quebec in 2004. 
Bitter realizations
Thériault then joined Roper Industries as a customized software solutions specialist for business. He also managed Quebec acquisitions for the Sarasota-based company, which is how he developed his leadership skills.
In his early forties and with experience gained from many employers, Thériault began to feel frustrated, particularly due to what seemed to him many missed opportunities on the part of management. "I've always had a rebellious side. I always felt like my employers were ignoring what was really important. But actually it was me that was the problem. I needed to start my own company." 
"While you might feel like you want to start a business, without having an idea to feed your vision or passion, it will be difficult. The idea is everything."
Martin Thériault
Then the 2008 crisis happened. Management at the company he was working for needed to cut costs: Forty percent of its employees were laid off and certain operations were terminated, one related to an unprofitable patent on an electromagnetic solution that Thériault was very familiar with and that he really believed in. A few clients told him that they were disappointed that the company was abandoning such a promising technology. So without hesitation, the engineer mortgaged his house and renewed his line of credit in order to launch Eddyfi Technologies along with a few associates. The name was suggested by his wife.
For two years, Thériault had no salary and put everything into developing the company, which quickly became a leader in adapted software solutions for high-tech manufacturing industries and non-destructive testing. Eddyfi's solutions are comparable to medical imaging techniques (such as radiology or ultrasound) applied to fields as diverse as petrochemicals, aeronautics and the nuclear industry in order to detect the smallest flaw and thereby prevent operational malfunctions.
Managing rapid growth
Eddyfi quickly became a success and exponentially increased its share of the market. The company has a presence in 80 countries with 13 international offices. Its natural growth was supported with good decision-making in a highly fragmented market populated by either multinational giants or smaller players. 
The company's first challenge was in human resources. "As an entrepreneur, you need to hire the right people at the right time," states Thériault. "In Eddyfi's case, we went from revenues of $5 million to almost $75 million, and from zero to 260 employees. All that in less than 10 years. You need to constantly reinvent your organization and establish a resource pipeline in order to support change."
Another challenge: acquisitions. Eddyfi quickly attained critical mass in niche markets, but after five years of activity, the company needed to diversify. When you are competing with Siemens, Électricité de France (EDF), Areva and Rolls-Royce, that diversification needs to happen through acquisitions. "We were definitely predators. We bought complementary technologies that already had a stable client base. Then we invested in research and development in order to improve our solution." Amongst its most recent acquisitions are Silverwing, a British firm, and IPN, a high-precision machine shop based in Quebec City. Eddyfi expects to make further new acquisitions before the end of 2018.
Putting innovation at the heart of the business model
Compared to industry giants like General Electric and Olympus, the flexibility of an SME like Eddyfi allows for rapid innovation. In big companies, innovation cycles and processes are long and involved. While average R&D investments are between 3 and 5 percent, Thériault invests between 15 and 20 percent of the company's revenue in these activities. 
According to the engineer, their work to continuously improve their solution offering is supported by incentive programs. "In Quebec, there are many programs to help entrepreneurs innovate which don't exist in the States. Canadian companies are able to integrate divisions that are completely dedicated to process innovation into their business model," explains the entrepreneur.
To protect its intellectual property, Eddyfi uses a mixed strategy. The company has filed fewer than 10 patents. Since most of the improvements these days occur in its software, the firm tends to encrypt its software innovations rather than try to patent them. In fact, patents make such innovations public, thus risking competition. The trade secret is still the best way for companies to protect their innovations.
Eddyfi Technologies in Numbers
26: Percentage growth by the company in 2017
250: Number of employees
80: Number of countries in which the company has a presence

 
Want to learn more?
Visit the EDDYFI TECHNOLOGIES website