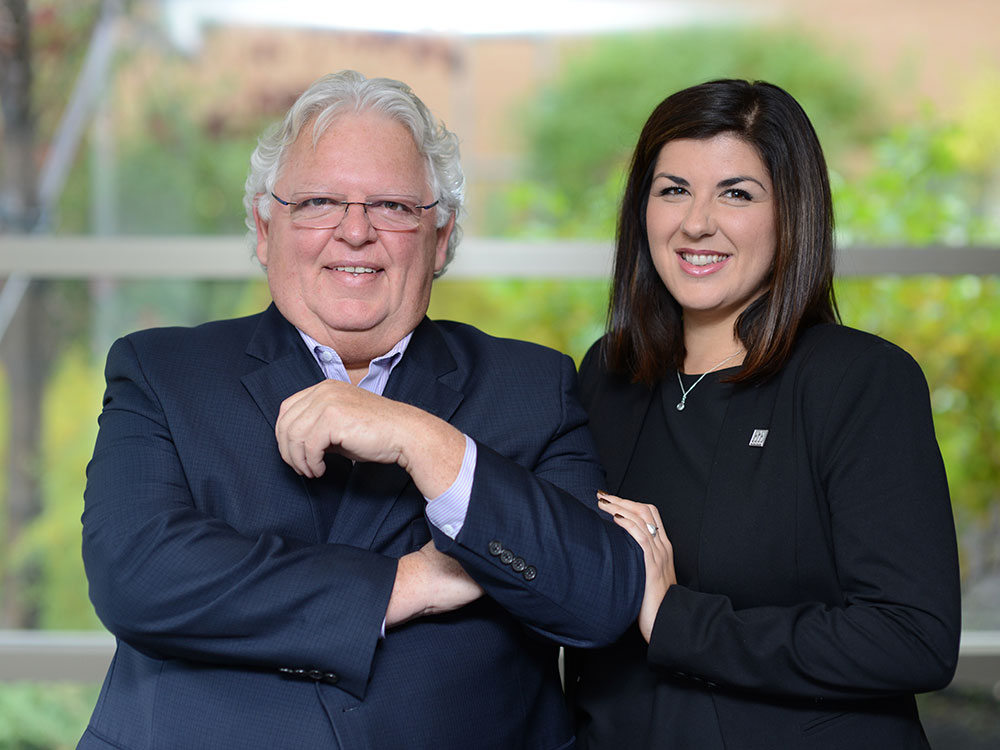 Hôtel Château Laurier Québec: Father-daughter hospitality
Aude Lafrance-Girard's Story
Friday, February 17, 2017
As a child, Aude Lafrance-Girard enjoyed playing in the corridors of the Hôtel Château Laurier Québec hotel, managed by her father Alain Girard. Today, at his side she takes over the reins of this establishment in Quebec City, originally acquired by her grandfather in 1975.
To be the third generation to take over the family business gives the young thirty-year old entrepreneur enormous pride. "Some employees have seen me grow up so I really feel at home here, she says. I feel a deep attachment and respect for this place and for the people who work here." 
As general manager, she manages not only the 282 rooms at Hôtel Château Laurier Québec but also the George V catering service and the Hôtel Château Bellevue hotel, located in Old Québec.
Aude Lafrance-Girard's takeover of the SME Lafrance-Girard has been underway for over a year and is the result of a process that began more than a decade ago.
Discover also: Regitex: weaving together success one string at a time
At the age of 17 she started working for the company. After a few years behind the hotel reception desk, she became an assistant manager at the reception.

An experience that brings her a sense of accomplishment and reveals a passion for team management. "It was clear in my head that I wanted to take over from my father, but I also knew that I could change my mind," she explains. 

She holds a bachelor's degree in business administration from UQAM's ESG, with a specialization in tourism and hospitality management with the aim of perfecting her knowledge of the environment. She then spends about two years in another hotel. "I have been able to apply the management practices learned during my studies to a company other than my families. And that allowed me to discover another vision of the hotel business."
« I'm passionate about putting together projects and turning them into a success. In addition, the hotel and restaurant sector is alive and constantly changing. »
Mature and well-equipped to take on the job
In 2013, after seven years in the metropolis, Aude Lafrance-Girard calls her father to tell him that she feels ready to return to Quebec City. To familiarize herself with the company as a whole and to give employees the opportunity to get to know her again, she held the positions of Banquet Coordinator, Accommodation Manager and then Operations Manager.
To better succeed in transitioning into her role as Manager of Operations, which was currently being held by her aunt who was about to retire, Aude takes a program in 2015 at the Beauce School of Entrepreneurship. "I also had in mind that the passing of the torch between me and my father could happen in the next five years and I wanted to prepare for it," she says. Finally, the following year, thanks to all the strategic planning, the time had come for Aude Lafrance-Girard to become CEO.
The transition was facilitated by the amazing relationship the father-daughter duo share. They also share the same values – the importance of being respectful, at work and towards your team and passion – as well as an identical leadership style, a human approach above all else. "We do not ask people to follow us, we do not put ourselves in front of the group but among them instead," she says.
Under Alain Girard's leadership, Hôtel Château Laurier Québec's room count has multiplied by seven; there has also been the creation of the George V catering service and the acquisition of Château Bellevue. Aude Lafrance-Girard shares this expansionist vision since she aims to grow the company yet again. "I hope I have the opportunity to buy an additional facility in Quebec City or elsewhere," she says.
While Aude is head of Hôtel Château Laurier Québec she will pass through the inevitable cycle of renovations that all hotels need to go through in order to stay up to date. "In our field, we must always renew ourselves and be on the lookout for trends," she says. Aude also intends to set up a more collaborative management style and a less hierarchical structure. "I prefer that the employees themselves come up with a solution to a problem," she says.
Aude may be joined by another member of her family's third generation. In fact, one of her cousins might choose to participate in this great adventure and contribute to the future of Girard hotel legacy along with her. 
The company in numbers
120: The number of employees
282: The number of rooms at the Hôtel Château Laurier Québec
700:  The number of events the George V caters yearly 
 
Want to learn more?
Visit the Château Laurier website, the George V catering service, and the Château-Bellevue.