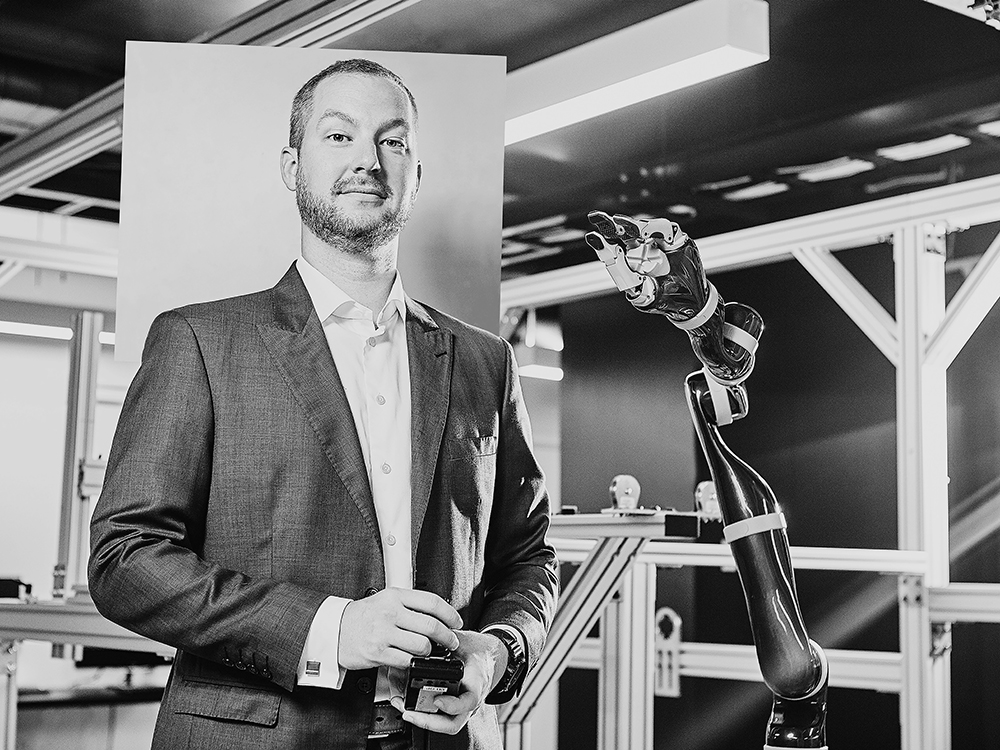 Kinova: Robots for humans
Charles Deguire's Story
Friday, February 22, 2019
From a very young age, Charles Deguire realized that developments in innovation and technology would make the lives of people with reduced mobility so much easier. It's the idea upon which he founded his company, Kinova, along with Louis-Joseph Caron L'Écuyer.
For as long as he can remember, Charles Deguire has been interested in the mechanical workings of objects, taking them apart and putting them back together in order to figure out how they worked. And since he grew up with three uncles affected by muscular dystrophy, a rare disease that weakens the body's musculature, he has always been particularly interested in learning more about new devices that could improve their everyday experience of living. "When I would go to Gaspésie in the summer, I'd find that my uncles had found some ingenious new way to do a bit more than they could the previous year thanks to new technologies," he recalls. So it's no surprise that while growing up, Deguire became interested in robotics and eventually created a company whose goal was to use robotics in the service of people. 
Kinova is the result of relentless work by this young, passionate entrepreneur. Since 2006, the Quebec company has revolutionized the world of commercial robotics by developing assistive technological
solutions, such as ultra-light robotic arms and mobile manipulators, in order to improve the quality of life of people with reduced mobility. The company's star product, the JACO robotic arm, which can be affixed to a motorized wheelchair to assist those with partially or completely limited upper-body mobility, can be controlled using the same mechanisms that control the wheelchair, such as a chin or foot control lever. "Our goal is to develop robotic tools that will help people exceed their limitations and open up new possibilities for them," states the president and founder of Kinova.
Living up to your ambitions
Deguire studied electrical engineering and innovation management, first at Collège Lionel-Groulx, then later at the École de technologie supérieure (ÉTS) in Montreal. It was while attending Cegep that he met Louis-Joseph Caron L'Écuyer, who became his business partner. "We were convinced that we could find a solution that would change the lives of people with reduced autonomy using the same innovations found in other sectors, like space exploration," he explains. 
In the space of a week, Deguire and L'Écuyer created a computer simulation of the ideal robotic arm they wanted to create. It took them four years to turn the idea into a tangible reality. Their initial drafts allowed them to create partial prototypes, which later evolved into functional, complete concepts. They revised their model after receiving feedback from users, then finally created a marketable version of JACO in 2010. "The day our first customer, from the Netherlands, received his robotic arm and was able to feed himself for the first time, that's the day we became a real company," maintains Deguire. "Until that point, we were selling dreams. It took us an enormous amount of time, we made a lot of sacrifices to get there, but we jumped in with two feet because we really believed in our idea." 
The measure of success: Understanding your customers' reality
Deguire and L'Écuyer both came from entrepreneurial families. "My mother, father, uncles and aunts all started businesses," emphasizes Deguire. "My uncle Jacques was an actual inventor. Thanks to them, I understood that to build a company, you have to learn fast." Both young entrepreneurs are still continuing their education: They participate in entrepreneurial contests in order to obtain financing, belong to a business incubator network and have no hesitation about going back to school in order to improve their knowledge.    
"Even through we don't have a grasp of the entire robotics industry or medical sector, we have a good understanding of our customers' reality and we listen to their needs. Having a deep, genuine understanding of the customer is key to a business's success," explains Deguire. "One of our strengths is our constant desire to do better than before. While many of our competitors offer the same product for ten years, we never stop working on improving ours."  
To stay on top, bank on many different markets
Over the next few years, Kinova will continue to pursue its international expansion by tapping into new markets. Although its head office is still located in Boisbriand, the company will open new offices in Germany and China and also has plans to open shop in the U.S. in 2019. While the rehabilitation market is currently in a growth phase, this sector represents only a third of Kinova's current revenue. Commercial robotics offers many possibilities above and beyond providing assistance solutions to people with reduced mobility, such as robotic tools for surgeons and providing solutions for manpower shortages is sectors like agribusiness and manufacturing. "Our activities in these sectors enable us to develop technology that can later be applied to the rehabilitation market," explains Deguire. "So our business is financed by several different markets instead of just one, and that's how we stay ahead of the competition." 
Even though Kinova is still an SME, Deguire hopes to see the company evolve while pursuing its mission of offering solutions leveraging the latest technologies in order to make the world a better place. "What we want is to keep being a leader in commercial robotics and continue to grow our local company so it can outlast us."
Kinova in Numbers
16: Number of possible movements by the JACO robotic arm in order to imitate a human arm
40: Number of countries in which Kinova distributes its products
243: Number of Kinova employees
500: Number of international research partnerships
Want to learn more?
Visit Kinova's website