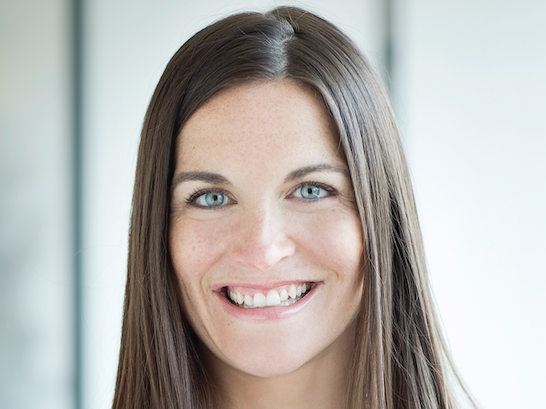 Lambert: Life in a knapsack
Mélissa Lambert's Story
Lambert was born out of the desire of its founder, a young mother at the time, to create a bag that met her personal and professional needs, as well as certain aesthetic criteria. Lambert's popular bags can now be seen on shoulders throughout the province.
While pregnant with her second child, Mélissa Lambert went looking for a bag that was both chic and practical to use on a daily basis for carrying diapers, baby wipes and personal items, as well as her laptop and documents. She already had a knapsack, which she liked for its practicality, however it didn't keep contents separate, instead jumbling them all together. Searching for something appropriate led her to the realization that all the available bags were either very sporty or very chic, but none had separate compartments. When her baby was about to arrive, she also looked for a diaper bag that wasn't as "ugly" as the ones she'd seen in stores, but once again she found a gap in the market. "I didn't find what I was looking for—there were only shoulder bags. I use the baby carrier a lot, so I really wanted a knapsack. That was what inspired me to bring my idea to life."
Creating your brand
Faced with what she personally considered a "gap" in the women's bag market, Mélissa Lambert wondered whether there was actually a customer base for this type of product, aimed at professional women with babies. Having worked for over 10 years in brand management for major players in the telecommunications sector, she decided to take advantage of the skills she had developed. 
"I launched the initiative with the help of a Montreal designer in order to attempt to put down on paper the idea I had in mind," explains the entrepreneur. "I also wanted to create my own brand. Back then I thought it would be a side project. I never imagined how big it would get." 
She took advantage of her maternity leave to create three bag models, produce her first batch and open an online store in September of 2017. 
Taking root
At the start, the entrepreneur received a lot of requests from co-workers who were interested in her products, but who wanted to see them before making a purchase. So Lambert went on the road, bags and baby in tow, and started selling door to door. Noting the enthusiasm amongst women once they could see, touch and try out her bags, she immediately started thinking about opening a physical store. 
The store she launched on Saint-Jacques Street, in Montreal's business district, was a pop-up that opened just in time for the holidays in 2017. "As soon as it opened, it really took off and gave credibility to the brand because people could see and handle the bags. I really believe that in Quebec, a hybrid model [the combines e-commerce and a physical store] works best. It's hard to be just online."
Located in Old Montreal, the boutique attracted local customers as well as many tourists. What was supposed to be a temporary pop-up shop therefore became a permanent location, which today also offers a space for team meetings. 
Starting an entrepreneurial adventure
One thing led to another, and Lambert decided to devote herself full-time to the company, leaving her job in the winter of 2018. As the founder of a brand that had been enjoying print media interest, she was invited onto the show Dans l'œil du dragon in the summer of 2018. 
Her TV appearance launched a new phase of growth for the company. From that moment on, she began to be approached by stores that wanted to offer her products, especially her diaper bags. "In the beginning, I handled the negotiations," explains Lambert, "which wasn't really my thing, but they warned me that once I appeared on the show, I wouldn't be able to handle demand myself anymore. So I quickly contracted with an agency that specializes in representation."
"The strength of a good entrepreneur is knowing how to build a team. It's important not to hesitate enlisting the services of good people in order to make up for your own weaknesses."
Mélissa Lambert 
The entrepreneur can now focus on what she excels at: creating content, promoting her brand and creating new products. The team now includes three full-time employees, one part-timer, two representatives and a warehouse, which handles shipping. 
Managing growth
Today in 2019, Lambert products are offered by 85 retailers in Quebec, and particularly in big chains like Sports Expert and Clément. Convinced that the Lambert brand has growth potential across the country, the president is currently exploring the Toronto and Vancouver markets to see if they're ripe for penetration. "Then, we'll see," says the founder wisely. 
In addition to developing new markets, the entrepreneur never stops creating new products to satisfy her customers. "When the company was founded, we offered only three models. Today our range of bags is bigger, so we're better able to satisfy our customers. The challenge is to create more products so that we don't have to keep acquiring new customers, but can also cross-sell." 
Maintaining your values
Lambert's vegan products were also created out of a desire to promote Quebec design. Lambert tried as far as possible to have her products made locally. However in the end she had to turn to international production because the province lacks the services she needs, particularly in the area of working with vegan leather. The president chose the best overseas manufacturer possible and conceived of a few measures for avoiding waste, such as donating slightly imperfect bags to charities or other organizations. 
With this in mind, Lambert launched a collaboration in 2019 with MARKANTOINE, who was looking for accessories to pair with his clothing. The two brands teamed up to give a second life to used materials. Lambert provided imperfect merchandise to the MARKANTOINE team, who then reused it to create new accessories in their Montreal workshop that conformed to the particular style of the designer. In the same vein, Lambert would eventually like to be able to provide advice to the owners of faded, worn bags or accessories in how to reuse or enhance them themselves. 
Since the start of her entrepreneurial venture, Mélissa Lambert has enjoyed the fact that all the effort she has devoted to her project has had visible effects. "Everything we make, every idea, every comment counts. All our initiatives require a lot of time and effort, but the results are concrete, and that's motivating."
 
Lambert in Numbers
10: Number of Lambert bag models (not including the products made in collaboration with MARKANTOINE)
85: Number of retailers that carry Lambert products in Québec
 
Want to learn more?
Visit Lambert's website