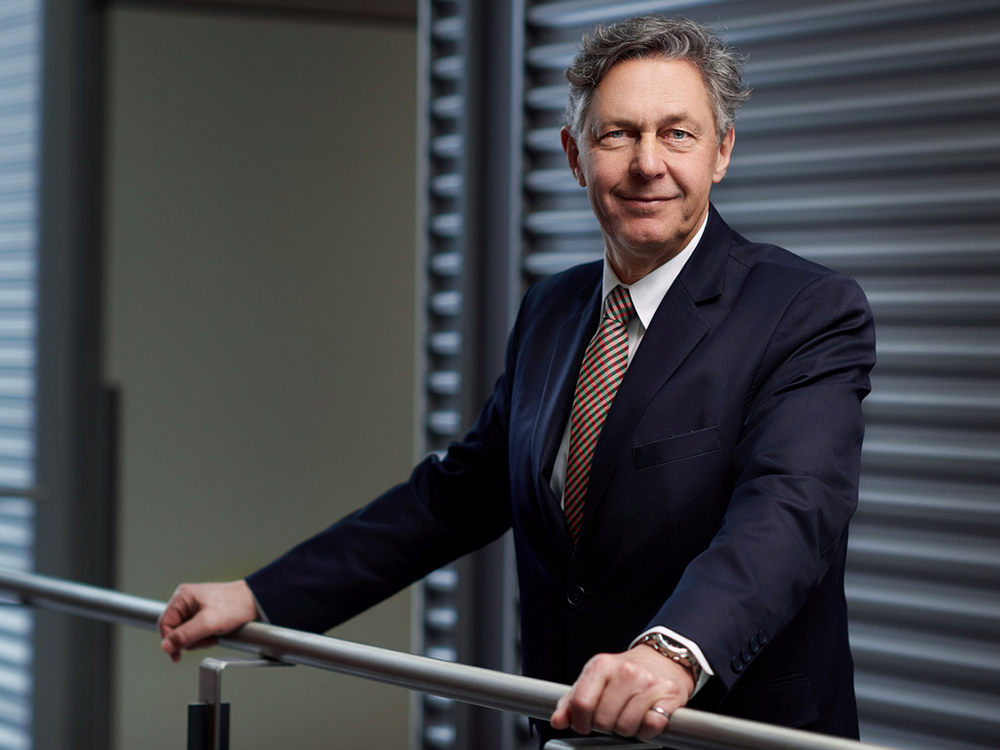 Leddartech: Far-sighted strategy
Charles Boulanger's Story
Friday, November 16, 2018
He was an intrapreneur as an employee, then he become a serial entrepreneur who successfully pulled off a number of profitable business projects. Today he heads Leddartech, a high-tech company in the field of optics with a unique business model to which he lends his clarity of vision and understanding of the domain.
Leddartech came out of the Institut national d'optique, a technological research centre located in Quebec City's Parc technologique. In the early 2000s, the institute developed a leading-edge technique that involved the treatment of light signals for detection purposes. This research led to the creation of Leddartech in 2007 by three co-founders. Approached by investment firms involved in the business, Charles Boulanger joined the team in 2012 and since 2014 has been the company's president and CEO. He has introduced a number of improvements to the company since his appointment, including the introduction of what he terms "world-class technology" by reorienting Leddartech's business model towards a high-performance LiDAR (light detection and ranging) development platform, particularly for the automotive industry. 
 
Taking another look
The LiDAR market is highly competitive, so Leddartech needed to stand out. "I've always done the same thing with my companies," explains Boulanger. "You need to put a lot of work into strategy in order to identify your purpose and then support this differentiation. During the period we were developing sensors for various markets, I found we lacked this differentiating aspect because we didn't adequately understand the vertical markets. If you're not an expert in a particular vertical market, you won't find the right application." What was distinctive about Leddartech's technology was that it allowed the creation of high-performance LiDAR tools at the best price, which is exactly what got Boulanger thinking about reorienting the company towards the new platform. To accomplish this, they needed to begin working with microconductors to be able to insert their technology into a microchip. "The core of our technology can fit onto a microchip because 90 percent of our solution is software-based. What's interesting about our technology is its way of capturing and processing data. What we thought was that to launch ourselves into the market and commercialize the product, we would integrate everything into an integrated circuit that would become the vehicle for marketing our software-based solution." Which is exactly what they did. 
However, in order to justify the up-front investment and get chip makers interested, they needed to find an industrial sector that had enough volume to make a case assessment worthwhile. The automotive sector had the volume they needed, and LiDAR started to become known as an essential tool for self-driving vehicles. So the Leddartech team approached the equipment manufacturers directly in order to offer them their LiDAR development platform.
 
It's all about perspective
Leddartech's growth is a result of its technology, but also of its positioning in a competitive industry. The equipment manufacturers Leddartech does business with see the company more as a facilitator than a competitor, since the business model they offer allows them to create the tools they need. "The pure technology sector is very different than what I was used to at my previous companies in terms of growth management," explains Boulanger. "The first factor for success in this case is the time to market." The formula chosen by the company has several advantages, such as being able to avoid the inherent risks and costs associated with developing LiDAR systems, which need to respond to very precise security criteria in order to bring products more quickly to market. "In technology," says Boulanger, "you can't only think about the tech, you also have to create a plan to achieve certain stages," which is why Leddartech prefers to focus on an approach that places value on the ecosystem rather than the dynamic of competition. 
 
A recipe for success
"Leddartech will either be a mouse or a giant, but nothing in between," confirms the entrepreneur. And from his personal experience, he knows that taking on more than you can chew is often the only possible way of having a chance at making a name for yourself. To that end, the Leddartech CEO plans to sell a billion LiDAR chips. To back that kind of growth, Leddartech is undergoing an expansion phase "in order to be where the talent is." In addition to its offices in Montreal and Quebec City, the company just opened locations in Toronto and Linz, Austria, has representatives in Milan, Munich, Detroit, Dallas and Turin and plans to set up shop in Shanghai, Seoul and Silicon Valley this year. But talent acquisition takes money—a lot of money. Which is why the CEO says that "the first ability a tech company needs is the ability to raise capital"—Boulanger's specialty. He is famous amongst his peers for authoring the "Boulanger recipe": establish concrete stages, create high-reaching objectives, then go out and look for investors and partners from many sectors. 
As a committee member for artificial intelligence industries, founder of Québec international, partner in three investment funds and active member of Anges Québec, Boulanger says of his experience, "An entrepreneur's first quality is to know himself, then to know how to read his environment. What motivates me is building companies and ensuring that a business works. In the end, no matter what the company, it's always the same exercise and always just as motivating." 
 
Leddartech in Numbers:
106: Number of people hired in the last 18 months
Over 70: Number of posts to fill in the next 12 months
6: Number of equipment manufacturers under contract
WANT TO LEARN MORE?
Visit Leddartech's website