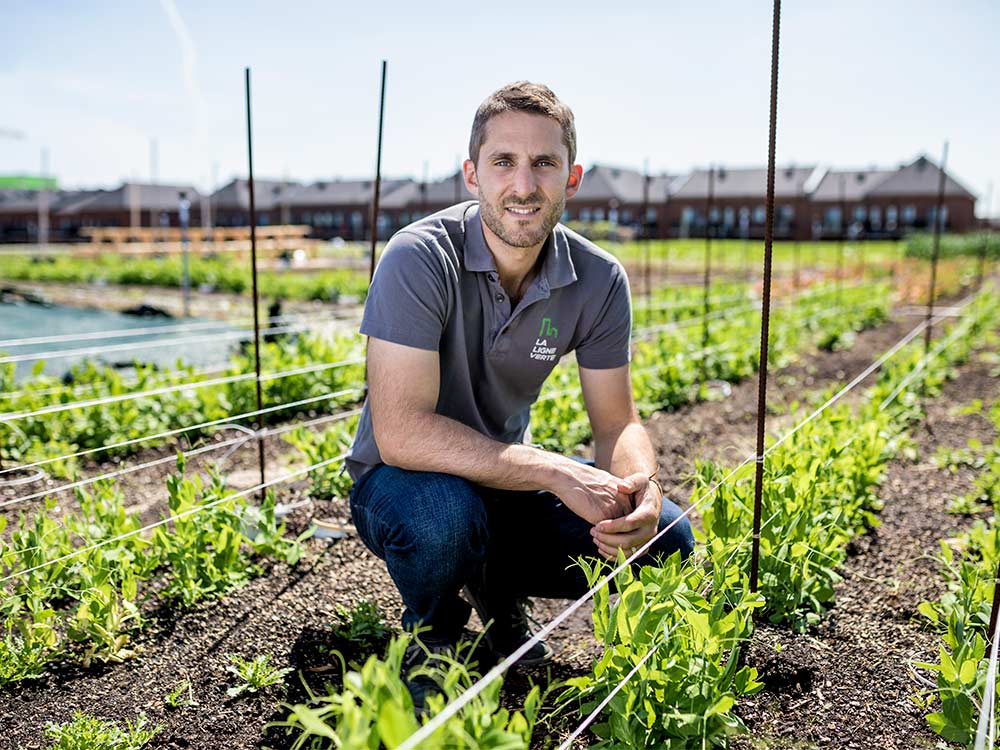 La Ligne Verte: Regreening the planet one roof at a time
Patrice Godin's Story
In 2009, Patrice Godin and Antoine Trottier founded La Ligne Verte, a company that designs, installs and maintains green roofs, living walls and urban vegetable gardens, amongst other projects. Their mission is to bring the city closer to nature in order to enhance the daily lives of city dwellers, not to mention give Mother Earth a helping hand.
"Ecology lies at the heart of our values," explains Godin, the young vice-president. "I'm from Abitibi, where I grew up in close contact with nature, but where I also saw the environmental impact of forestry and open-pit mining... I've always been concerned about these issues."
The first garden
Godin first met his co-founder, Antoine Trottier, when the pair were enrolled in a master's program in environmental science at UQAM. The latter had grown up in his parents' nursery and was responsible for getting Godin hooked on gardening. "We both had the idea of creating a vegetable garden for people at the university. We got our hands on some recycled materials and set up the garden on the roof of the science building."
Encouraged by this first experience, which won them a Force Avenir prize (which awards student engagement), the two young men were then recruited as planning advisors for the Montréal Urban Ecology Centre. At the same time, they also started their own business.
"Our beginnings were a bit difficult—we had to make a name for ourselves in a very small sector in which there were few contracts and where the competition was fierce. It took more than four years before we could quit our jobs and dedicate ourselves completely to the business."
Nature in the city
In 2017, with dozens of completed projects under their belts (such as terraces on condo roofs, indoor vegetal walls for businesses, green roofs on schools, private vegetable gardens, etc.), they took on the biggest challenge of their career to date: a spectacular garden installed on the roof of an IGA grocery store in Saint-Laurent. It was the largest edible green roof in Canada. "Even today, every time we set foot in that place, we're astounded," admits Godin. 
In order to allow residents to take advantage of the unique garden space, the company recently organized events to be held there. "It hosts groups for brunch or dinner, and all the vegetables served come straight from the rooftop garden. For us it's a way of promoting a closer relationship between people and their local farmer." 
Nothing but benefits
The entrepreneurs confirm that demand for their services has increased since the launch of La Ligne Verte. Regreening initiatives are not only healthy for the environment, but they're also financially beneficial! Godin explains, for example, that a green roof can double or even triple the length of time a roof membrane will remain impermeable. So instead of redoing your roof every 25 years, it will only need to be replaced every 50 or 75 years.
Plus, such infrastructures improve the energy efficiency of a building (by keeping cold air or warm air inside, depending on the season), act as acoustic insulation (which is very useful in areas close to airports, for example) and contribute to reducing the urban heat island effect.
"And don't leave out how pretty they are!" adds the entrepreneur. "And the city has an infinite number of places just waiting to be brightened up with greenery. Take advantage of it! Plus we've never told a client we weren't interested because their project was too small—never! When someone makes the responsible choice of regreening their space, whether it's tens of thousands of square feet or the roof of a tiny shed in the city, we're proud to be able to help them with it."
Future challenges
Determined to establish an increasing number of urban farms, the co-founders have taken on a third partner, truck farmer Tim Murphy, who is helping them develop this aspect of the company while the pair continue their work in horticulture. 
While they hope to continue creating projects throughout the province, they also have their eye on expanding into Ontario and Western Canada, even hoping to land as far as Europe someday. "In France many incentives have been created to encourage green initiatives in buildings in commercial areas," explains Godin, "so we really want to go and see whether we can establish ourselves there in the next few years." 
Regreening the planet one continent at a time—why not?
La Ligne Verte in Numbers:
12: Number of employees
150: Number of completed projects since the company was launched
$10 to $20: Cost per square foot for a green roof
25,000: Area in square feet of the Saint-Laurent IGA's green roof
 
Want to learn more?
Visit the website of La Ligne Verte