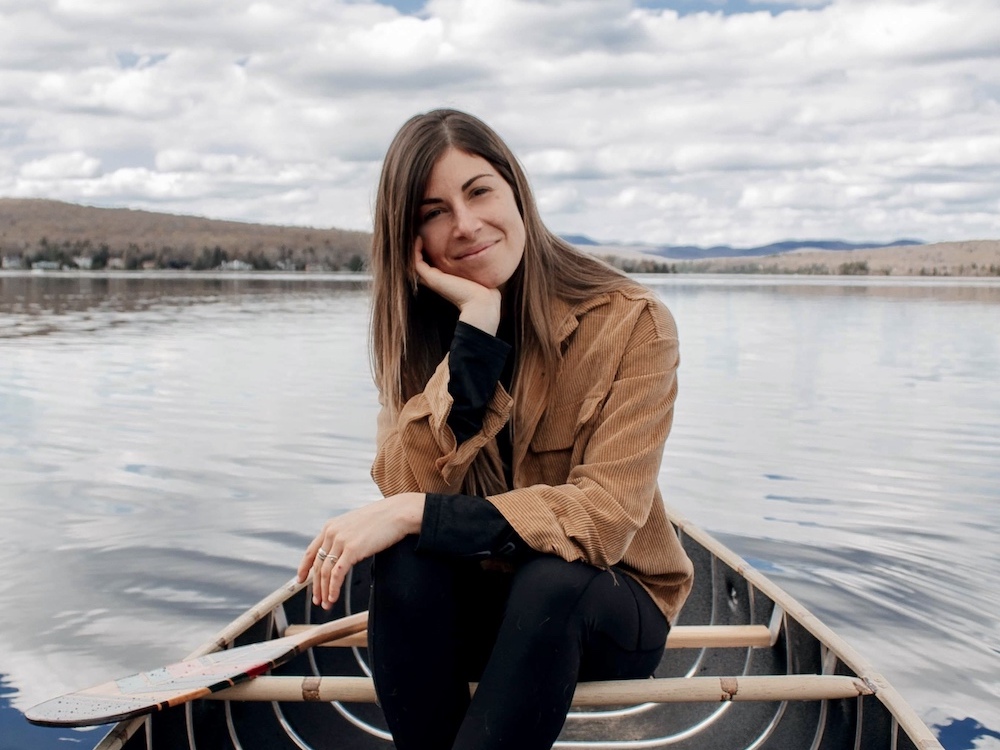 Onquata: Paddles Honouring the Wendat Nation
Lara Sinouï's Story
Huron-Wendat entrepreneur Lara Siouï drew on her nation's matriarchal heritage to craft decorative, water-resistant aspen paddles. In 2018, the businesswoman and her mother founded the company Onquata which taps into the artisanal expertise of the Wendake people, a community living on a native territory in the heart of Quebec City.
"My project has a social, economic and cultural vocation. Promoting my culture and the Huron-Wendat Nation is one of my missions." Through her business, Lara contributes to the transmission of her community's knowledge while creating quality jobs on the territory.
BORN TO BE AN ENTREPRENEUR
Launching a business came naturally for Lara. "I come from a family of entrepreneurs and business people. Thanks to them, I have always been immersed in my community's work environment."
In 2018, Lara and her mother Lise had the idea of making paddles to decorate a forest cabin. They were so pleased with the result that they decided to bring the paddles back to Wendake to show the fruit of their labour to the members of their nation. The positive response was the spark that started the Onquata project.
"We have experienced a rapid growth that I had not anticipated. Our sales double every year."
Today, the Wendat company operates its own online store and has more than 25 retailers across Canada, including Fabrique 1840 by Maison Simons. Last November, Lara even spoke at a panel discussion organized by the Grand Economic Circle of Indigenous People and Quebec alongside CEO Peter Simons about the challenges of marketing authentic Indigenous products.
BUILDING A FIRST WORKSHOP BOUTIQUE
In addition to her many points of sale, Lara dreams of having her own workshop boutique in Wendake and has been going the extra mile for the past several years to make it happen. "We have a lot at stake in the community, notably the flagrant lack of space on the territory of Wendake, which prevents commercial development."
Just five months ago, after a three-year process, the Wendat Nation granted her a commercial lot. Lara is now planning the construction of her workshop-boutique and hopes to begin work in the fall of 2022 or summer of 2023 at the latest. "In addition to the workshop and the store, the space will also act as a museum. We are working with the ECONOMUSÉE® Network Society to combine craftsmanship and education."
"We want to have a social impact, to inform and transmit a positive message about our culture to our customers."
EMPOWERING WOMEN THROUGH INDIGENOUS CRAFTS
Once completed, the workshop-boutique will increase Onquata's production capacity and expand its storage space to facilitate supply. Indeed, the paddles decorated by the company are first produced by a partner based in Shawinigan.
After arriving in Wendake, the wood is reworked, sanded and stained at Onquata. The paddles are then identified, hand painted, varnished and packed by Native women who work for the company.
"The Huron-Wendat lived under a matriarchal system. Women had a lot of influence on know-how and decision-making, but this system has been put aside with time. Today, I want to offer good working conditions to the women of my community and, at the same time, put our culture in the spotlight."
A JOURNEY TO EUROPE
Lara is already preparing for the next step in her strategic plan: entering American and European markets within the next two years. "Europeans love our products! Our 24-inch mini paddles are popular with tourists because they fit nicely in a suitcase, and because they are different from conventional touristy products."
Recently, the entrepreneur also realized that these little paddles make perfect corporate gifts when decorated with the company's colours. "They are a great way for directors to symbolize their desire to move forward with business partners or employees."
The Wendat company is thus well positioned to achieve international success in the coming years while also allowing the women of the Wendake community to reconnect with their ancestral expertise.
A FEW FIGURES
45 paddle models available in different colours and sizes
1 to 5 hours are needed to make a paddle
20 points of sale in Canada, plus 10 online points of sale, including Simons' Fabrique 1840
LEARN MORE
Browse Onquata's website to discover their many paddles.