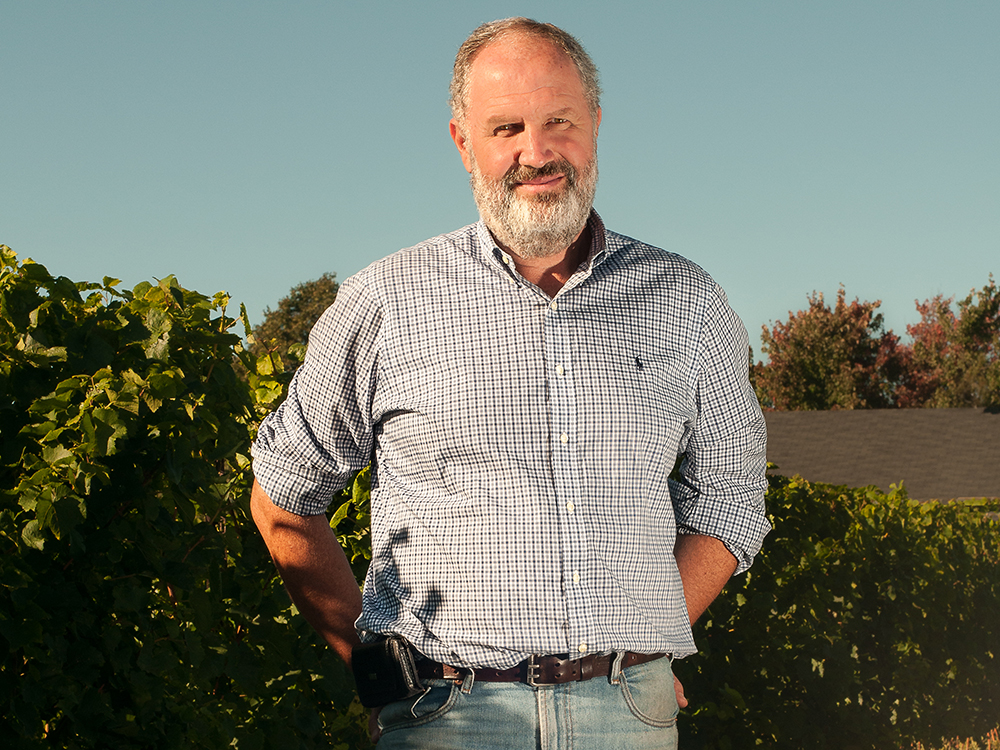 L'Orpailleur: Quebec vineyard victory
Charles-Henri de Coussergues' Story
Charles-Henri de Coussergues created one of the first successful Quebec vineyards when he launched L'Orpailleur in 1982. Along with his faithful partners, the entrepreneur today can take pride in producing over 300,000 bottles of wine each year.
Charles-Henri de Coussergues's career path looks something like that of a warrior. In his early twenties, he dreamt about following in his ancestors' footsteps and becoming a wine-grower in his native France. Unfortunately for him, Europe at that time was in the midst of a wine surplus. 
Meanwhile his neighbour, Hervé Durand, hoped to be the owner of a vineyard on another continent. So he landed on the idea of sending the young and daring de Coussergues to establish an estate in an area he found in the Quebec municipality of Dunham, in the Eastern Townships. Thus the two neighbours' long adventure in winemaking began, with the pair becoming co-owners of the Orpailleur vineyard.
A crazy dream
De Coussergues wasn't the first to try and make the dream of a Quebec winery come true. Previous attempts had ended in failure, with Quebec's harsh winters being hard to overcome.
« At first, we noticed the vines died as soon as the temperature would hit minus 25 C. After performing a few tests, we concluded that we needed to plant the foot of the vine in about 20 inches of earth, where the temperature never gets colder than minus 7 C. That's how we were able to get our vines to grow in spite of the cold, and how we were able to launch L'Orpailleur. »
A supreme blessing
One of de Coussergues's strengths from the start was knowing how to build a great team out of the best collaborators, specifically Pierre Rodrigue and Frank Furtado, the co-owners of the business. The former contributed expertise in legal matters (at the start of their project, the team had to have the laws changed in order to be able to produce their grapes, process them and sell them), while the latter's background in the entertainment industry attracted a number of artists to the business, each of whom contributed to raising the profile of the vineyard. 
One of those artists was Gilles Vigneault, who came up with the name "L'Orpailleur" (translation: "The Gold Panner"). On the company's website, you'll find a quote in French from the Quebec poet that translates as follows:  "L'Orpailleur is he who washes the gold-bearing alluvium in order to extract, by way of time, science and patience, the specks of gold that can be found there. Thus for the first time in Quebec have vintners put time, science and patience to work in order to extract an entirely unique dry wine out of the province's soil, using locally planted and harvested grape varieties that are vinified in situ according to the finest traditions."
An established reputation
Over a period of 35 years, de Coussergues has released around ten or so products, including white wines, a rosé, a red wine and an ice wine, all of which have been popular and helped build the brand's reputation. In particular, Orpailleur's ice wine and cuvée Natashquan have been awarded gold medals at the Sélections mondiales contest.
The wine-grower has also distinguished himself by inviting the public to visit his estate, which includes a restaurant called Le Tire-Bouchon as well as an Économusée showcasing his vines and wines. "Developing wine tourism has always been important to me as a way of democratizing wine-growing and giving customers a privileged view into winemaking, so they can better understand what they're drinking." 
The importance of time
A visit to the state provides guests with an understanding of how much research and development is needed to create each product. "L'Orpailleur is a laboratory!" exclaims the businessman. De Coussergues travels regularly (to Switzerland, the States, the Rhone Valley, British Columbia, Ontario...) with colleagues from the Association des vignerons du Québec, of which he is a member, in order to discover new grape varieties to be tested on his estate.
Potential varieties require a lot of patience, since it takes up to 10 years to determine whether they can be useful or not. "You need three or four years before you can produce grapes, then four years more, or even five, to know whether they'll produce anything good." He also owns an experimental field where he continually grows around 15 different varieties.
Growing enthusiasm
In addition to launching his first wine entirely made from Chardonnay next winter, de Coussergues also intends to devote his energies over the next few years to solidifying the presence of the estate in its current points of sale (i.e., grocery stores, online sales, restaurants and the SAQ). Since Quebec products only represent 1.5 percent of market share today, de Coussergues hardly has the luxury of resting on his laurels. "It's a small share, especially considering demand is now higher than production," he notes, then concludes with infectious enthusiasm, "After a rough start, now's the time for Quebec winemakers to roll up their sleeves!"
L'Orpailleur in Numbers:
22: Number of employees
91: Number of acres encompassed by the estate, which he says "was only two acres in the beginning!"
300,000: Number of bottles of wine produced each year
250: Number of metric tons of grapes harvested annually
WANT TO LEARN MORE?
Visit the L'Orpailleur website.