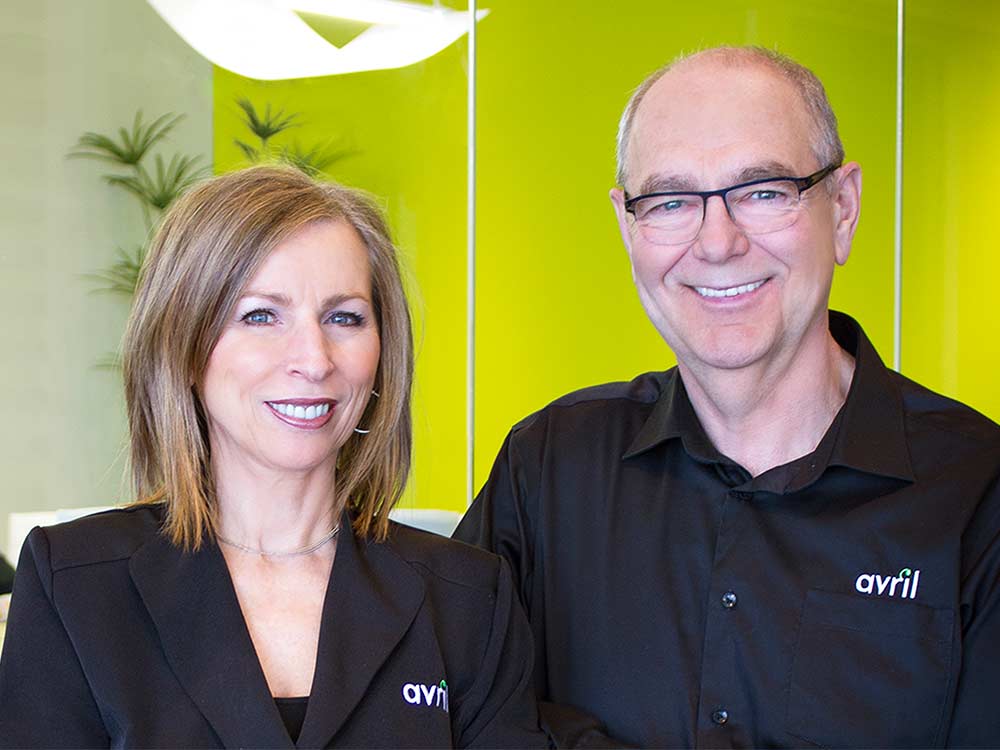 Santé Avril: Healthy growth
Sylvie Senay's Story
After 12 years spent running a natural products store in Granby, Sylvie Senay and her husband, Rolland Tanguay, decided to give their business a big push forward. With a new name, the opening of six additional superstores and the addition of pre-prepared meals, the Santé Avril chain of supermarkets hasn't stopped growing, not to mention Quebecers' appetite for organic products.
In 1995, health enthusiast Sylvie Senay quit her job at a bank and purchased a small natural foods store in a Granby shopping centre. 
Two years later, her husband, who worked in construction, joined her to help manage the store. The natural-born entrepreneur had big plans, and at the start of the new millennium she moved the store to downtown Granby and doubled its original square footage.
The new space's success surpassed the couple's expectations—customers were coming from as far afield as Drummondville, Trois-Rivières and even Quebec City to do their shopping. "They were begging us to open a location in their region," recalls Senay.
Successful expansion
The store's popularity led Senay and her husband to start making plans to conquer the rest of the province in 2007. Six new supermarkets opened their doors in the following 10 years in Longueuil, Brossard, Lévis, Magog, Quebec City and Sherbrooke. "Each time we opened a new location, the customers were there," she remembers. This June, a new location will open in Laval.
It was also in 2007 that the chain changed its name to Avril—a short word that is easy to remember and symbolizes spring and freshness. 
In order to stock more merchandise, Avril is currently constructing a 120,000-square-foot warehouse in Granby. This will enable the company to place larger orders and thereby negotiate better prices.
Offering the best prices is Avril's key to success according to its founder, who wants to democratize natural foods and organic agriculture. "Eating foods that are good for our health and that are good for the planet shouldn't be reserved for the wealthy," she states. Senay's goal is to prove that organic products are not necessarily more expensive than conventionally grown foods. 
Wellness in all its forms
At a time when retail business is suffering due to online competition, it seems the expansion of Avril supermarkets is responding to a true need. "Our customers are very well informed, and they like to ask questions and read labels," explains Senay.
Over the years, Avril's product offering has expanded. In addition to selling organic natural foods, including wines, the supermarkets also offer a wide range of health products and services, such as a café, ready-made meals, health supplements, phytotherapy, cosmetics, books, beauty treatments  and consultations with a naturopath. "Customers can get everything under one roof," affirms the entrepreneur.
Whe Avril moved to its new location in Granby in 2013, clinics for acupuncture, naturopathy and osteopathy were created right beside the store.
See also: Yuzu Sushi: A student project comes into its own
The prosperity continues
By installing a 40,000-square-foot superstore in Laval, Avril is betting on doubling its usual store size, but also on evolving its concept. Senay would prefer to keep the details a surprise, but she hints that the expansion will feature a restaurant and take-out meals, two segments that have shown strong growth in the past few years.
If the new formula is a hit with customers, the idea may be transferred to other stores. Senay and her husband dream about creating Avril supermarkets in other cities in Quebec, particularly in Montreal's North Shore, and even in Drummondville and Trois-Rivières. But before then, they plan to enlarge the Brossard location, which is too small to support the area's increasing demand for organic products. 
Avril in Numbers
172,000: Number of square feet of selling space in Avril supermarkets after the Laval store opens
800: Number of employees, effective as of June of this year 
8: Number of Avril stores, effective as of June of this year
Want to learn more?
Visit the Avril website