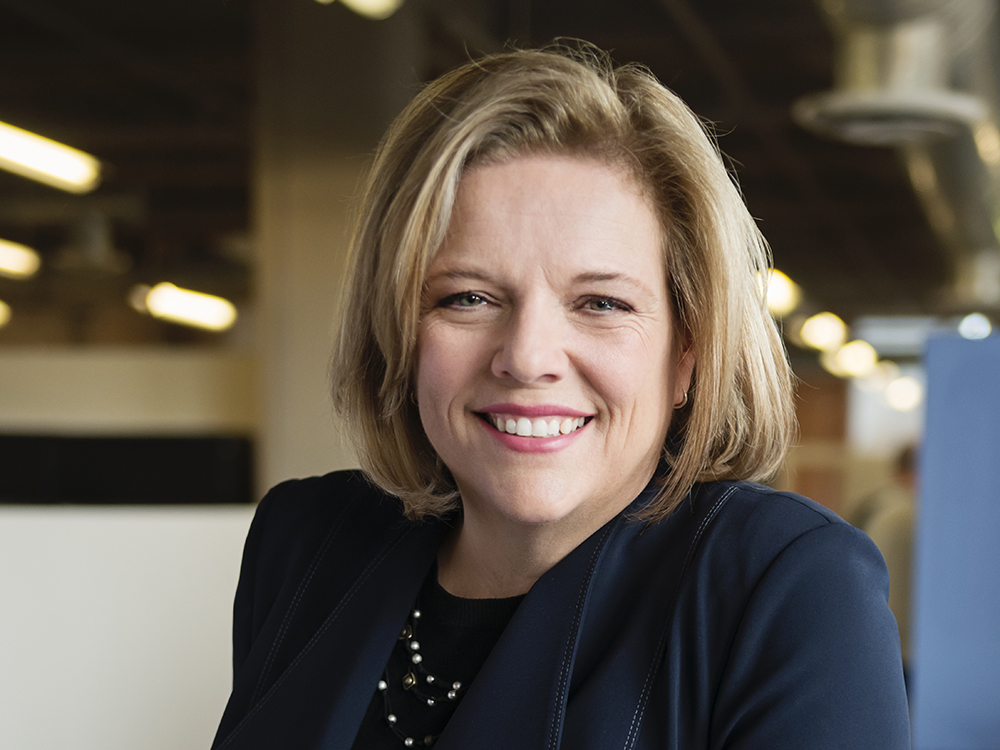 SDK: Big and credible, small and flexible
Hélène Brisebois's Story
Friday, December 13, 2019
When she was little, Hélène Brisebois transformed all her games into construction projects and all her block toys into doll houses. Today, after dreaming of becoming an engineer since childhood, she is the first woman to head an engineering firm in Quebec. 
Born to a family of engineers, Hélène Brisebois stood out from other young girls in the 1960s because of her attraction to engineering. "I've always had this taste for entrepreurship: I had a business selling jewellery and other trinkets which I would haul around with me in my school bag," she explains.
Her skills in science and math led her to the Polytechnique, where around 15 percent of the students were women.
Getting a foothold early
In 1987, she joined SDK, which was operating at the time under another name and employed around a dozen people. "My boss at the time quickly noticed my management abilities," she emphasizes.
But since he felt that she was still missing a few management skills, she enrolled in an  SME management program at HEC while she was working. 
Two years after her arrival at the company, she became a partner. It was a feat she accomplished by successfully establishing herself as an authority at a time when companies were being asked to conform to quality management system standards, known as ISO 9001, in order to be able to collaborate with the government. 
"I was picked to effect the implementation of this system, which I did from scratch by taking the appropriate training," Brisebois emphasizes. "I took advantage of this impetus to also change certain management processes in the office that I didn't like, under the pretext of better conforming to the system." 
Over the years, she thereby acquired a lot of experience in personnel and project management, but also more generally in business administration. "The former president gave me a lot of latitude and saw me as the next in line," she says.
In 2007, she took over the reins of SDK, which now has around 30 employees.
Being president is no big deal, except… 
Her nomination as president wasn't a big change for people internally because she was already managing a portion of the office, teams and new hires. It was in the eyes of clients and business partners that her ascension represented a change. "That gave me some interesting visibility, because I became the first woman engineer at the head of an engineering firm in Quebec," she confirms.
Brisebois and her partners, some of whom had been working with her since her beginnings, then began defining a more rigorous strategic plan in order to make SDK a key player in structural engineering in Quebec.
"We hoped to be asked to work on all the most important building projects," she explains. "We were also aiming to construct very tall buildings, which were more rare in that period."
The long, slow road to growth
This approach brought results. Year after year, SDK has worked on a string of impressive projects, in particular the Tour des Canadiens, the YUL condo development, the Caisse de dépôt et placement du Québec and the OACI. 
While these contracts were obtained in conjunction with partners in order to share risk, SDK later launched projects for which it assumed total responsibility. That's how it won the mandate for the MIL campus for the Université de Montréal, a contract worth $150 million in production costs; as well as phase 2 of CHUM, which is about to be completed; the Molson brewery; and the Institut de cardiologie. 
"For the MIL campus, I acted as project manager in civil engineering and I've been working on that mandate for nine years," says Brisebois, who emphasizes that she and her partners take an active part in projects as well as handling their administrative and business development tasks—a practice that makes a big difference with clients.
Other than these projects, the company can rely on steady work from loyal customers, such as school commissions and Cadillac Fairview, a company that SDK has been collaborating with for decades.
"Our positioning enables us to compete against big engineering firms on big projects and in the private market against companies that have more flexibility in terms of cost," she adds.
The company's rise has been organic, without any mergers or acquisitions (other than a foray into petrochemicals in 2004 through an acquisition; but when the sector went into decline from 2008 to 2010, SDK refocused on construction). 
"There were no big turning points—our growth happened instead over a long, steady period of time that fluctuated with economic cycles," she explains. "It was really by our accomplishments that we got ahead."
And Brisebois intends to continue following that path by focusing on excellence, instead of on doubling or tripling revenue. "We build that excellence with the talented people we hire from universities, with the goal of keeping them for a long time and increasing the expertise of our team," states the president. "We don't go looking for personnel to work on one project and then let them go later—we put a lot of resources into their training in order to keep them." 
She relies on stimulating projects to retain her employees. The tactic seems to work: SDK employees average around 12 years of experience. 
The company now has around sixty employees, all brought together in the same office in Montreal, which in Brisebois's opinion promotes teamwork and a sense of belonging.
 
SDK in Numbers
60: Number of SDK employees  
61: Number of years in business
10: Number of partners 
WANT TO LEARN MORE?
Visit SDK's website