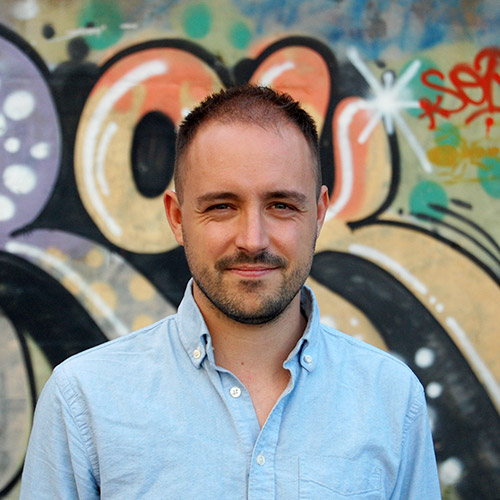 SmartHalo: The Startup that Makes Bikes Smarter
Xavier Peich's story
Xavier Peich is a cycling enthusiast who loves seeing his projects through. Following his passions led him to launch SmartHalo, a Montreal startup that is currently developing an accessory to make bicycles "smart."
Xavier Peich and his three partners, Maxime Couturier, Olivier Bourbonnais and Gabriel Alberola, invented a clever device that sits on the handlebars of your bike and syncs to your smart phone. The device functions as a GPS, anti-theft and call notification system – all at once.
The positioning tool will officially hit the market in December 2016.  But, if you are eager and can't wait, you can pre-order a SmartHalo from their site. It is very easy to use: all you need to do is enter the desired destination on their phone and follow the light signals emitted by the puck on their handlebars. The software also tracks your cycling metrics, so you can keep track of your progress, mileage and calories burned.
"This is just the beginning, says Peich Xavier, SmartHalo's business manager. The potential of the Internet of Things is crazy! " For example, other sensors could be added for measuring the atmospheric pressure or evaluate air quality.
 
All roads lead to entrepreneurship
Xavier Peich completed a Masters degree in International Studies before working in politics. Nothing in his career predestined him for entrepreneurship, but a defining moment had already taken place within him. He caught the project management bug in 2012 when he chaired the management of the Model European Parliament in Montreal. "At the time, I did not realize how similar it was to the creation of a startup, but I got a taste of entrepreneurship and I liked it," he recalls.
It was during a trip to Philadelphia with his friend Gabriel Alberola in 2014 that the young thirty-something had the idea of ​​starting a business. "We asked ourselves about what we loved in life. And then we found that we were cycling enthusiasts at heart. From there, we thought about the problems we had as cyclists." Two issues emerged from their brainstorming sessions: the difficulty finding an effective route without stopping by the roadside to check a phone, and bike theft. They weren't aware of it at the time, but it was then that SmartHalo was born.
When they got back, the two friends recruited Maxime Couturier, a designer and Olivier Bourbonnais, "the friend of a friend of a friend" who was studying electrical engineering. "We met in a cafe. The next day we started working together. And we've been seeing each other everyday since then," laughs Xavier Peich.
"We cover a lot of ground as four partners. In order to form a complimentary group, I think you need to work with people who have different skill sets than you," stresses Xavier Peich
Surpassing goals
In August 2015, the four entrepreneurs launched a crowd funding campaign that ended up being a huge success. In just a few hours they had reached their initial goal of $67,000 and a month later they maxed out at the half-million cap.
Discover also : How to create a successful crowdfunding campaign
"Even before our Kickstarter campaign, we had to collect the email addresses of people interested in the product, advises Xavier Peich. The first hours following the start are crucial. It requires mass e-mailing."
Since then, the young Montreal-based company has partnered with PBSC, the international division of BIXI.  PBSC's interest in integrating SmartHalo on its bikes could result in over 50,000 sales.
Even though he hasn't officially launched the product yet, Xavier Peich is already dreaming of penetrating the Chinese market. He has already visited twice. "Imagine, 200 million cyclists," he says with wide eyes.
Xavier Peich's passion is palpable when he talks about his company and its vision. "I work all the time, but it does not feel like work. Plus, I have the best partners in the world," he says.
SmartHalo in Numbers (October 2016)
179 : the price of SmartHalo in US dollars
19: the number of employees
6,000: the number of pre-sold SmartHalo devices
71: the number of countries where SmartHalo has made sales
539,000: the amount (in US dollars) raised through their Kickstarter campaign 
 
Want to learn more?
Visit SmartHalo's website