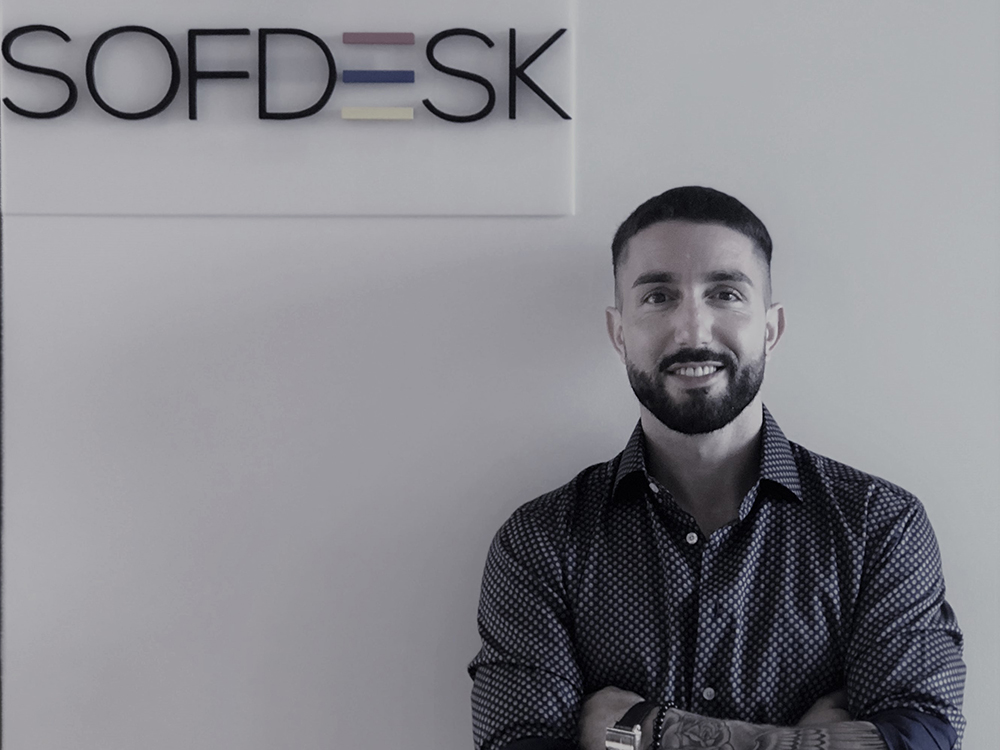 Sofdesk: Success gives back
Lennie Moreno's Story
Friday, September 7, 2018
Extraordinary beginnings
Lennie Moreno left Ontario in 2014 to return to Montreal and launch his first product, called Roofgraf—client acquisition software aimed at roofing companies. The very popular application allowed the entrepreneur to develop his next product, Solargraf—a project management platform. This is when the story gets interesting: Just when they were launching this new product, Sofdesk turned down financing worth several million dollars. Why? Because the offer was less interesting than the one initially made, and because Moreno believed so much in his team, he didn't want to take on partners who had less confidence than he did and who didn't share his vision. 
So the company launched the product independently in early 2016. Moreno then got in his car and headed to California. He had scheduled 18 meetings with installers—17 signed contracts. "In the first month we already had 50 customers. So next I headed to Florida... in six month

s our initial value had tripled."
Understanding needs
Sofdesk's goal was to help entrepreneurs manage the more irritating aspects of their business so they could concentrate on what they loved to do: build. By using this understanding and analyzing his customers' needs, Moreno realized that there was no tool in existence that encompassed design, financing, cost estimates, SEO, project management and construction permits. Solargraf was his answer to this gap in the market.
Moreno attributes his ability to grasp this need in part to his work experience, but in greater part to the good relationships he had with his customers, his team and his mentors. But he also believes that his success came out of his desire to contribute to a cause. "I believe that entrepreneurs who are too focused on the return on their investment aren't real entrepreneurs. Your motivation has to be a lot bigger than just money. In my case, I wanted to earn the credibility necessary to influence people who needed my product." 
Know thyself
Moreno willingly admits that he always had trouble being happy while working for someone else. Today he has the freedom to fully explore his ideas. "I need to feel uncomfortable in order to reach a productive energy level. Even when business is good, in my head I know I could do 100 times better. I never rest on my laurels." Even though today the founder could take pride in heading the most widely used solar software platform in North America a mere two years after its launch, he still feels like he hasn't accomplished his dream. "What I'd really like is to establish a firm foundation so that the company can continue to grow and ensure my employees' careers into the future. But even more than this, I want to build enough credibility to give back to the community." To this end, Moreno has already launched a foundation, called Clean Out Your Closet, which collects and redistributes clothing to refugees in need.
Growth through persuasion
Sofdesk appealed to users, but also to investors. Thus the company successfully negotiated a $3 million round of financing in 2017. This tidy sum enabled it to recruit the board of directors the company needed and to start developing new software. Sofdesk's next step will be to break into other markets and other areas of expertise, such as window installation, painting, landscaping and others.
Sofdesk in Numbers:
2: Number of award nominations received so far in 2018 (Mercuriades and EY contests)
39: Number of Sofdesk employees
33: Number of American states in which Sofdesk has a presence
3,000,000: Amount generated during the latest round of financing in early 2017
WANT TO LEARN MORE?
Visit Sofdesk's website