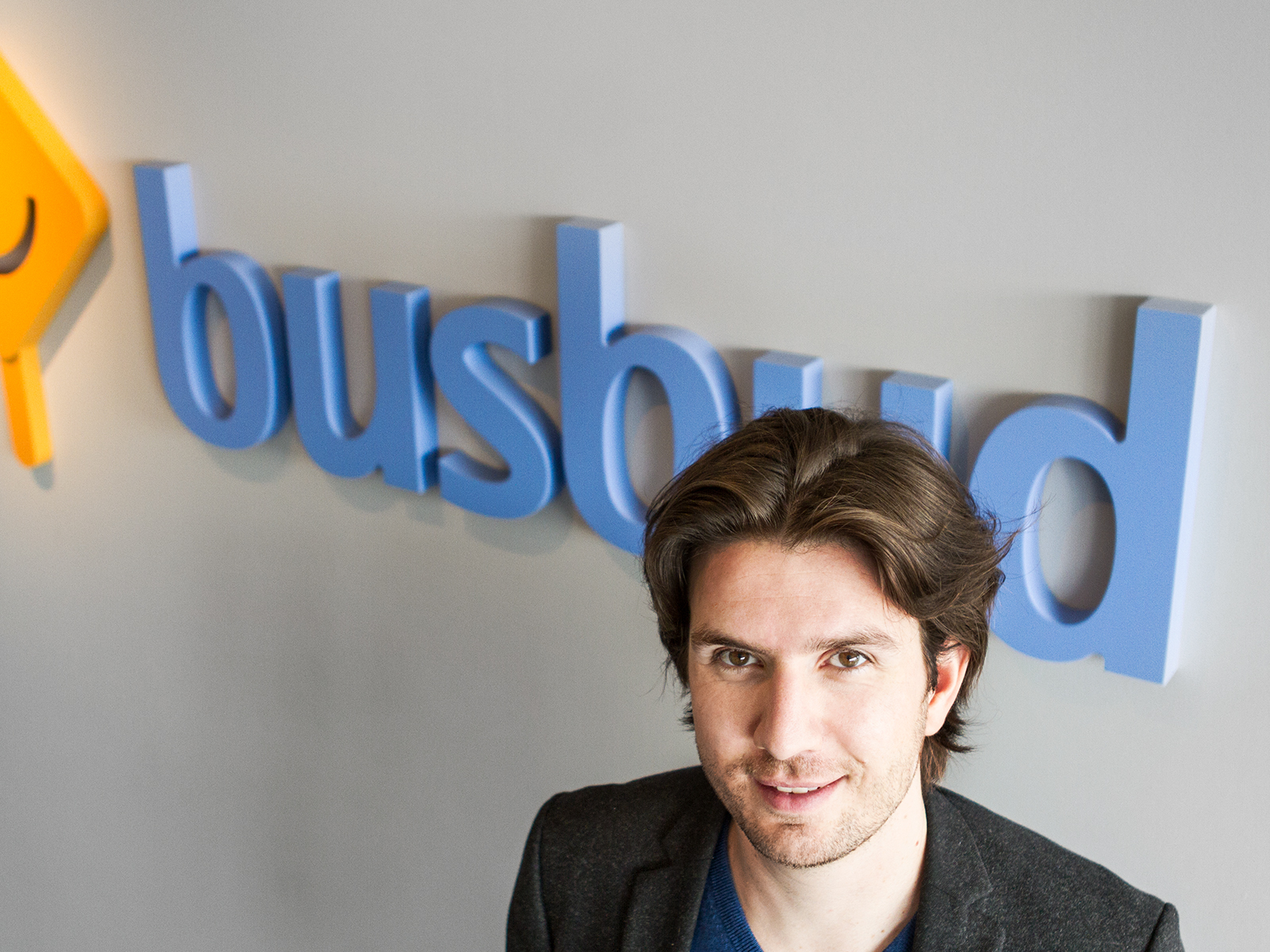 Catch that first spark
Louis-Philippe Maurice's Words of Wisdom
Thursday, October 8, 2015
If you want to have an interesting conversation with an entrepreneur, ask them how they arrived at the idea for their project.
Behind every business is a spark – a eureka moment when the entrepreneur gets an idea that will change not only their life, but often the lives of many other people around them, even around the world.
In my case, it was a trip to South America that changed everything. After criss-crossing the roads of Brazil, Argentina and Chile for a few months, I got this idea of creating a website and mobile application that would help travellers buy their bus tickets online. Four years later, our business, Busbud, has around 30 enthusiastic employees working to achieve our vision of making a universal virtual bus station (that is, to be the Expedia of bus routes) and we've become world leaders in our field.
Earlier in my life, I launched a different business. When I was 17 and still in high school, I suddenly had a lightbulb moment one afternoon when the organization Jeunes Entreprises came to visit our economics class to talk to us about entrepreneurship. Jeunes Entreprises invited everyone in my class to form teams, create a product and launch a business – this was the first time I had ever heard about entrepreneurship! Although I didn't participate in their program, I was able to watch what my classmates were doing. At the same time, my best friend and I started getting really interested in the Internet and in creating websites. So once summer came, we started building sites for clients, hence turning our new passion into a summer job.
Here's some advice for anyone who's still looking to spark their first idea:
Don't go searching for an idea, let it come to you. 

Sometimes the more you search for something, the less likely you are to find it. It's kind of like love: Often chance is best at arranging things. Rather than shutting yourself into a room for a theoretical brain-storming session, I find things go better if you just keep your eyes open in your daily activities to catch interesting opportunities. Whether at work or when travelling, our daily lives are filled with experiences that could be improved with innovative new products. You just have to observe and analyze things a bit!

Follow your passions. 

It's no secret: Entrepreneurship is not always easy. To be able to persevere with a project over the years, you have to love what you're doing. That's why it's preferable at the beginning to find a business idea that corresponds well with what you feel most strongly about. Whether it's music, sports or food, you'll be better off working on a problem that you feel really passionate about rather than a great idea that seems profitable but that you personally find less interesting.

Share your idea. 

Let those sparks fly! Talk about your idea with your friends and others close to you – often their reactions will tell you a lot about its potential. If they seem a bit perplexed, maybe you should wait for the next big idea to come your way. Your friends' comments and feedback will also often improve your initial idea and help to trigger further realizations. By sharing your idea, you also maximize your chances of finding your first clients, suppliers, employees, etc. Keeping your genius breakthrough to yourself is a natural instinct, but sharing it is a necessary step towards making it a reality. You should dare to make that first move! 
No matter what the situation, that small original spark of an idea is, in my opinion, of critical importance, because often it becomes an integral part of your mission. Of course your idea will evolve and your business plan will change over time. But that first realization will stay the same. When obstacles arise, you can always look back at that starting point to remind yourself of the reason you launched your crazy project to begin with – to change the world for the better! In those moments, that original spark of an idea will be your guiding star.
LP Maurice, President and Co-Founder of Busbud
WANT TO LEARN MORE? 
Watch LP Maurice's Defining Moment on Devenir entrepreneur 
Visit Busbud's website