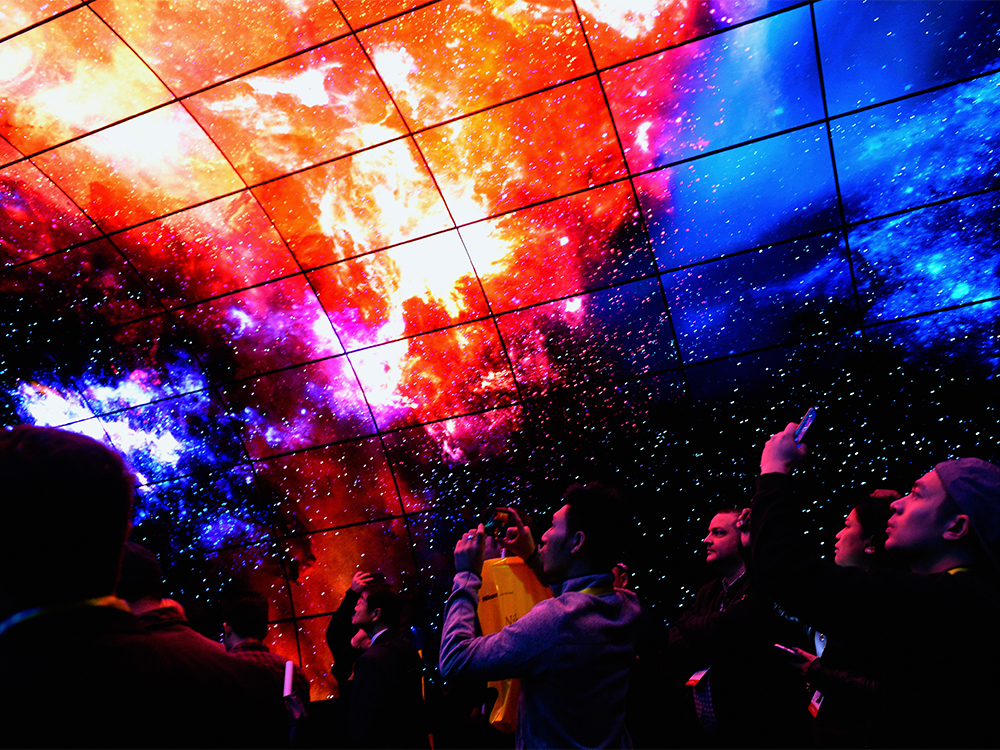 6 things to remember from CES 2017
Horizons
Thursday, January 19, 2017
From January 5th to 8th, the Las Vegas Consumer Electronic Show (CES) once again attracted companies from around the world to present their technological innovations to the media and potential partners. Independent journalist Maxime Johnson, specializing in new technologies, was present at the annual gathering. He presents us with the three main trends of this year's electronics trade show and three lessons to take advantage of the game when one participates in this type of show.
The electronics show this year brought together 4,000 exhibitors who tried to interest 170,000 professionals and 7,000 journalists. And in just four days! Innovation was abundant and the effervescence was palpable. To avoid losing yourself in this technological jungle, here are three trends that emerged from the event and that could be useful to the business community in Quebec.
1. The standardisation of certain technologies
"This year, I've seen a lot of the latest trends finally come of age," says Maxime Johnson. Far from reinventing the wheel, companies have insisted on stabilizing their offer with better finished products. For example, over the past four years, new technologies have constantly emerged in the TV market, rendering the products of previous years obsolete. This year, standards were accepted. The industry has stopped changing everything, says Maxime Johnson.
2. The rise of artificial intelligence
CES 2017 saw the emergence of artificial intelligence and not only from large companies, says Maxime Johnson. Innovators have begun to introduce consumer devices incorporating artificial intelligence. Big companies talk about it a lot, but this trend is still in its infancy, the independent journalist predicts a boom in this category next year. "Even among small start-ups!"
3. The multiplication of connected objects
"We see several competing technologies continuing to rub shoulders, but we don't know where this is going just yet," observes Maxime. For example, what standard of connected bulb will take over in the next few years? Apple Homekit, Samsung SmartThings, or another? No one really knows.
Discover also: Micro-drones: a revolution in flight
Whether your company is on the market for new technology or not, the most important trade show in the world dedicated to electronics for the general public gives key insights into how to position your product, as far as technology goes and communications. Here are 3 tips to get the job done!
1. Responding to a real and specific need
It is not just the drones and virtual reality that arouse interest at the CES. "I saw an American entrepreneur particularly surrounded by journalists: he had a pump connected wirelessly for breastfeeding," illustrates Maxime Johnson. This product was perceived as greatly facilitating mother's daily life.
For an entrepreneur, it is difficult to stand out among the thousands of products presented to the CES. "But if the product is really new and it clearly improves our existence, then it is possible," believes Maxime Johnson.
2. Prioritize your objectives
How can an entrepreneur succeed in making his or her product known amongst the crowd of exhibitors at the CES? "It's impossible to do everything, to talk to everyone," warns Maxime Johnson. It is better to identify your main objective, and to put resources in front of this objective. If the entrepreneur is primarily interested in making their product known to the general public, the idea is to participate in events on the sidelines of the CES where he or she can meet many journalists. But if the goal is to find clients and partners, the strategy has to be quite different. "It is necessary to clearly prepare the meetings in advance, recommends the journalist specialized in new technologies. Appointments must be made several weeks in advance. On the spot, it's very difficult."
3. Be supported
For a start-up, it's hard to be on your own at an event like the Las Vegas CES. So each country creates initiatives to publicize its businesses effectively. At the CES, the Board of Trade of Metropolitan Montreal and the Canadian Digital Media Network organized an event that brought together the 46 Canadian companies and journalists from around the world were invited. It allows companies to save on the effort it takes to reach out to the media individually and it's a way to increase their company's visibility. These small initiatives allow entrepreneurs to shine more.
Want to learn more?
Visit the CES website