gsmprjct°, design and production without borders
Horizons
Monday, February 22, 2016
The Montreal firm gsmprjct° showcases their talent all around the world with their design, museum, and exhibition experiences. The Star Wars Identities. exhibition is an example of one of their international successes. Yves Mayrand, the company's president, shares his vision and aspirations, which are located somewhere between innovation, unbridled creativity and a strong entrepreneurial spirit.
A long-time feature of Quebec's creative landscape, gsmprjct° was founded in 1958. The firm was responsible for the redesign of the Montreal metro cars and for several of the themed pavilions for Expo 67. In 1981, when Yves Mayrand joined the company, gsmprjct° specialized in the production of exhibitions. He became the owner of the company 1986 and president in 2002.
Bringing gsmprjct° to the next level
Although gsmprjct° has always been a company focused on the international scene, Yves Mayrand and his team have amplified that presence even further over the years, and today they reach a very large audience.
"In 1980 to 1990, Quebec experienced a museum boom, which we took advantage of. However, the museum trend faded out in North America and we had to find other markets to explore. So I pushed my company well beyond these limits."
Going abroad and asking ourselves the right questions
Before making any big decisions, Yves Mayrand wondered where the major cultural centres were, and which governments and private institutions would be willing to invest in the world of arts and culture. Then he looked for a market that wasn't already saturated.
So gsmprjct° went after Singapore first (Museum of Asian Civilization, National Museum), where it has had offices since 2003. The company then continued on to China (Shanghai World Expo) before exploring Europe (Ajax Experience in Amsterdam) and finally the Middle East (Burj Khalifa tower in Dubaï).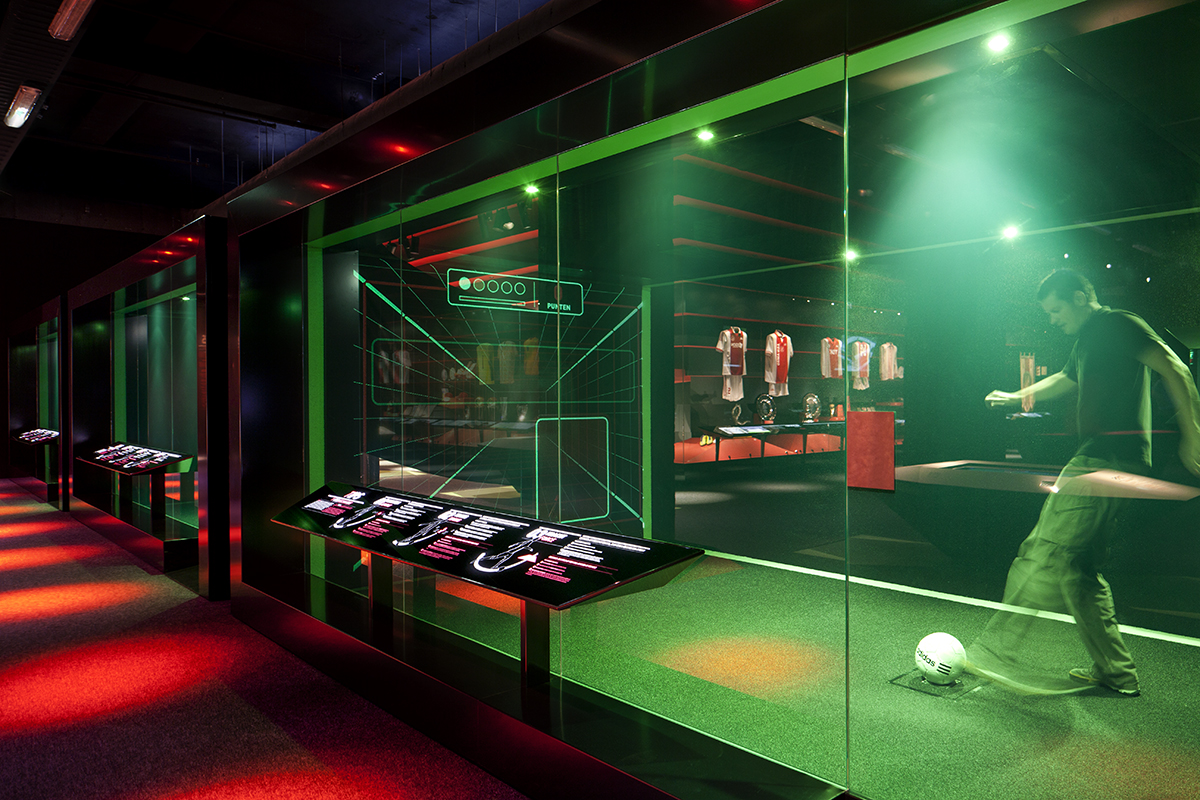 Ajax Project - Photo credit: Ewout Huibers
To export your company abroad is to export your values while respecting the identities of those you are working with. gsmprjct° was built on a foundation of curiosity and humility. For example, with its projects in Singapore, the company was keen to work with local talent to ensure that their work would reflect the country's image. "Many creative agencies have a signature. This is not the case for gsmprjct°," says its president. "Our clients' projects come first."
Strong local position, global strategy and risk control
The company is always looking for new challenges, but Yves Mayrand is not reckless. "Of course you have to take risks, but ours are calculated," he says. "We're not hotheads."
« As an entrepreneur, I am responsible for our heritage, our story, our clients and our team. The entrepreneur inspires, stimulates and supports. »
— Yves Mayrand
When a company is about to export its offering to other markets, it needs to ensure that the underlying reasons behind the move are good. According to Yves Mayrand, "When you're focusing on a new market, you cannot abandon your original market, your original source of inspiration. You need to respect the journey by paying close attention to your business objectives."
Yves likes to draw upon words of wisdom from the company's original founder, Jacques Guillon: "Design is an added value for business. As designers, we need to think business and always keep a business vision in mind."

Burj Khalifa tower in Dubaï - Photo credit: gsmprjct
gsmprjct° IN NUMBERS
50 : Number of employees
25 000 :Square feet of surface area of their project delivered in April 2015 in the Lee Kong Chian Museum of Natural History in Singapore.
500 : Height in metres of the 148th floor of the Burj Khalifa,the tallest tower in Dubai, where gsmprjct° created a video installation
2016 : Year of the scheduled delivery of the Place Ville Marie Summit project, which will have a restaurant on the 44th floor, and a gallery and an observatory deck on the 45th and 46th floors. gsmprjct ° is extensively involved in the process.
Want to learn more?
Visit the gsmprjct° website