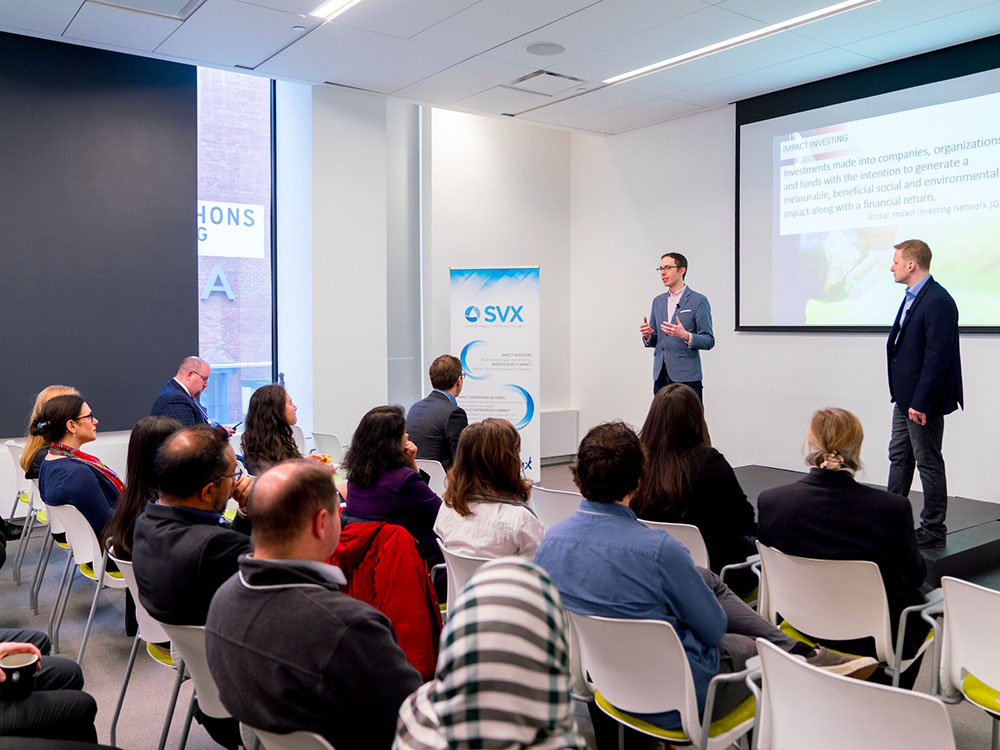 SVX Quebec: A different kind of financing
Horizons
In entrepreneurship, growth is often synonymous with seeking out financing. But finding a venture capital or crowdfunding goldmine is often hard to do, especially for companies operating in the social impact sphere. But there are a few initiatives that solve this problem by facilitating connections between entrepreneurs and investors. Among them is the Canada-wide platform SVX, aimed at entrepreneurs developing innovative ideas that attempt to respond to social or environmental issues.
The SVX platform was created in 2013 by Toronto's MaRS Center for Impact Investing. As a resource available to the entire Canadian market, this initiative has a presence in many centres of activity. SVX's Quebec division was created in 2018 through a partnership with Esplanade, a collaboration and incubation space for social entrepreneurs located in Mile End. The Montreal team at SVX handles the development of its activities in Quebec and its approach to various markets by working closely with the Toronto team.
In concrete terms, SVX is a financing platform for social and environmental innovation companies, also known as "impact companies." Funds originate from private firms, investment funds, the general public and debt or equity investments. The organization also offers a crowdfunding platform, impact investment funds and community obligations (debt obligations generally used to support community projects).
Why impact investing?
"What's happening in the world of finance," explains Alain-Olivier Desbois, a senior director at SVX Quebec, "especially in terms of social networks, is the democratization of financing, which is a strong trend internationally." As Desbois emphasizes, interest in impact investing is driven in part by the fact that banks do not necessarily offer all the tools needed by investors. There is a growing interest in investments that are more closely aligned with communities and that respond to their values, which is not usually offered by institutional financing.
"We're hearing more and more frequently that people want their savings to contribute to projects that are in line with their values and interests. But unfortunately it's not possible to access these projects, which the financial market either isn't developing or rarely supports." 
Alain-Olivier Desbois
Hence the explosion in investment alternatives.
Another aspect is the public's growing awareness of social and environmental issues. Since large companies are not providing a solution to these problems and often act purely to maximize their profits, small impact companies are attracting a lot of interest. "I've noticed that investors want their money to generate more than just financial returns. These types of financing structures are important to investors, but also for entrepreneurs." As Desbois explains, multiplying financing sources drives economic growth for the country as a whole.
What is the definition of an impact company?
To determine a company's admissibility, SVX refers to BCorp certification criteria. Thus, companies must undergo B Lab certification, without necessarily obtaining the actual certificate, and obtain a score of 80 or higher. Companies can also demonstrate in their own way what they have done to support their transformational goals. "You need to have an impact-oriented narrative," says Desbois. "And this has to translate into concrete actions that are integrated into your business model." 
See also: BCorp Certification: Responsible Entrepreneurship 
Multifaceted support
SVX's guidance is provided throughout the entire financing process. The organization first supports entrepreneurs in order to ensure their investment readiness. It then helps them prepare for the financing rounds in terms of materials, presentations, their narrative and financing strategy, calling on input from the platform's partners if necessary.
Once entrepreneurs are ready, the SVX team participates in a diagnostic of the company and produces documentation for due diligence investigations according to the requirements of investors. "Entrepreneurs often don't speak investors' language," states Desbois. "That's not their specialty. So we make sure they understand and are ready to raise funds and attract the right investors."
Once the diagnostic is complete, the project is presented to the investment committee, which is composed of around fifteen representatives of the industry. The committee includes members of venture capital and private capital firms as well as government. Its role is two-fold: to validate the quality of presentations and ensure that these companies are connected with their networks.
After this presentation, all that remains is for entrepreneurs to decide who their campaign is addressed at—accredited investors, eligible investors or the general public.
Once funding is granted, entrepreneurs need to learn how to make regular reports to their investors. "Entrepreneurs quickly realize that once they have raised the capital, they have to develop a relationship with their investors—an important relationship that can be very fruitful."
SVX in Numbers:
20: Approximate number of campaigns currently being supported
2: Number of Quebec companies currently offered on SVX, specifically: Nectar and Écotierra
2: Number of SVX employees in Montreal
$7 million: Amount of funding mobilized by the platform over the past year
WANT TO LEARN MORE?
Visit SVX's website