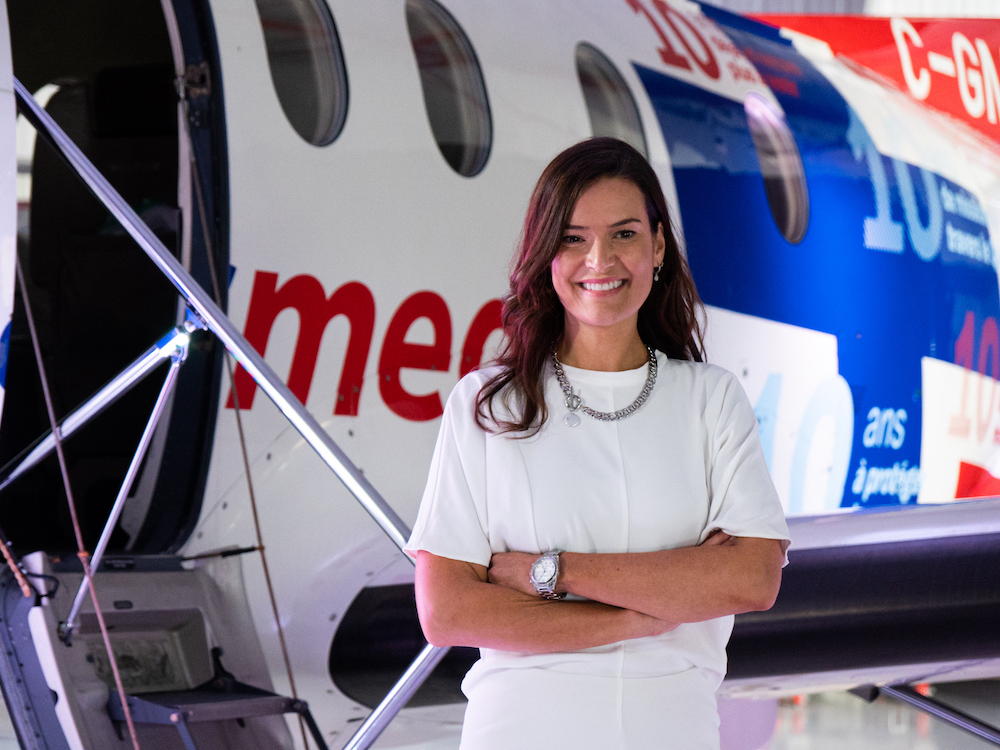 Airmedic: Celebrating 10 Years of Success in the Air Medical Services Industry
Sophie Larochelle's story
Since 2012, Airmedic has been providing medical assistance and safe air medical services tailored to all emergency situations across Quebec. CEO Sophie Larochelle intends to sustain the Saint-Hubert SME's growth, namely by offering international rescues.
"We have grown by 30% annually for the past four to five years and we have close to 200 employees." To mark its ten years of success, Airmedic announced the expansion of its Saint-Hubert hangar and revealed a new state-of-the-art uniform.
A LIFELINE FOR QUEBEC'S ISOLATED REGIONS
When it comes to the relevance of a company like Airmedic, numbers speak for themselves: 75% of Quebec's territory cannot be reached by 9-1-1 emergency services. Airmedic's service is therefore essential for rescues in areas that are inaccessible to ambulances.
Unlike other Canadian provinces, Quebec's air medical services are not regulated by the provincial government and are not integrated into the health care system. "Airmedic is therefore one of the only ways to be evacuated quickly and increase one's chances of survival in remote places."
While health centres in isolated areas provide primary care, a patient must be transported to bigger facilities—such as the hospitals in Val-d'Or, Sept-Îles or Chicoutimi—for more complex care. As for critical care, one must head to Quebec City, Montreal or Sherbrooke.
HELPING INDIGENOUS COMMUNITIES
Airmedic offers subscriptions from 10 days to up to two years and caters to outdoor enthusiasts, cottagers and people who live in remote areas year round.
In recent years, Indigenous communities have become allies for Airmedic, which now does more than 75% of its business with them. The company has integrated the communities by building hangars and houses in hopes of better serving them.
"Our teams now operate on-site to offer a quicker response. Six of our planes are dedicated to this service. There's a daily demand to transport people into our province's major centres."
A LARGER HANGAR AND A BETTER UNIFORM
As Airmedic's exponential growth requires more space, the company has begun to expand its hangar in Saint-Hubert, Montérégie. "We are quadrupling our garage space." Construction is expected to begin in the fall of 2022 and to be completed by the end of 2023.
The medical assistance business also revealed a new uniform for its staff to replace the traditional—rather stiff and ill-fitting—flight suits. Featuring patented technology for better stretch in key areas, such as at the elbows and knees, these comfier flight suits also help with staff retention.
"When you give your employees the best, you often get the best from them in return."
INTERNATIONAL GROWTH ON THE HORIZON
The COVID-19 pandemic has weakened many international players in the air medical services industry—those whose operations were not diversified and who are now finding it difficult to get back on track, particularly due to the lack of pilots.
As Airmedic experienced growth during the pandemic and was able to maintain its operations, the company is well positioned to claim some of their market share. In addition to being an opportunity for growth, it will also encourage staff retention. "Pilots are always looking to fly bigger planes, and to fly farther. For a pilot's career at Airmedic, it's quite appealing."
A FEW FIGURES
175 employees
6,000 missions accomplished
500,000 people have subscribed to Airmedic since 2012
$18 million projected in sales for 2022
4 hangars in Saint-Hubert, Saint-Honoré, Blanc-Sablon and La Romaine
$90 million invested since 2012
LEARN MORE
BrowseAirmedic's website to learn more about their medical assistance and safe air medical services.