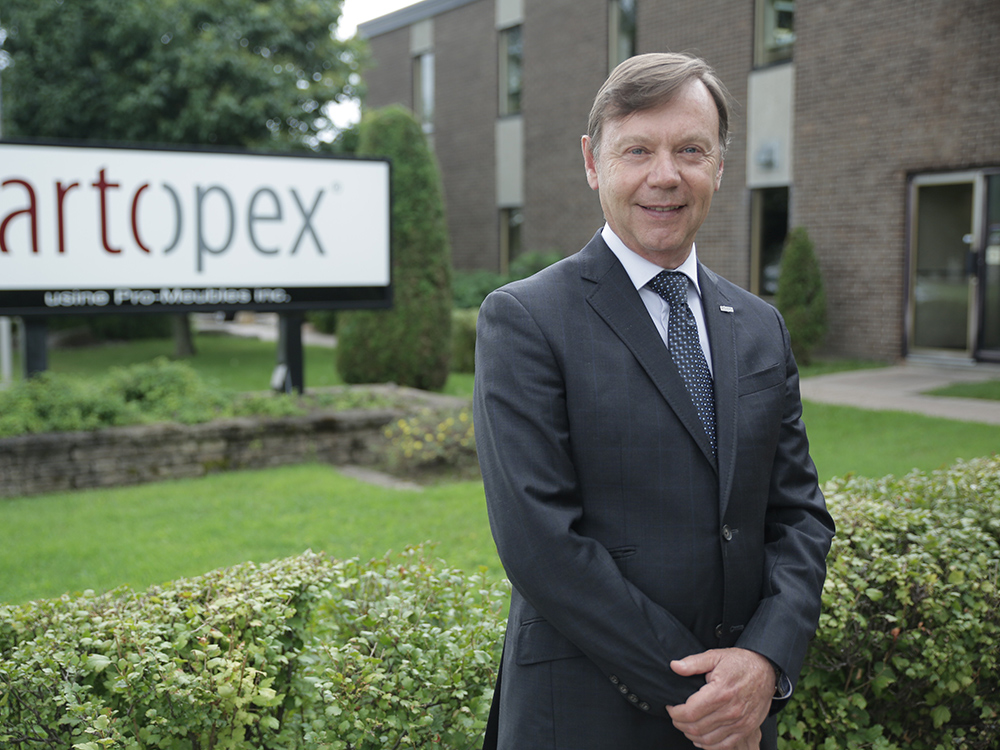 Artopex: a family affair
Daniel Pelletier's Story
Daniel Pelletier, president of the office furniture manufacturing company Artopex, knows how to mix business and family.  In recent years, he quietly handed the reins over to his sons, Francis and Martin.  Meet an entrepreneur who knows how to motivate and engage his successors.
Daniel Pelletier's experience with entrepreneurship has always been a family affair. In 1987, he made a series of business acquisitions with his brothers Maurice and André. Such takeovers led them to their acquisition of Artopex. The company manufactures office solutions ranging from ergonomic chairs to conference tables. 
The challenges of the family transfer
Daniel Pelletier had already started thinking about his succession in 2007. When his brothers retired in 2006 and 2010, none of his nieces or nephews were interested in taking over the business. So, he bought out his brothers and began the process of preparing his children to take over the business.
"The biggest challenge in business succession is time," said Daniel Pelletier. The process is not something that can be done overnight. Mr. Pelletier's retirement took the form of a gradual release of control rather than a quick replacement.
Discover also : Who to transfer your business
"The keys to successfully handing over a business are preparation, patience and organization. Don't rush things; take the time to plan out the succession process."
Daniel Pelletier
Francis and Martin were involved in the business at an early age. As teenagers, they spent their summers working for Artopex. Martin earned his BA in Finance and Francis in Marketing. One is set up to handle sales while the other can focus on the financial structure and product development. Like Daniel Pelletier and his brothers, the new generation understands the power of joining complimentary forces and playing to ones' strengths. 
Daniel, Martin and Francis Pelletier
Transferring procedures
In 2009, faced with the difficult transfer process, Daniel Pelletier decided, along with his sons and wife, to sign up for a business transfer training workshop at HEC Montreal. The 5-day workshop consisted of experts addressing the various issues related to the transfer of a business within a family.
"We were able to better predict the potential challenges that can arise during the transfer process. The training helped us to be prepared for what we were going to experience," recalls Daniel.
In 2010, the family surrounded themselves with coaches to help develop a 10-year succession plan. Similar to a business plan, the Pelletier succession plan is constantly developing to best suit their realities.  By the time this plan will have been carried out, Daniel Pelletier will have delegated all of his daily tasks to his children and other colleagues. "Even if the succession is within the family, employees must be involved and aware of the company's long-term mission and vision," affirms the Granby entrepreneur.
Daniel Pelletier continues to follow his plan rigorously while patiently biding his time until he can occupy a different role in the company.
The Artopex hand-over process in 5 steps
2009-2010: Pelletier family participates in training at HEC Montreal. Mentors and coaches are involved in establishing a 10-year succession plan.
2011: 

Daniel Pelletier begins to free up certain tasks

2012: 

Francis and Martin are integrated into the company's Board of Directors

2017: 

Product development and operations will be entrusted to Francis and Martin Pelletier

2019: 

Daniel Pelletier will step down and have his sons, Francis and Martin, take over. Daniel Pelletier will now support the company as an ambassador. He will represent the image and brand, but will no longer play an operational role.


 
Artopex in numbers
650: number of employees at Artopex
5: number of production units
90: million Artopex's revue in Canadian dollars.
 
Want to know more?
Visit Artopex' web site