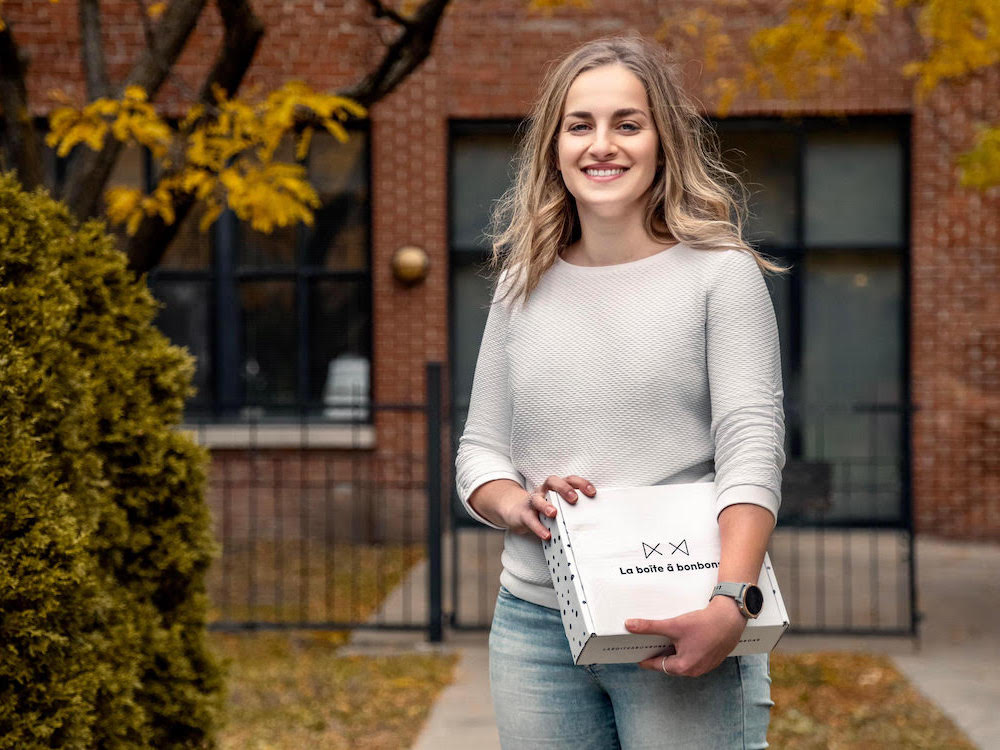 La boîte à bonbons: Fresh and Gluten-free Candy to Satisfy your Sweet Tooth
Sarah Takforyan's Story
Since 2016, La boîte à bonbons, and its retail brand C'EST BONBON, has been a favourite amongst candy lovers across Quebec and beyond. Led by Sarah Takforyan, the candy company distributes fresh quality sweets—as delicious as they are tender—throughout North America.
Sarah got into the candy business for her sheer love of sweets. Exactly six years ago, the Montreal-based company made a big splash by opening its doors days before Halloween.
BUSINESS GROWTH ON A SUGAR RUSH
Brought up by an entrepreneurial father, Sarah has been immersed in entrepreneurship since childhood and always knew she wanted to start her own business. After completing her master's degree at HEC Montreal, she found a job working with Montreal's tech startups to soak up their entrepreneurial spirit.
Following the successful launch of La boîte à bonbons in 2016, Sarah quickly left her job to focus on developing her own business. The entrepreneur first offered an online monthly subscription, then began selling individual bags in various shops. The combination paid off: "We were doubling our sales every year."
In early 2020, as the COVID-19 pandemic made its way to Canada, Sarah had only one employee by her side. With stores closing their doors left and right, the entrepreneur thought La boîte à bonbons had to be next. Against all odds, her business escaped a similar fate: its online sales exploded. "To give you an idea, we were selling in less than a day, every day, what we used to sell in the span of one month before COVID-19." Sarah had to hire a dozen people on short notice, going from two to fifteen employees in less than two weeks.
The craze for local and online shopping—and perhaps a desire to eat away our worries in the face of so much uncertainty—contributed to the company's substantial growth in recent years. By the time local businesses reopened, many more people were familiar with La boîte à bonbons and its retail brand C'EST BONBON. Sarah is now focusing her efforts on developing relationships with retailers, especially in Western Canada. "Online sales have become seasonal, revolving around holidays such as Christmas and Valentine's Day." As soon as she is ready to take on larger volumes, Sarah plans to tackle the U.S. market.
FINDING THE RIGHT PARTNERS
To further develop its distribution network, La boîte à bonbons must surround itself with the right people. "We need to have the right partners who will be able to supply us at the right time, with the right volumes." A business decision that Sarah does not take lightly as her company has always chosen to supply itself in small volumes to ensure the freshness of its products.
"In the candy industry, you can easily get stuck with unsold stock for 6 to 12 months. Candy can't stay fresh that long and will ultimately harden, which is something we wanted to avoid at all costs."
After six years of business, the chewiness of Sarah's candy is still something her customers appreciate. "The only way to ensure that quality is to work with partners who can provide us with small quantities just in time." To do this, the entrepreneur attends several candy trade shows each year (living the dream!), namely in Germany and Chicago, USA. "People are eager to give you a taste of their candy! When I came back from Chicago, I had a backpack full of samples—something like 12 kilos—and the customs officer asked me what was in it. I said, 'It's candy, don't ask questions!' [laughs]."
Receiving small quantities on a regular basis requires a lot of planning. Indeed, organisation is Sarah's number one tip for aspiring entrepreneurs: "The key to managing growth is to have a good foundation. From the beginning, you have to be well organised. It might seem silly, but having Excel files for everything really helps!" When tackling business growth, Sarah recommends budgeting an extra 10% on anything you might need and to monitor your cash flow.
SOCIALLY CONSCIOUS AND GLUTEN-FREE GUMMIES
In addition to the freshness of its products, La boîte à bonbons stands out thanks to its gluten-free products. Most gummies don't contain any, but there is a whole array of candies that aren't safe for people with celiac disease and gluten intolerance. "Licorice and sour belts, or any chewier candy usually contain wheat starch." By forgoing the production of these candies, the company can avoid cross-contamination.
Since 2019, Sarah also offers a committed line amongst her C'EST BONBON products. "I wanted to find a way to give back a little bit of what we earn and for people to feel like they are contributing to something directly." Sarah chose to partner with 1% for the Planet, an organisation created by Patagonia's founder, Yvon Chouinard. La boîte à bonbons donates 1% of its sales from its committed line to nonprofits affiliated with 1% for the Planet. Each type of gummy is assigned a cause for which it will raise money. For example, the seven seas mix is dedicated to helping clean our oceans. Sarah is working on a new blend to help support a Quebec organisation.
In anticipation of her busiest time of the year, Sarah launched a line of small bags filled with her products that can easily be distributed in children's bags for Halloween. She also released her famous advent calendar, one of her top-selling products online, in anticipation of the holiday season. "Everything is happening all at once! High season is upon us," concludes Sarah.
A FEW FIGURES
10 employees, which increases to 20 during the holiday season
30–40% of annual sales growth
~35,000 monthly boxes delivered in 2021
1,000+ points of sale in Quebec, not including 300 retailers in the rest of Canada and over 100 in the United States
10,000 square feet facilities
LEARN MORE
Visit La boîte à bonbons' website to learn more about their fresh, gluten-free gummies.
Photo credit: Nick Brice
%>