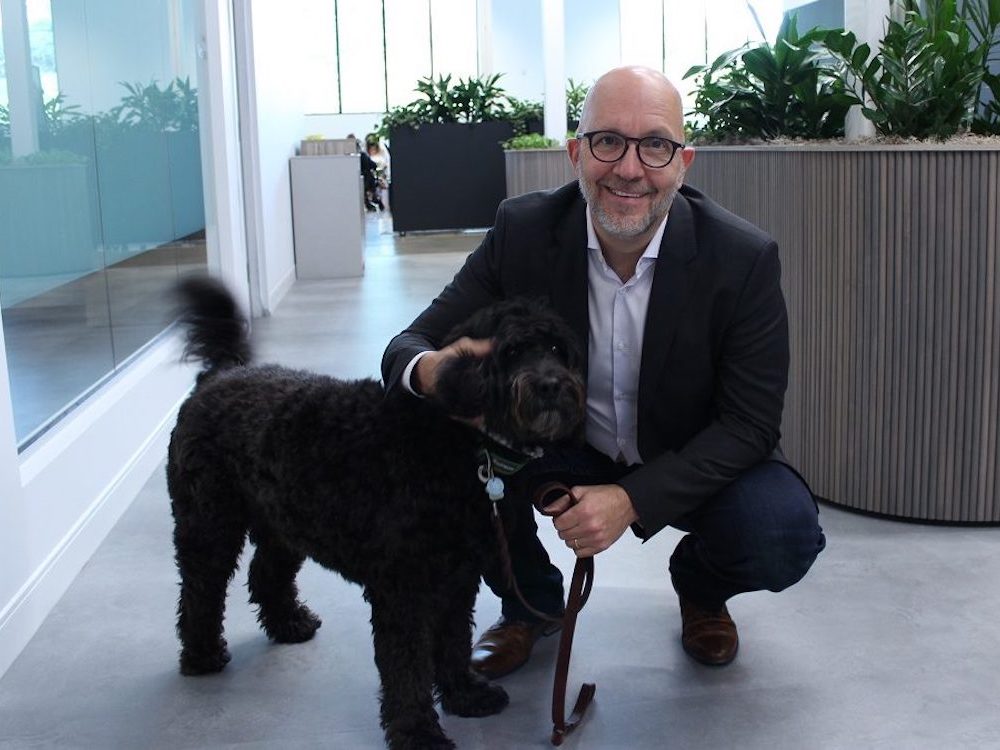 Mondou: Taking Good Care of Animals and the Community
Pierre Leblanc's Story
Thursday, August 25, 2022
For more than 80 years, Mondou has offered products, services, and advice for the wellbeing and health of companion animals throughout Quebec . General Manager Pierre Leblanc sat down with us to talk about their new headquarters and their many philanthropic commitments.
Joseph-Émilien Mondou founded the J. E. Mondou company in 1938. Fifty years later it was bought by the Legault Group, and today, the Quebec flagship business has 79 branches across the province.
A NEW HEAD OFFICE TO STRETCH OUT IN
In 2021, Mondou inaugurated a new head office in Anjou-sur-le-Lac, in the east of Montreal. "The employees love it. We have common areas, a gym, a yoga room, a terrace… It's almost like all-inclusive resort!"
Employees' pets enjoy their time running around outdoors, with a breathtaking view of the lake. "The environment is welcoming. It's designed to make employees feel good, feel at home. There's a friendly, familial quality you just don't find in more conventional offices."
Wasn't it counter-intuitive to open a 60,000-square foot head office in the midst of a pandemic, when working from home was gaining ground? "The productivity was there, but I found there were too few opportunities to have discussions with colleagues from different departments."
"A mixed environment makes it possible to enjoy the advantages of working from home, but also offers more informal moments for social contact and the cross-pollination of ideas and information between departments."
The staff is invited to come in to the office every Wednesday, and at their discretion on any other day in the week. "We adapt to each person's reality. The pandemic has changed the way business leaders operate."
AN OMNICHANNEL STRATEGY THAT FETCHES RESULTS
Unlike other pet banners, Mondou stores are not franchises. This business model ensures that Mondou's online store and all Mondou branches share the same SKUs. "We have a 360° vision. We want to ensure that our clients decide what, when, and how they want to buy."
Mondou's online store was already launched before the pandemic, but online sales have grown considerably since. That said, Pierre has noticed that while clients will order recurring products online, they like to visit the store for advice on new products.
"Our omnichannel approach is important, as are our loyalty program and our subscription program."
In addition to being a distributor of products for animals, Mondou has four private brands. The company has a wet food manufacturing plant, and will soon open their first dry food plant in Drummondville.
INCREASINGLY FIERCE COMPETITION
The growth of the market dedicated to animal products had led several retailers to attempt to seize the opportunity. Big names like Walmart, Sobeys, and Canadian Tire are now selling pet food, as are e-commerce giants like Amazon.
It is anticipated that other companies specializing in products for animals will also arrive in Quebec in coming years. It will be vital for Mondou to maintain unique value for its customers, by focusing on its omnichannel and advice-driven approach. "That's the only way to stay number one in Quebec."
A REAL COMMITMENT TO THE WELLBEING OF ANIMALS
The COVID-19 pandemic has put enormous pressure on Mondou's business sector, with both a significant increase in cat and dog adoptions, and major disruptions related to the global supply chain.
After just two years of pandemic, we are now seeing an increase in the number of animals in shelters. "They are filling up significantly because people are going back to in-person work." At Mondou, we advocate for responsible adoption, and the company contributes to the wellbeing of animals in multiple ways.
"Our most recent Mondou Mondon fundraiser allowed us to donate $375,000 to animal shelters." Several Mondou branches now have a large adoption space that can accommodate animals looking for a new family.
"We're not just a retailer that sells products. We have a whole department dedicated to helping the community."
THE COMPANY IN NUMBERS
1,600: the number of Mondou and Groupe Legault employees
79: the number of Mondou branches
13,000: the number of products available
4: the number of private Mondou brands (Vetdiet, O'Select, Petstory, and BeOneBreed)
LEARN MORE
Visit the Mondou website to find out more about pet products and to find a branch near you.