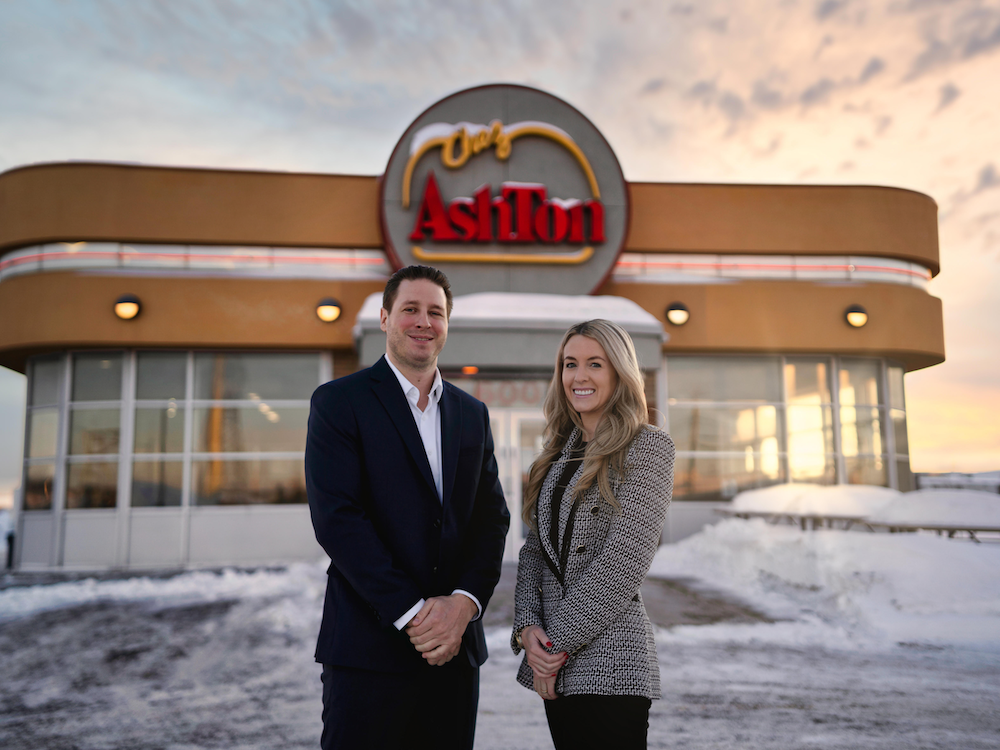 Chez Ashton: Two Fast Food Aficionados Ensure the Business's Legacy
Émily Adam and Jean-Christophe Lirette's story
Thursday, August 18, 2022
A Quebec institution for 53 years, Chez Ashton will continue to grow thanks to an ambitious young couple. Émily Adam and Jean-Christophe Lirette took over the beloved Quebec-city fast food chain in early 2022.
Founded by Ashton Leblond, the business started up in a fast food trailer in 1969. More than 50 years later, Chez Ashton boasts 23 locations and 650 employees, but still serves the same fresh products made from local ingredients.
COURAGE IS KEY
For starters, Emily and Jean-Christophe have a lot in common! The 33-year-old co-owners come from entrepreneurial families, went to university together, have been a couple for a while and are now new parents. "With the business and a two-and-a-half year old, we're always in the middle of the action!" says Emily, with a laugh.
Like Ashton, the couple started small, with the purchase of their first snack bar, Ti-Oui Snack Bar in Saint-Raymond. Then the duo partnered with a major national fast food chain and opened several locations.
"We sort of followed in his footsteps. I think he recognized himself in our journey," explains Jean-Christophe, "we had the courage to believe it was possible from the beginning."
LEARNING FROM EXPERIENCE
Émily and Jean-Christophe spent their first 100 days at the company developing a strategic plan for all departments. "We wanted to take this time to fully understand the restaurant's organizational structure before launching our growth initiatives," explains Jean-Christophe.
In the meantime, the couple began the process of updating the brand's image by involving team members to avoid losing sight of the chain's DNA.
"The Chez Ashton employee experience is truly what sets us apart. We have people who have been here for 38 years! We want to keep the corporate culture and the founder's values," adds Emily.
While honouring the restaurant's past, the co-owners will initiate a digital shift to rejuvenate Chez Ashton's clientele. "The goal is to make Ashton's offer more accessible," says Emily. To achieve this, the duo is looking for potential partners to offer a delivery service. Who doesn't dream of an Ashton poutine delivered to their doorstep?
A (LOCAL) RECIPE FOR SUCCESS
Limited-time seasonal specials may appear to follow culinary trends, but the couple doesn't intend to change the chain's menu. "The poutine will remain the same!" says Jean-Christophe to reassure us.
The same goes for local ingredients. "The majority of our products come from here, like our potatoes from Île d'Orléans and our cheese - always fresh of the day," he adds. In order to adapt to today's realities, he and Émily plan to incorporate sustainable development into the new Chez Ashton restaurants' brand image.
NOW AT YOUR LOCAL ASHTON
The duo has yet to reveal the new restaurant prototype they've been working on for Chez Ashton as they are also planning on opening new locations. "We would like to open one or two in 2023 and then modernize the other restaurants," explains Émily.
In the near future, the two entrepreneurs want to consolidate the greater Quebec City area. Then, the duo sees itself breaking into regions on a provincial scale. And what's next?
"We have many dreams and a lot of ambition. I believe that with our product's quality, we could go beyond Quebec," confides Jean-Christophe.
It's all very well to open restaurants, but you need people to operate them! This is why the two entrepreneurs are working hard on Chez Ashton's employer brand. "Workforce is the crux of any restaurant's business," says Émily. "The important thing is to contribute to the development of our people and to grow as a team," concludes Jean-Christophe.
LEARN MORE
Browse Chez Ashton's website to check out their menu and learn more about this Quebec fast food chain's history.