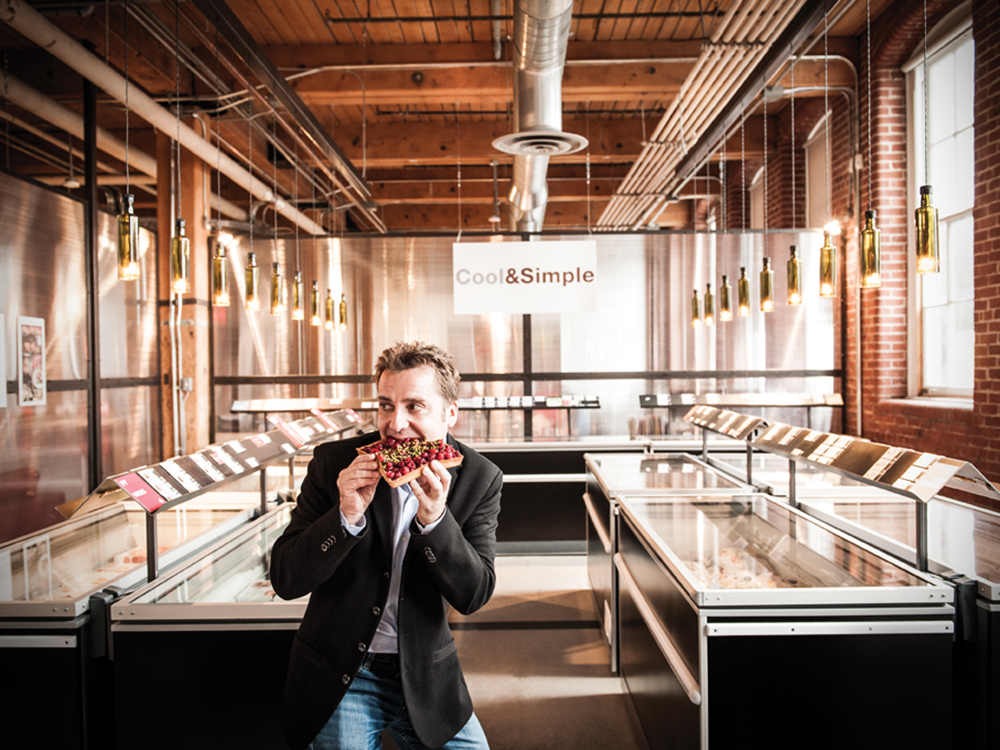 Cool&Simple: Building an appetite for frozen foods
Vincent Mahé's Story
Thursday, November 7, 2019
Vincent Mahé, a young immigrant from France with a passion for gourmet food solutions, developed an entrepreneurial venture out of his desire to introduce Canadians to the joys of high-quality frozen foods.
It all started with Vincent Mahé landed his first job with a French SME based in England that specialized in food importation. This first incursion into the field enabled him to learn both English and the basics of sales in the agribusiness sector. Two years later, after returning to France, he continued working in the food business, in imports, all the while feeling increasingly drawn to entrepreneurship as well as the idea of relocating abroad.
In 1998, Mahé and his cousin Jean-Philippe Brouillet moved to Quebec to help a French frozen food company break into the North American market. But since they also wanted to do things on their own terms, they founded Gastronomia so they could operate as independent brokers. One thing quickly led to another, and the pair also became importers, then product creators, and finally created their own line—a B2B service offering gourmet products to hotels, restaurants and institutions. 
Gastronomia: A brand for chefs
Before Cool&Simple there was Gastronomia, a brand aimed at chefs. Culinary professionals often don't have the time or resources to create everything themselves; Gastronomia offered high-quality finished or semi-finished products that would enable them to complete their menus. From hotel complexes to restaurants, the brand became a major supplier and kept on growing, especially as a provider of sugary goods.
As the years passed and products were added to Gastronomia's catalogue, consumer demand intensified for a point of sale that was accessible to the general public. Mahé therefore opened his first store at the end of 2009, containing a total of 11 freezers, in Griffintown at the company's offices. The location offered close to 150 products. When it first opened, the neighbourhood was not as highly sought-after as it is now, yet the popularity of the store grew very quickly. "We said to ourselves that if people were willing to come all the way here, it was because they really liked our products," explains Mahé.
Cool&Simple branches out
In 2011, they closed their Griffintown point of sale and opened their first permanent store on Île des Sœurs. That opening was followed by others in Monkland (2012), the Plateau Mont-Royal (2013), Atwater Market (2014) and Quartier DIX30 (2015). 
Since they wanted to add new distribution channels for their products, Mahé also accepted orders from particular supermarket chains to distribute their best-sellers, then also decided to launch online sales.
"We want to constantly add new distribution channels as well as offer consumers different ways of acquiring our products."
Vincent Mahé
An evolving model
While Cool&Simple and Gastronomia's basic offering had always been the same—gourmet frozen foods, freezing being a method of preservation that is "the most natural, the least costly and which avoids the most waste," according to the founder—their business model and products change according to consumer demand. 
While the gourmet ready-made formula is seductive, Cool&Simple still needs to vanquish North Americans' overall negative perception of frozen foods. Communication is therefore the brand's biggest challenge, according to Mahé, and something to which the company has applied all the necessary tools. A "tasting committee" composed of people from their marketing and product development departments was put together to ensure every product tastes amazing and uses high-quality ingredients. A lot of effort was also put into the visual aspect of foods as well as their ease of preparation (or not, depending on the item in question). But nothing about this challenge worries Cool&Simple's creator, who sees these steps as a necessary rite of passage. "We've already demonstrated that freezing is a technology that allows you to retain a product's characteristics. When a product has good foundations, you can see it in the final result on your plate. It's a proven model in France if you look at a brand like Ricard. When the quality is there, growth will happen."
The agribusiness sector being very dynamic at the moment, Cool&Simple can now develop even more products manufactured locally, which used to be hard to pull off. This means the products offered are a mix of imports and local goods, depending on what works best. One-third of their sales are made in Quebec with the remainder spread throughout the rest of Canada, the brand's primary source of growth. "As long as we have good growth here, we'll continue to focus on this specific market," says Mahé.
In the coming years, the leader will continue to watch the trends and refine its frozen products while continuing to evolve their distribution channels. "I love being able to reinvent our business model at various stages. The agribusiness industry is very dynamic right now and that's exciting. I like evolving the business, structuring it and mobilizing people around a venture." 
 
Cool&Simple and Gastronomia in Numbers
5: Number of Cool&Simple stores
50: Number of Gastronomia and Cool&Simple employees
365: Number of products offered by Cool&Simple
200: Number of products offered by Gastronomia
WANT TO LEARN MORE?
Visit Cool & Simple's website