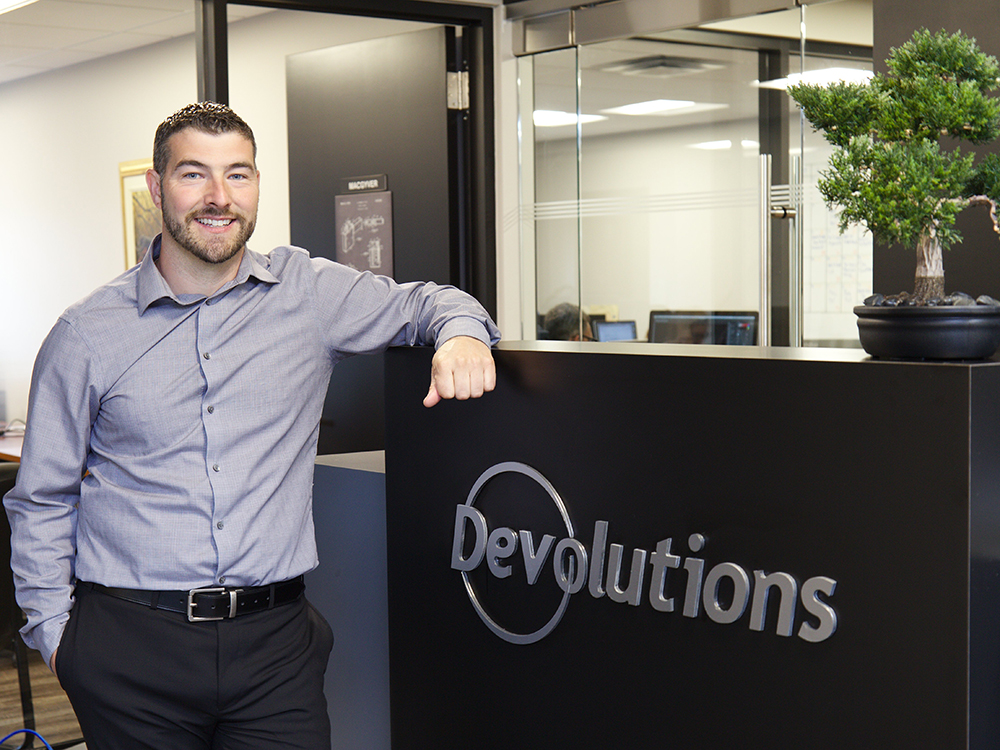 Devolutions: When a computer whiz becomes an entrepreneur
David Hervieux's Story
A former programmer who launched his own company from his basement almost ten years ago is now the head of a major business with close to a hundred employees. Here's a look at an inspiring story about growth.
David Hervieux was employed for several years as an IT developer when he decided in 2004 to switch to freelancing as a consultant. "It enabled me to have more choice in terms of contracts and clients. By going into business for myself, I suddenly had a certain amount of freedom," he explains.
While he worked as a consultant, Hervieux continued developing applications. "At the start, I created excellent products, but no one wanted them," says Hervieux, who has assembled quite an impressive portfolio since then.
The big idea that would push Devolutions to achieve the success it enjoys today first came to him in 2009. "One day, an American donated $100 for a product I had created so that I could connect remotely with my clients' computers," explains Devolutions' president. "The program was one of several that were part of my online portfolio, and the American donated the money in order to be able to use it. That's when I understood that the product had potential."
This incident also taught Hervieux his biggest lesson.
"As an entrepreneur, you're often wrongheadedly searching for the miracle solution," he emphasizes. "But instead what's often needed is something to solve people's little everyday problems. You have to listen to the market. When you create a product that's too innovative, you spend more time explaining it to people than you do selling it."
David Hervieux
Discover GSOFT : Launching a business to revolutionize the workplace
A real need
Called Remote Desktop Manager, the product is now the cornerstone of Devolutions' business. It allows all remote connections, passwords and company identifiers to be centralized on the same platform, which users can share securely with other users.
"To explain it in basic terms, I often use the idea of a doorman who holds all the access keys for a company's servers, routers, printers and other communication technologies," explains Hervieux. "Instead of giving users the key (or the password), the doorman (or the software) opens doors for them, which increases the organization's security, productivity and performance while reducing risk for its IT services. Given the product's popularity and the increasing demand for it, it seems it's answering a genuine need for many companies—a need I had myself when I was a consultant."
A unique business model
Another factor that explains the company's rapid expansion is its sales model. Devolutions makes use of an inbound marketing strategy to sell its producs. This strategy involves attracting potential customers' attention by producing high-quality content on its website so that the site is easily identifiable by search engines and spread through social networks. Given there's no salesperson who is approaching customers, this also means that products are sold directly online—it's the customers who approach Devolutions. "The main advantage to this business model is that there's no stress over sales within our company," confirms Hervieux. "All our employees are programmers who are serving our customers. In fact, we like to say that we need to convince the user of the usefulness of the product—we have no interest in sales."
A notable presence on social media and specialized websites, a blog, a help forum and a newsletter also all contribute to positioning the company as an expert in remote connection management.
Planned growth
Since growth had always been part of his daily concerns, Hervieux quickly put in place management practices to protect the privacy and confidentiality of both his employees' and his customers' data. To that end, a lawyer was immediately hired on a full-time basis as well as a team dedicated to computer security. "A lot of laws and debacles are making headlines recently. We want to ensure we have good practices in place in terms of information security, governance and risk analysis."
Hervieux also takes his employees' well-being and involvement quite seriously, particularly since experience has taught him that pride is a powerful motivator when it comes to employee productivity, attraction and retention. For example, the company from Lavaltrie, certified as a "Notable Employer" (employeur remarquable) by the Bureau de normalisation du Québec, offers innovative benefits such as lodgings close to the company for interns and reimbursing new employees the real estate transfer tax.
Middle management teams were also created to improve the communication of Devolutions' business culture and enable management tasks to be better distributed. "This all needs to be accomplished in a fun way and with the goal of advancement," states Hervieux, "because the big challenge is to become an agile business, which means to not kill innovation."
Just as with managing passwords and access, innovation is the principal driver of growth. In addition to continuing to improve its main products (Remote Desktop Manager, Devolutions Cloud, Devolutions Password Server and Wayk Now), Devolutions is preparing to offer products adapted to business management and marketing.
When people ask Hervieux to describe how his business grew, he answers without hesitation, "Like lightning! We never stop increasing our revenue, and you can find our products in over 140 countries." Devolution is also piling up the awards: In 2017, the company received a Mercuriades prize for its development of international markets, as well as placing amongst the top 500 Canadian companies with the strongest growth in the PROFIT 500 rankings. Today, Devolution's customers include HP, Nike, Rogers, Disney, Adobe, Expedia, Dell and Desjardins, which heralds a promising future.
Devolution in Numbers
95: Number of employees at Dévolutions
400 000: Number of users of its products
Over 140: Number of countries in which its products are used
WANT TO LEARN MORE?
Visit the Devolutions website
Photo credit: Jonathan Lafontaine