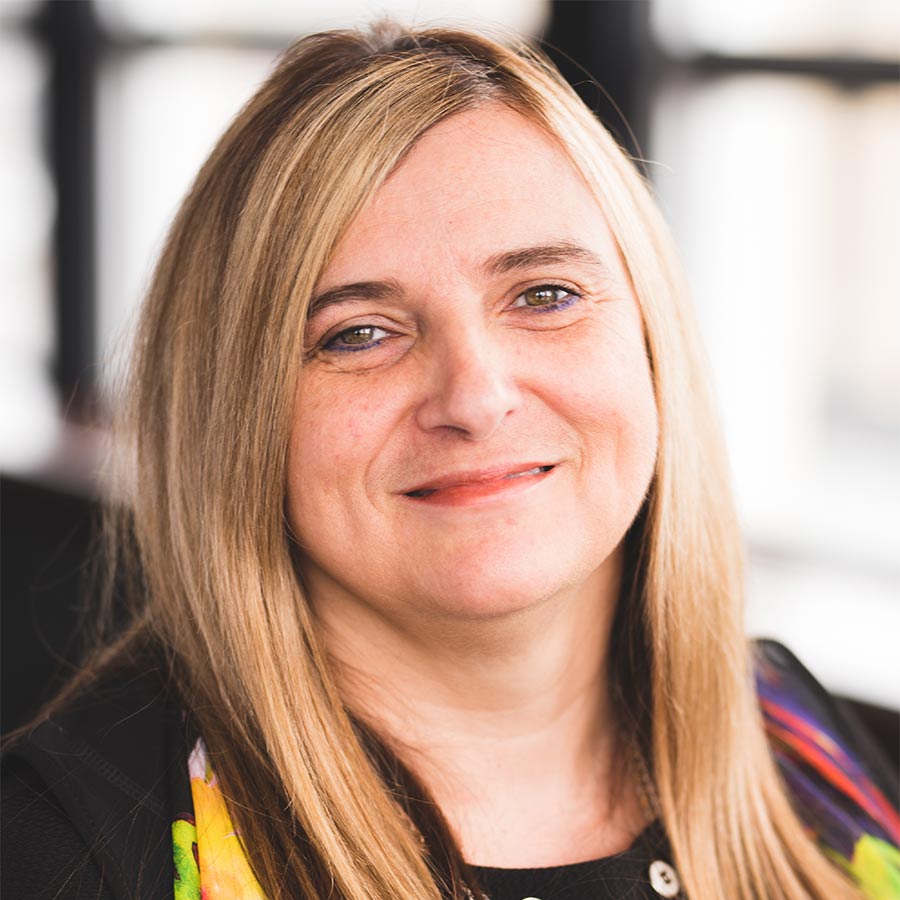 Devicom: A local innovator
France Lavoie's Story
Friday, September 8, 2017
France Lavoie co-founded Devicom when IT was in its infancy. After 28 years in business, the Chicoutimi company has managed to grow by making innovation its core belief.
When France Lavoie co-founded Devicom— a consulting group specializing in information technology—along with her spouse, Sylvian Duguay, "IT" as a term was practically unknown. The year was 1989 and the Commodore 64 represented the technological cutting edge. "We developed, for example, control procedures and communication interfaces for the big players in Saguenay–Lac-Saint-Jean, like Alcan. We basically modernized their operations by bringing them into the digital age," she recalls.
It was their passion for innovation—at that time computer engineering was not taught in schools when Sylvain graduated from engineering in 1982—that led to the launch of Devicom.
That same year, the young couple had their first child. Nevertheless, the 25-year-old new mother stayed involved in Devicom and assumed essential functions in accounting and customer service. "I always understood how to combine family life with my entrepreneurial interests. For me it wasn't even an issue," she says.
The Chicoutimi firm quickly positioned itself as an innovator in a sector being built from the ground up. When the first Pentium processors arrived on the market in the early 1990s, for example, Devicom took advantage of that pivotal moment in IT infrastructure by installing the first servers. Their expertise in information flow as well as IT security developed later, as technology advanced. "That's how we raised our profile bit by bit in the big leagues of IT," explains the 53-year-old businesswoman.
The digital shift
Today more than ever before, businesses contact Devicom to entrust them with complex, high-risk projects that require innovation. Rio Tinto Alcan, Sûreté du Québec and the Ville de Saguenay have all called upon the company's services, although the majority of its clients are Quebec SMEs. "We guide a lot of clients in integrating IT into their business processes. Digital transformation is a big issue in Quebec right now," she confirms.
The Quebec government also launched a digital plan in 2016, through which it hopes to propel the province into the fourth industrial revolution, also referred to as Industry 4.0. A total of 28 concrete measures accompanied by financial support will help SMEs make the digital transformation. The support is vital to ensuring that these businesses stay competitive on an international level, states France.
"IT is now a key function of a company, at the same level as sales or administration. Without a well-structured IT department, you're going to hit a wall."
France Lavoie
France believes Devicom's expertise is needed now more than ever, given today's accelerated digitalization. "Managing the digital transformation of a company can be a heavy responsibility. Resources, financial and otherwise, are often inadequate or insufficient. We're there to facilitate the process," says the woman who acted as a mentor to entrepreneurs for 15 years.
Holacracy
But before achieving success, France faced a major crisis at Devicom that restrained the company's growth for three years. "When we celebrated our 25th anniversary in 2014, the same year we moved into our new offices, I realized that Devicom was no longer in a position to innovate, which had always been its mission. The economic slowdown affecting the region hit us hard, word of mouth was no longer working, we were always bidding higher than our competitors... I thought the death of the company was imminent," she explains.
After fully examining the situation, an obvious fact jumped out: Devicom had failed to develop a true culture of innovation within the company. Buffeted by change, the once-promising pillars of the organization had become tired and worn instead of being the agents of innovation they were supposed to be. In short, the Devicom hierarchy had become too rigid. "That's when I heard about holocracy, and I said to myself that was the answer to our slump," says France.
See also: Innovation in your SME: Why wait?
Holocracy is a system of organizational governance founded on the dissemination of decision-making mechanisms throughout a company. Instead of resting on the shoulders of managers, responsibilities are shared by all employees, regardless of function. At Devicom, every project revolves around groups of individuals who work together and whose decisions have an immediate impact, both measurable and tangible, on the future of the company. "Now I hire based on a person's understanding of and engagement with the company. That's why we have a lot of longstanding self-employed workers and former entrepreneurs on our new team," she explains.
The effect of this change on company culture was felt immediately: Devicom's growth trajectory restarted this past December. And this time the founders will make sure the company remains an innovator.
Devicom in Numbers
$3.9 million: The company's revenue
15,000: Size of Devicom's office in square feet
50: Number of employees
Want to learn more?
Visit Devicom's website