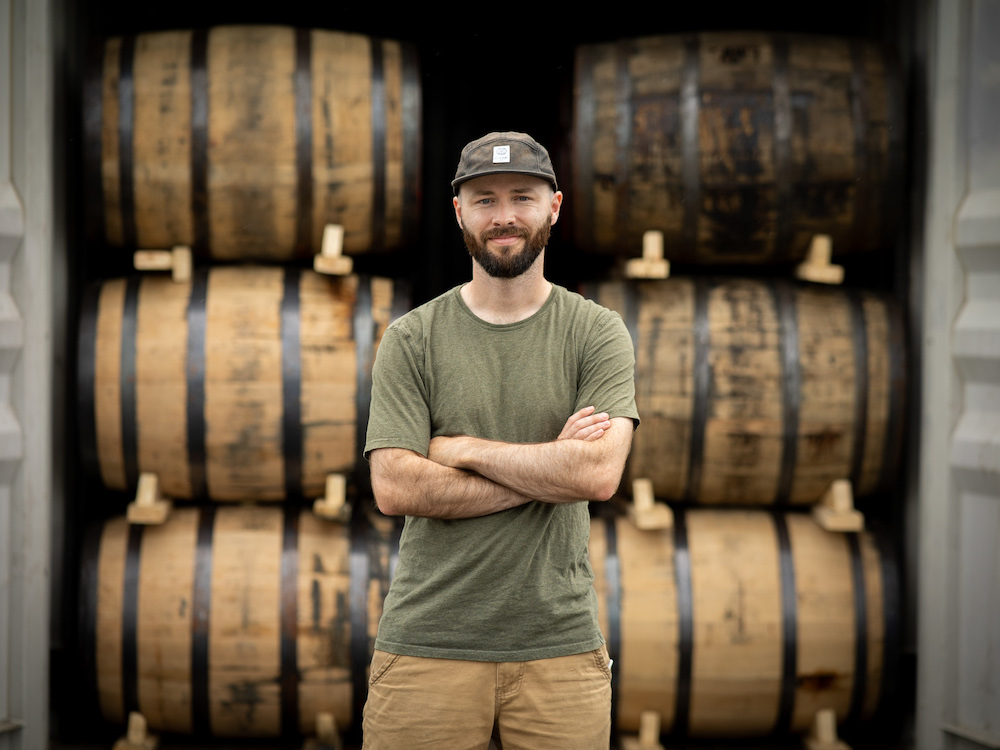 Distillerie du St. Laurent: A Taste of Lower St-Lawrence in Every Sip
Joël Pelletier's Story
Wednesday, October 5, 2022
Spring 2015: satisfied with the tests they conducted in a basement in Rimouski, Jean-François Cloutier and Joël Pelletier launched a gin infused with seaweed from Lower St-Lawrence. A true pioneer in microdistillation in Quebec, the Distillerie St. Laurent now produces four gins, three whiskies and an acerum. Joël shares his story.
"There are things that change and others that don't. We started our business with a lot of naivety and few resources. With time, we have become more mature and confident, but our vision is still the same," says Joël.
A BETTER USE OF LOCAL RESOURCES
From the very beginning of their collaboration, Joël and Jean-François wished to develop spirits inspired by the land on which they would build their distillery: the Lower St-Lawrence region. To do so, the duo utilizes natural resources that grow, are cultivated and produced around them to make their products. It is indeed no coincidence that the Distillerie du St. Laurent was first known for their gin which takes its herbaceous and floral notes from the kelp that grows in the St-Lawrence River, or that it now produces a rye whisky with rye and malted barley from Saint-Joseph-de-Kamouraska and a noble brandy with maple syrup from Saint-Narcisse-de-Rimouski. Their choice of ingredients is intentional and has come to please many spirits enthusiasts who look for local products.
The co-founders chose to work with raw materials from the Lower St-Lawrence River in the hopes of developing spirits with a unique taste while also conscientious with their production.
"Since then, we've also asked ourselves how we can optimize our production line to use less energy," explains Joel, before describing their new distillery.
The entrepreneurial duo kept this important question in mind while embarking on an 18,000-square-foot project: the construction of a new distillery.
A NEW DISTILLERY THAT IS HERE TO STAY
In 2022, the Distillerie du St. Laurent moved into a brand new distillery in Pointe-au-Père, on the river's shore, a short 15 minutes' drive away from downtown Rimouski. Now clients can head over to enjoy a cocktail with a breathtaking panoramic view.
In addition to offering an enchanting view, the new distillery, developed in collaboration with Art Massif and Atelier Pierre Thibault, was designed to use as many sustainable materials as possible. This is one of the reasons why wood and recycled stone from a local dried quarry were used for the building's walls and exterior cladding.
Beyond the building itself, the new distillery is also equipped with an electric steam boiler in addition to a propane boiler, which will allow the production team to use less propane than they used to, even though they plan to triple their production. They will also use heat exchangers to preheat a plate with the heat from an already hot tank, thus reducing their energy consumption.
"Distilling requires a lot of heat and therefore energy. We designed our new equipment to retain as much heat as possible, so that we can reduce our energy consumption," explains Joël.
EDUCATION FOR THOSE WITH A THIRST FOR KNOWLEDGE
The distillery also has an educational vocation. Visitors can now enjoy a guided tour of the distillery through which each step of production is explained. Noticing that their customers had many questions about their manufacturing process, the two entrepreneurs decided to create an educational space for those who are eager to learn more about the subject.
A MANIFESTO FOR SLOW AND CONSCIENTIOUS GROWTH
Joël makes no secret of the fact that the last few months have been intense, if not difficult. He explains this, among other things, because of the major projects that he and his team have undertaken and the context in which this was done, i.e., in the midst of a pandemic. The next few months promise to be smooth sailing.
"I think the greatest learning experience I've had working with spirits is the idea of aging with them," says Joel.
Joel doesn't want his business to grow as quickly as possible. Pleasure and mental health are his top priorities. He plans to use the next few months to uphold this important philosophy.
A FEW FIGURES
36 employees, including seasonal workers and their star golden retrievere
300% increase in production capacity since the construction of the new distillery
10 countries in which the products are distributed
18,000 square feet in the new distillery, 5,500 of which are used for a seaside spirits aging cellar
LEARN MORE
Visit the Distillerie du St. Laurent's website to learn more about their four gins, three whiskys and one acerum.