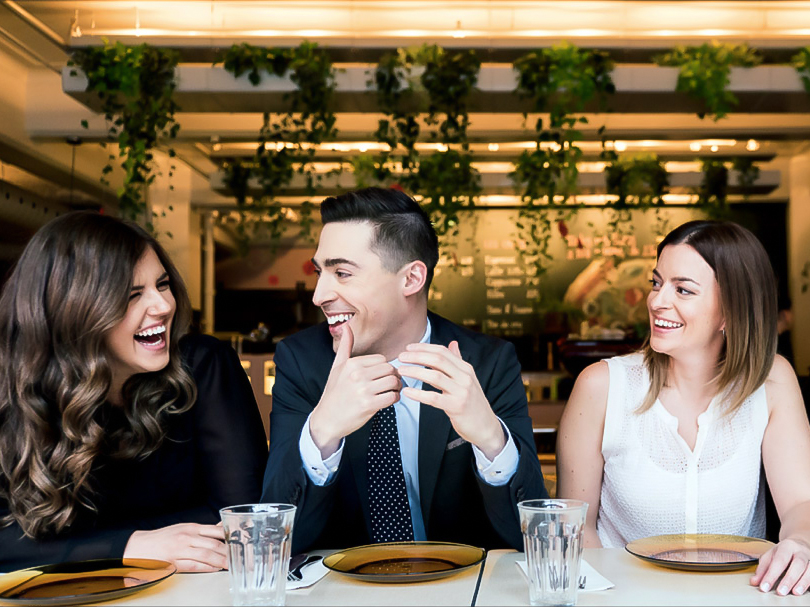 An entrepreneur serving entrepreneurs
Christian Bélair's Story
Creating projects with a social impact: that's Christian Bélair's slogan. At the helm of Credo Productions, founded in November 2014, and the collaborative offices of La Gare, which opened in December 2014, this Montreal entrepreneur and his partners link projects together with ease.
Christian Bélair just got back from Lyon, France, where he was invited by Les Entretiens Jacques Cartier to attend a summit on intelligent cities. Christian Bélair is overflowing with enthusiasm. The former president of the Regroupement des jeunes chambres de commerce du Québec is amassing projects for both of his companies.
"We went to Lyon to forge stronger ties with Montreal. Both cities have many similarities; ecosystems of highly dynamic start-up companies."
The importance of partners and talent
Christian Bélair states just how important his meeting with his partners Louis-Philippe Maurice and Marie-Ève Boisvert was. "It's LP who established the connection between the three of us. We share the same values, and it's always stimulating to work and surround yourself with people who are better than you are. Our study bureau Credo lets us imagine, produce and accelerate social benefits.
" In my experience, the determining factor is the people, the meetings. "
Christian Belair
Whether it's for Credo or La Gare, the human side is central in the management of Mr. Bélair business. "With the launch of my two companies, he said, I especially understand that talent within a team is key. Therefore, in collaboration with Dynamo, community mobilization resources, we launched DynamicLabs, a training program for everything related to digital media."
In addition, La Gare now includes several players who believed in the project. These major partners who are recognized in their respective industries are similar to La Gare in the sense of being an incubator. The collaborative space is intended to be a meeting place for budding entrepreneurs. "We want the person who sets up at La Gare to find business solutions from his or her office neighbour. Beyond the space, it's the physical interaction that we are seeking."
The entrepreneur, an agent of change of his ecosystem
Christian Bélair became an entrepreneur with one thing in mind: change the world. Inspired by his grandfather's business journey (Founder of the Sauvé et Frères stores), in his projects he sees only one thing, a way to change the world by challenging certain preconceived notions.
When he thinks about the future, Christian Bélair is enthusiastic. "My team and I, we are on board with this project. My area is Montreal. We are working on creating the Parcours Galerie Banque National in the context of the festivities leading up to Montreal's 375th anniversary, which will take place in 2017. The scope of this public art project is to connect the Pierre Elliott Trudeau Airport to downtown Montreal. It will showcase the creativity and energy of our city. We are very proud to be participating in the change and to be a driving force of the Quebec social impact."
Credo in Numbers
10 :

le nombre d'employés de Credo

20 : le nombre de projets de l'agence Credo en 2015