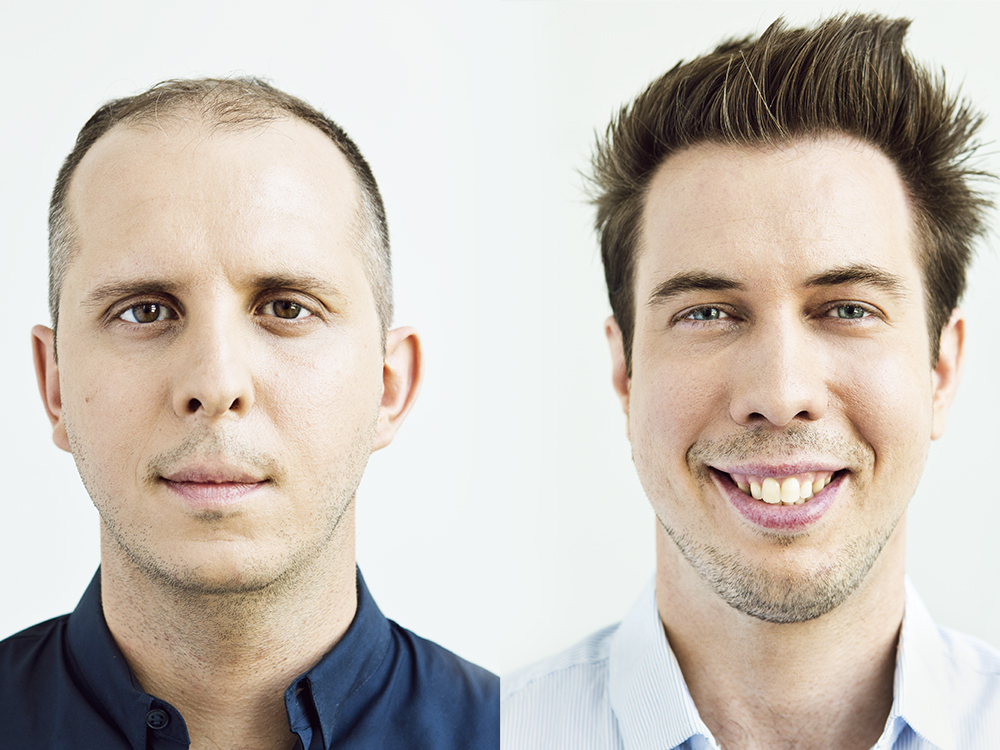 Float4: realizing the impossible
Alexandre Simionescu and Sevan Dalkian's Story
Take a football field, multiply it by eleven, and you will get the size of Float4's digital experience for City Walk, a luxurious shopping district in Dubai. Over 100 million pixels were perfectly integrated into the architecture, the first of its type in the world!
Pushing the limits of what is possible is standard at Float4. The Montreal multidisciplinary studio specializes in digital experiments. "We work with clients who want to achieve things that have never been done before," says co-founder Alexandre Simionescu.  It is one of the elements that characterize our corporate culture. "


The City Walk project is the unexpected result of a 2008 business trip.  At the time, Alexandre Simionescu and Sevan Dalkian were working in the video game industry. " What we liked most was using technology to bring new experiences to the players," says Sevan. But we quickly felt like we had reached a plateau. We wanted to apply our knowledge of visual effects to a canvas outside of the gaming industry. "
See also : Rodeo FX  : Sébastien Moreau's Story
To achieve their dream, the two friends founded Float4 along with five other partners. "We knew from the get-go that there was more potential than just the Quebec market," says Alexandre. He used a wedding invitation in Dubai as an opportunity to do some canvassing. "I brought a laptop with me and showed what we could do." Then we were hit by the economic crisis.

The impact was less destructive to Float4 than their well-established competitors. "Our incomes were already so small that it did not change much," explains Alexander. Nevertheless, they lost some international clients, and were forced to look for projects closer to home.
Dare to say yes
The One Drop Foundation, founded by Guy Laliberté, gave Float4 their first chance to demonstrate their know-how. "They asked us if we were able to do an interactive 360 degree wave simulation," Sevan recalls. We had no plans, no money, so we said '' yes '' thinking it would not be too difficult. We had no idea what we got ourselves into! "

Fortunately, the team had experience in fluid simulation. Even so, they had to work very hard to deliver the animation. "We had to build an infrastructure that used the best graphic cards of the time."

Their simulation was used in the Aqua exhibition at the Montréal Science Center in 2009. The experience opened many doors for them.
« We proved that we were able to achieve things that some of our competitors thought were impossible »

Their ability to accomplish the unthinkable was due, in part, to the entrepreneurs' technical knowledge. " We were used to working with the cutting edge of technology in the video game industry," says Sevan. The only problem: now that they had founded Float4, they no longer had access to their previous employers' tools.

They could have bought a license to use one of the popular graphics engines in the videogame industry, "but it was a fortune." Worse, it did not really meet their needs. In the absence of tools, the entrepreneurs decided to develop their own technology from start to finish.

"When we programmed, we made sure it was generic enough to be applied to future projects," explains Sevan. As a result, nearly 10 years later, Float4 now has what is perhaps the most versatile tool in the interactive digital creation sector. "It's the equivalent of having a PS4 rather than a DVD player," says Alexander.

Their in-house technology is so expertly developed that Alexander and Sevan have decided to approach other players in the industry. By selling the Real Motion platform to companies with similar needs, the entrepreneurs believe they will be able to increase Float4's revenue and launch a second company.
"One company was not enough work, so we started second," laughs Alexander.
The company in Numbers
50: cities, spread over 3 continents, where Float has carried out projects.
25: employees
1 251 326: lines of code written by the company (probably more by the time you read this).
56: Percentage of employees from countries other than Canada
Want to know more?
Visit Float4's website