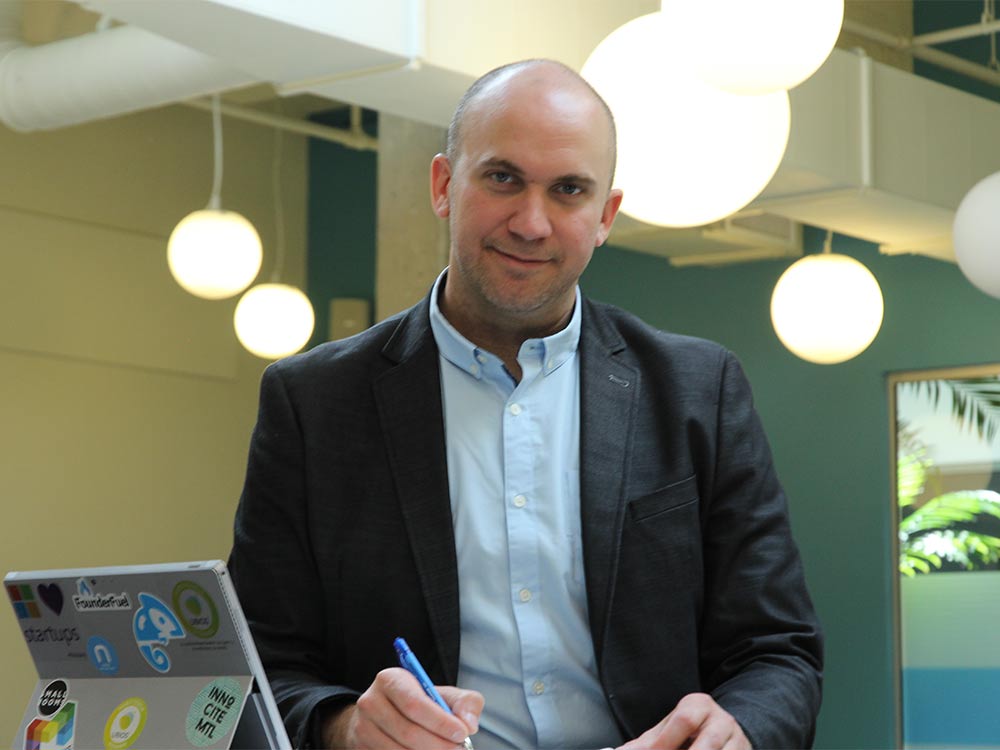 How Ubios is making residential buildings intelligent
Mathieu Lachaîne's Story
While learning to code at 8 and starting your own business when you're still in Cégep might seem like incredible feats, that's just what serial entrepreneur and computing geek Mathieu Lachaîne accomplished before founding Ubios. Here's a portrait of an ambitious business leader who's currently taking on the intelligent home market.
Mathieu Lachaîne always had a talent for business. As a child, he optimized computers instead of playing video games. "I would invent things, I was a tinkerer like my dad," recalls the man who created six companies before diving into the smart home universe by founding Ubios in 2014. His mission is to make houses intelligent using an infrastructure that enables energy efficiency and forewarns owners of water leaks.
After selling his IT security company Kereon in 2012, Mathieu went back to school to get a master's in business administration from UQAM. While taking a break from his professional career in order to get some perspective, he noticed he really missed working in electronics, the sector in which he did so much of his growing up, so he contacted an old friend who was working at the time on developing an intelligent thermostat. Immediately taken with the idea, Mathieu decided to make it the focus of a research project. His study of the North American market for such a product demonstrated that the business opportunities were numerous. "The intelligent home market has grown by 30 percent every year," states Mathieu.
He officially launched Ubios in June of 2014 with the goal of breaking into the international market. But the experienced entrepreneur decided to first focus his activities on Quebec in order to refine his product. Initially, Ubios targeted consumers, but for strategic reasons the company later decided to focus on managers of multi-family residential buildings. "Water leaks are a serious problem for this type of building. They represent around 95% of insurance claims," Mathieu explains.
See also: The Internet of Things: Connected in Quebec
Ubios' wall unit includes a valve that constantly monitors water flow and picks up on any irregularities. The intelligent thermostat detects movement and lowers the temperature when the home's residents are not there. "Everything is automatic, the user has no idea that Ubios is there," underscores Mathieu. He compares his product to smartphones that respond to many needs by fulfilling a variety of functions. The technology developed by Ubios unites the Internet of Things with artificial intelligence, collecting data on use by occupants via sensors connected to the Internet. The Ubios system interprets the data in order to adapt its own performance using artificial intelligence.
Innovating in the search for financing
Ubios was the first business in North America to conduct a financing campaign that allowed the public to buy shares of the business that were quite restrictive. Similar to crowdfunding, the campaign allowed anyone to buy shares that did not come with voting rights. In less than a day, the start-up reached its funding goal of $100,000 and acquired close to 180 micro-investors.
"Our greatest challenge was to convince people to take advantage of business opportunities and to clearly communicate the associated risks," explains Mathieu.
He admits that his campaign had a secondary mandate, which was to increase his company's profile in addition to raising funds. While h strategy produced results for Ubios, the entrepreneur emphasizes that a good crowdfunding campaign could have produced similar results. Nevertheless, he still congratulates himself on having tried a new form of financing in Canada and exceeding his objectives.
Attacking new markets
Ubios will launch a pilot project at the end of December 2017 in Tremblant: A building that will make use of his company's technology has already been granted a reduction in its insurance premiums from the insurer. Ubios' technology is starting to prove its worth. Even though the company is still in its infancy and in a pre-marketing phase, it intends to break into other markets in the next three years, such as Florida, where condos abound. Mathieu also has plans to take on the resort market, although, as you can see, he himself has no plans for a vacation in the foreseeable future.
Ubios in numbers:
4

: Number of employees

$2.5 million

: Amount of financing