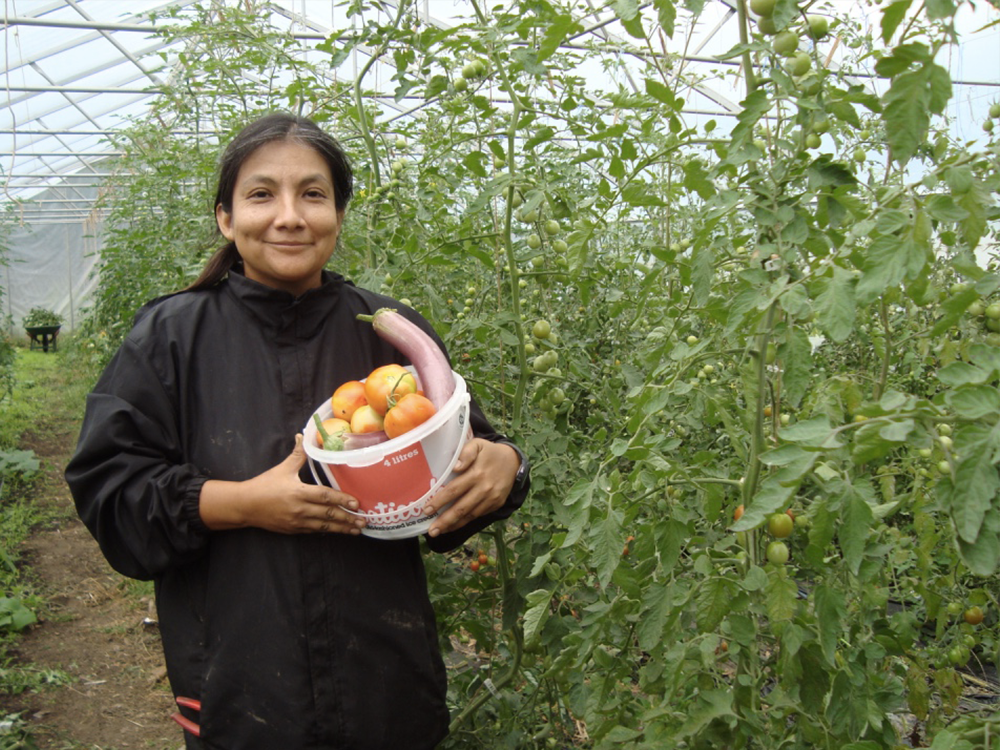 Jardins Épicés: A microfarm that thinks big
Sylvia Meriles's story
Monday, November 23, 2020
When she left Bolivia for Quebec in 2007, Sylvia Meriles knew she would become an ambassador for and cultivator of the herbs that were renowned for enhancing the cuisine of her native country. Thirteen years later, she heads a small, local organic farm.
An agronomist by training, Meriles has worked in horticulture, as well as on various development projects with indigenous communities in Bolivia. In 2007, she received a student visa so she could enroll in a master's program in water resource management at McGill University in Montreal.
While she initially considered returning to Bolivia to live after her degree, she ended up settling down in Quebec, where she found a job and gave birth to her two children. However, after her second maternity leave, she felt it was becoming harder to reconcile her employer's expectations and limitations with her family life. So she decided to quit her job.
"I started volunteering for an organization that offered training to women entrepreneurs," says Meriles. "That really appealed to me. I starting thinking about a project that would allow me to both expand my horizons professionally and establish living conditions that were closer to my own values."
Choosing entrepreneurship to fulfill a need
Meriles conceived of the idea of doing something in agriculture when she noticed her aunt and friends, who were also living in Quebec, carefully cultivating two herbs indoors in pots: huacatay, a Peruvian mint used particularly in the preparation of spicy sauces, and quilquiña, often described as Bolivian coriander.
"I found it odd that they were treating them as if they were rare plants when they grow in most Bolivian gardens," she explains. "Then I understood that they had never been able to find them in supermarkets. I wanted to remedy that situation."
From that moment, Meriles started making a list of more traditional vegetables and South American specialties she wanted to cultivate, then searched for seeds to plant. She approached Ferme Bord-du-Lac, an agricultural project incubator, which located one-and-a-quarter acres of land for her to rent on Île-Bizard. She then received a grant as part of the program Soutien au travail autonome ("Independent Workers' Support"). "The mentoring offered and the training were excellent and really gave me the push I needed to start my own business in 2012," she confirms.
Adapting to demand
In the first few years, the quilquiña and other South American vegetables occupied the larger part of her parcel of land. "Over time, I noticed that there wasn't enough demand for them to enable me to make a living, so I expanded my offering," says the entrepreneur. Basically, consumers weren't familiar with those products, so she needed to introduce them to a new audience. "I provided them in my vegetable baskets so people could try them, but they weren't compulsory," she adds. Meriles now cultivates around thirty different vegetables: squashes, peppers, lettuce, peas, beans, coriander and leeks, as well as—of course—her speciality vegetables and herbs.
At first, she knocked on a lot of doors to introduce her products to restaurateurs, starting with Mexican and Peruvian restaurants. However the travelling required to deliver her products each week was a complicating issue. "In the end I kept just a few restaurateurs who made large orders and weren't located too far away."
Thanks to the creation of a Facebook page, her company increased its visibility, which enabled her to invest in farmer's markets, a major source of revenue in her farm's first few years. She also raised the farm's profile through the Réseau des fermiers de famille ("Family Farmers Network"), a platform that enables consumers to locate an organic farm near them so they can purchase fresh foods. "People sign up in the spring and generally pay their subscription in full, which enables us to pay for seeds and employees," explains Meriles.
Today, the company mainly generates its revenue from the sale of vegetable baskets to private individuals. This niche represents 90 percent of Jardins Épicés's revenue, with the remainder coming from restaurants and farmer's markets.
Jardins Épicés also has a small greenhouse that measures approximately 98 by 32 feet. "It's an unheated greenhouse for the moment, because we need a grant in order to improve it," emphasizes Merlies. "But we've been able to grow hardy vegetables even in winter, such as spinach and lettuce."
Limiting cultivation to limit growth
Although Jardins Épicés has over an acre of cultivatable land, Mireles only uses about three-quarters of it. "That's enough to produce 60 baskets per week. I really believe in the microfarm model and in local, organic cultivation at an artisanal scale."
In her experience (particularly in Bolivia), large-scale agriculture that requires heavy equipment only enriches the few. This year, likely due to the pandemic, the farm sold 80 baskets of products a week. "I didn't want to take on any more and have that affect the quality of the baskets." To accomplish this, she had to hire two workers. "By 'artisanal scale farming,' I also mean a farm that can offer attractive work conditions to employees so that they can enjoy the summer too. That's important to me."
Given a bio-intensive farming model and her acre-or-so parcel of land, it would be possible to produce 200 baskets per week. It's a goal the entrepreneur has set herself for the long term, although she has no intention of trying to surpass it. To reach that level of growth, she would need to hire two or three more seasonal workers.
"The sale of seeds is also a great niche to develop in the future, as well as the sale of plants in the spring," states Mireles. "Last year, I started selling my own exotic seeds, and I opened an online store this year."
Given her desire to keep things local, the entrepreneur intends to focus Jardins Épicés's activities on the western end of the Island of Montreal. "We also hope to organize a farmer's market on the farm itself next year, given the growing interest we've seen."
Jardins Épicés in Numbers
30: Number of varieties of vegetables cultivated by Jardins Épicés
90%: Company revenue from the sale of baskets to private individuals
80: Number of baskets sold per week in 2020
WANT TO LEARN MORE?
Visit the Jardins Épicés website