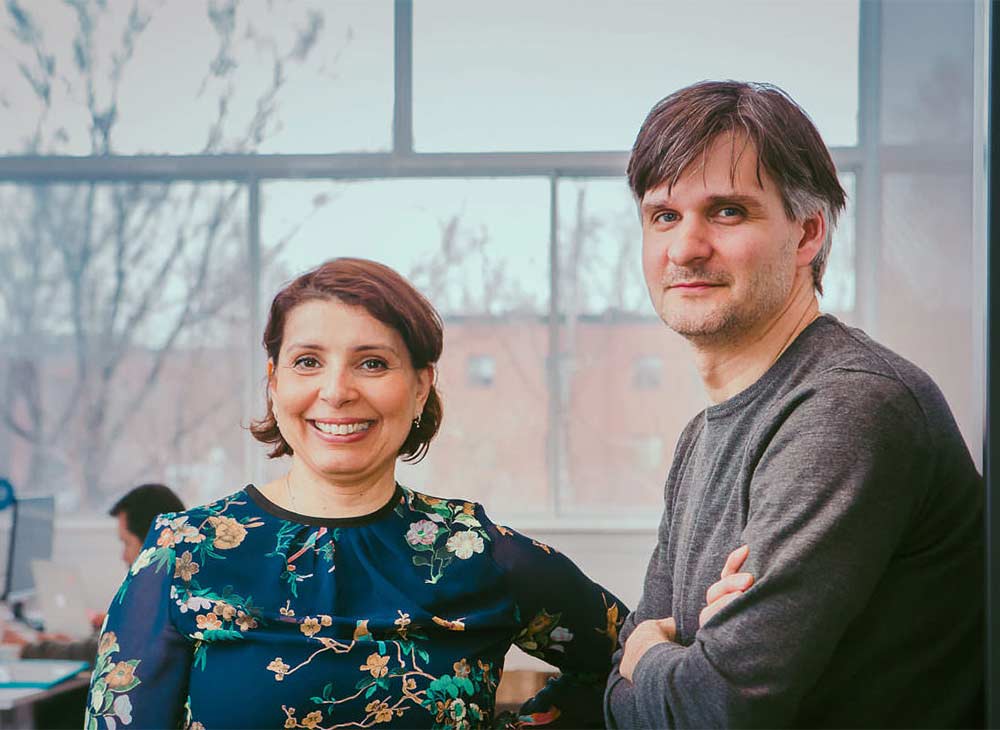 Keatext: AI for business
Narjès Boufaden's Story
While working as an artificial intelligence (AI) researcher, Narjès Boufaden decided to dive into the world of entrepreneurship by launching Keatext in 2010. Here's a profile of an entrepreneur who is working to build bridges between the worlds of academic research and business.
For as long as she can remember, Narjès Boufaden has been interested in robots and science fiction. As a specialist in conversational text analysis, she has accumulated a number of university degrees. After finishing her second post-doctorate at the Computer Research Institute of Montreal (CRIM), she suddently realized the huge range of business opportuntities offered by artificial intelligence. "I decided to start my own business since I saw a need for one," the entrepreneur explains. "I wanted to start something in information structuring." 
In the beginning, Boufaden offered a professional service to businesses and other clients, such as the Quebec Land Registry. In 2012, Keatext developed an AI solution for the Registry which involved the understanding and analysis of all notarized deeds in order to eliminate their manual analysis. "Today the system is able to analyze 60 percent of the documents registered with notaries in Quebec. Quebec's Ministry of Energy and Natural Resources is the only department to use AI in such a groundbreaking way," states Boufaden.
See also: Five Quebec companies that are part of the AI revolution
Only a few weeks after trading in her lab coat for a new entrepreneurial suit, Boufaden was reaching out for a mentor—specifically Jean-Marc Rousseau. "Finding a mentor is not just a recommendation, it's a must!" she confirms. With his help, she was able to define Keatext's objectives and delineate a road to success for her business.
Rousseau also counselled her when she decided, in 2014, to evolve Keatext's business model. Together they created a consulting committee to whom Boufaden presented her new vision for the company: to shift from being a service provider to that of providing software as a service (SaaS). The entrepreneur wanted to create a product that could analyze consumer comments in order to allow businesses to improve their customer relationships.
But Boufaden did not feel she could handle the change of direction alone. So she was introduced to Charles-Olivier Simard, a specialist in start-ups who became chief technology officer at Keatext and Boufaden's business partner in 2015. "The stars were definitely aligned in our favour to accomplish our goals," posits the entrepreneur.
Grow and educate
Boufaden admits that being an entrepreneur is sometimes a struggle, especially when you also have to constantly act as an educator to teach clients what artificial intelligence is. "When you have a product developed out of AI, you have a disruptive technology," she explains, "and that is going to change the paradigm. So you have to explain to the client how that technology is going to bring a return or even create a need in the market." But despite the difficulties, Boufaden and her partner are intent on driving their business forward. And although many other players have entered the market since 2010, Keatext continues to succeed thanks to prestigious clients like Bombardier Recreational Products, Videotron and NASA.
In the winter of 2018, Boufaden and her partner terminated their third round of financing, which will allow them to continue growing their business. The Keatext software, which collects, analyzes and cross-references customer comments, will evolve into a recommendation platform. "We will be able to offer predictions to our clients," foresees Boufaden, who is also aiming to go beyond the 100-employee mark in the next three years. 
Liking robots doesn't mean neglecting humans. On the contrary, the entrepreneur is proud to have created a technology company and to practise a female form of inclusive leadership that is focused on her employees. "As a woman, I am always thinking about family, and I'm happy to have created a company culture that promotes the wellness of my employees. My proof: Only two people have left the company since 2011," she states proudly.
Keatext in Numbers
3: Number of financing rounds led by Keatext
20: Number of Keatext employees
65%: Percentage of client feedback provided via text
 
Want to learn more?
Visit Keatext's website
Photo credits: Myriam Baril-Tessier