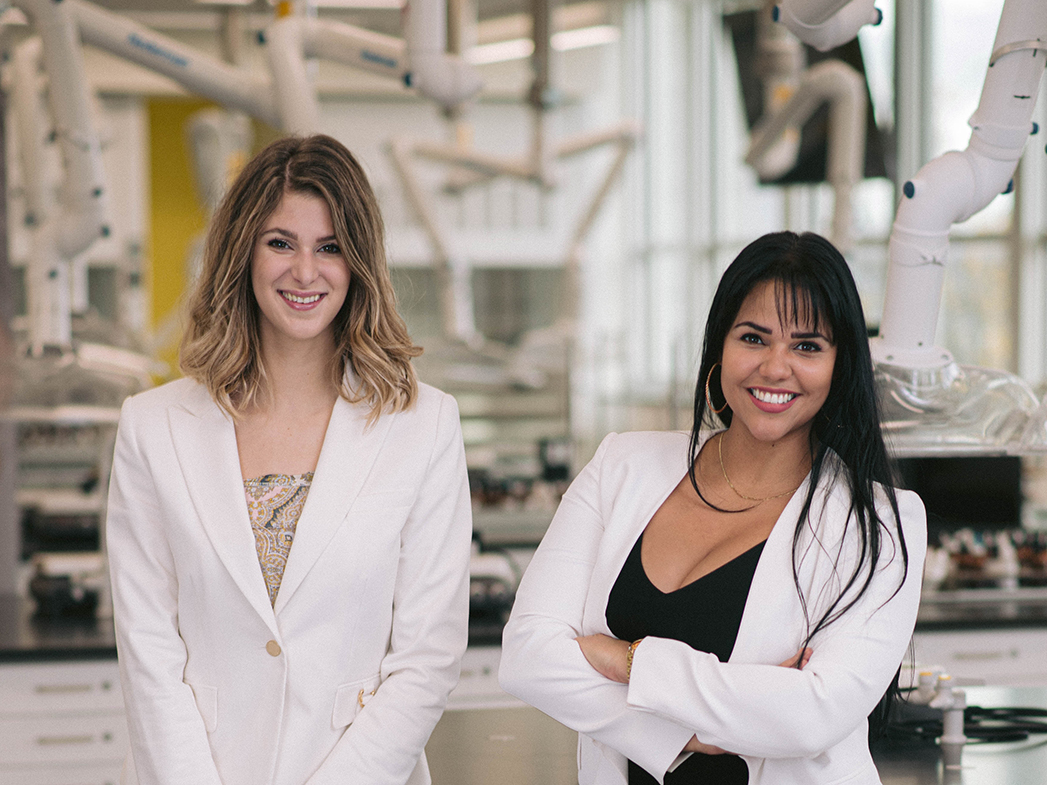 OMY Laboratories: Skin-deep personalization
Andrea Gomez and Rachelle Séguin's Story
Friday, November 15, 2019
Andrea Gomez, and aspiring entrepreneur with a passionate interest in cosmetics, and Rachelle Séguin, a chemist, first met in 2017. Their encounter led to the creation of a company offering natural, personalized cosmetics supported by innovative technology based in AI. 
Andrea Gomez had always experienced problems with acne and splotchy red skin. "When I would treat the acne, the red patches would get worse and vice-versa," she explains. "After discussing the problem with dermatologists, I realized there was no one product that could solve both problems."
Rachelle Séguin, for her part, had worked as a cosmetician during her teen years. "The ingredients fascinated me, I would learn more about everything and I couldn't understand why people weren't interested more in the science behind creating these products," states the woman who had tried creating her own perfumes when she was young, later launching a cosmetics line as a school project.
That interest is what drove her to study the chemistry of cosmetics. After completing a master's in pharmaceutical science, for which she studied skin diseases in particular, she came up with the idea of creating personalized cosmetics.
Her intention in applying this technique was to respond to a frustration experienced by many women: having to test many products in the pharmacy in order to find the right one. "I also felt that pharmaceutical companies weren't being transparent in terms of the ingredients and their benefits," she adds. 
A fateful encounter
Andrea Gomez had also experienced the same frustration with repeated trials of pharmacy products, so she began approaching suppliers to try and create her own made-to-measure products. 
"I quickly realized that I didn't understand anything about chemistry and that this lack of understanding could have a negative effect on the quality of my products, which went against my values," she emphasizes.
So she committed herself to finding a chemist that wanted to partner with her to create that kind of product. Rachelle's name was suggested during a networking event, since some recognized points of similarity between the two women with regard to the personalization aspect of their ventures. 
A single email was enough to set up a meeting. A few months later in 2017, the pair decided to establish OMY Laboratories.
Before and after Dans l'œil du dragon 
Since neither had any money, having consigned their savings to creating their prior businesses, the two entrepreneurs had no other choice but to write out their business model and enroll in entrepreneurship contests to find the financing they needed to make their idea a reality. 
In 2018, they won three grants from Université Laval, one for $10,000 for entrepreneurship from EGGENIUS-RBC and another for $50,000 from the City of Quebec, which would enable them to pursue research and development. 
After five months of pre-commercialization activities, at the end of March 2019, they officially launched OMY Laboratories.
"Since we had proof that customers were ready to buy our products, we then focused on commercialization, brand image and investments in developing a website, as well as the AI tool for online personalization"
Rachelle Séguin
Their appearance on the show Dans l'œil du dragon radically accelerated the company's growth—by 900%—which contributed to doubling their revenue in the space of only four months. The team also grew from two to 11 people. It was the complementary skills of the two co-founders that allowed them to adapt to such a huge expansion so quickly, in their view. 
"Rachelle handled everything related to innovation and the proper functioning of the research laboratory, and I handled human resources, management and financing," emphasizes Gomez. "We were also able to rely on competent, self-sufficient employees who believed in us and were devoted to the company."
Other than selling products online, which represents 80% of their business revenue, the company distributes its products through approximately fifteen beauty salons in Quebec, as well as through pop-ups, including four which open over the holiday period .
"Our positioning is based on e-commerce and customers' ability to order products from home through technology driven by artificial intelligence, which analyzes skin using a selfie and for which we acquired a business licence," explains Séguin. The OMY Laboratories team also innovated by being the first company to use this technology in the cosmetics sector in the country.
While the development of this technology and their improvement of their customers' web experience required a lot of investments at the beginning, today these strategies seem to have paid off: They've sold close to 10,000 products in less than a year.
Going beyond buzz for long-term growth 
The two partners are aware that managing a company's growth is the biggest challenge entrepreneurs face in the launch phase of a business. "When you achieve a certain level of growth, you then have to respond to demand, to manage your liquidity and stock," admits Séguin. 
Customer loyalty is one of the key factors in sustaining a company. OMY Laboratories has already been lucky enough to rely on loyal customers, with 45% of them repurchasing the brand's products, compared to 55% who are new customers. "Our concept of guaranteed satisfaction plays a role in this loyalty," Séguin adds. 
Their guarantee differs from the guarantees usually offered, where people can return products for a refund if they're not satisfied. With OMY Laboratories, a customer can call the company to share their experience and the team will then correct the formula for free based on their comments in order to produce a product that is better adapted to their skin.
Over 4,000 personalized formulas are offered, while their range of foundations, sold only through physical points of sale, offer an infinite range of possibilities. "We're also constantly developing new products, at least four per month, which is a normal rate in the cosmetics field," Séguin explains.
The sales team will also be improved in the near future to increase B2B and B2C sales. Once their first round of financing is achieved, the next few months will be dedicated to breaking into new markets, including Ontario, but also in the United States.
"Our products and formulas already conform to and were approved by the American health authorities," emphasizes Gomez.
 
OMY Laboratories in Numbers
80%: Portion of sales made through the web store
900%: Growth rate after the co-founders' appearance on Dans l'œil du dragon  
45%: Rate of returning customers after less than a year of activity
4,000: Number of personalized formulas offered to customers
 
WANT TO LEARN MORE?
Visit OMY Laboratories' website