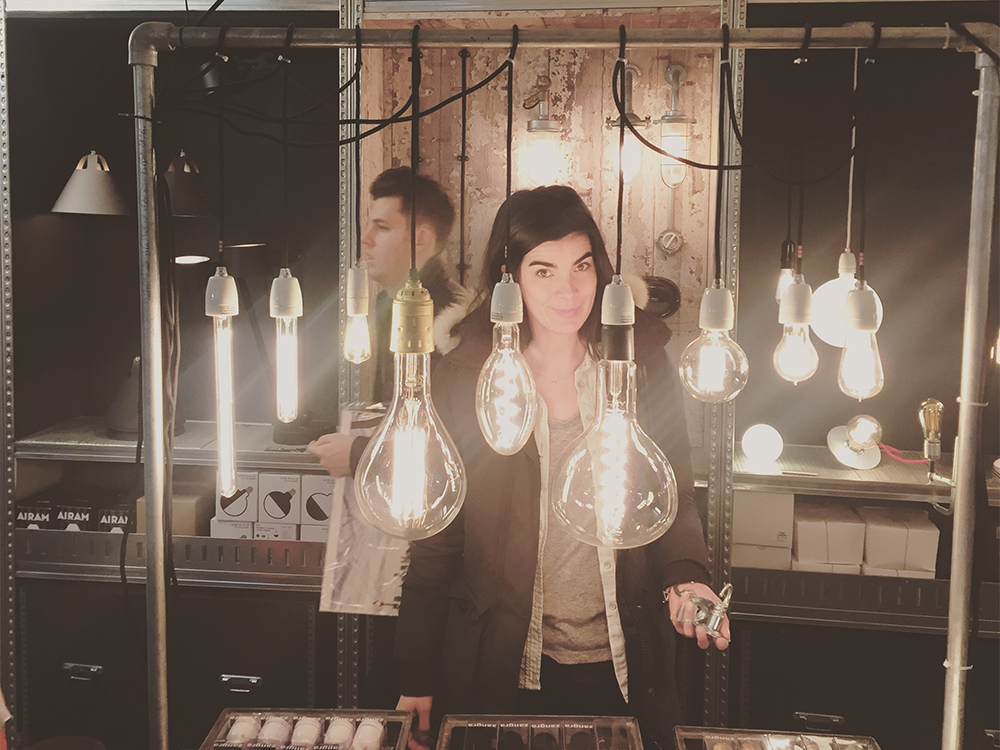 Luminaire Authentik: a brilliant success
Maude Rondeau's Story
Monday, February 20, 2017
Luminaire Authentik first took shape in the minds of two décor enthusiasts, then in a garage in Bromont, in the Eastern Townships. More than two years later, the young company manufactures hand-made lighting in Quebec for customers all over North America.
For a long time, the lighting selection in Quebec had been extremely limited, expensive and unattractive…until Luminaire Authentik arrived on the scene in January 2015. "Everything was manufactured abroad, without much research of style and originality," recalls Maude Rondeau, who was then working in the world of fashion, sales and brand distribution. "There was a demand for made-to-measure products made in Quebec."
In a happy coincidence, Maude met Pierre Gagné in 2014, an engineer who had just started manufacturing light fixtures. Overwhelmed by the marketing and sales of his young company, he welcomed Maude with open arms when she offered to help out. Their complementarity was obvious and it led them to become business partners. "We both had our individual strengths," says the 34-year-old entrepreneur.
The duo decided to locate their residential and commercial light fixture workshop in Maude Rondeau's garage, located in Bromont, in the Eastern Townships. A showroom for their industrial and contemporary designs was installed in a building adjacent to the workshop, a former schoolhouse. Soon after, in June 2015, Maude Rondeau resigns from her job, which had been a safety net until this point.
See also: Jarre: Battling food waste with design
"It was then that I was 100% devoted to Luminaire Authentik. When I look back, I should have done it from the start. Starting a business: it's a lot of effort to invest and many hours of sleep sacrificed. You have to have all your energy to do it."
Knowing how to separate business
Early on, Luminaire Authentik received a bunch of orders of all kinds. To meet this challenge, the SME needed to hire staff, expand its manufacturing facility and accelerate the pace of production. Growth was inevitable.
At the same time, Maude Rondeau had the feeling that her business partner, an artisan at heart, was uncomfortable with this new reality. "Our visions of Luminaire Authentik's future differed and we decided to go our separate ways in the fall of 2015," she says. The two partners are on good terms and Maude is now alone at the helm of the company.
Maude was doing well with this new combination of tasks. With many resources at her disposal, she refers to herself as a "conductor," the one steering the ship, trying to keep in mind that she can encounter certain pitfalls at any point, especially when it comes to hiring. "Your company is like your baby: you have very little perspective on it. If you do not have anyone to help you, you're likely to make very bad decisions," she warns.
According to her, it is essential to surround yourself with people who are more competent than you are in order to compensate for certain weaknesses you may have and to emphasize your strengths. "It's impossible to be good at everything," says the entrepreneur who now uses the services of human resources specialists for hiring.
A Bright Entrepreneurial Future
Luminaire Authentik recently moved its operations to a new factory. Ten times larger than its former workshop, these facilities are located in West Brome, also in the Eastern Townships. This will enable the company to sustain its growth in the coming years. "The restaurant and hotel chains in Quebec, Canada and the United States want products adapted to their businesses. Much of my production comes from them," says Rondeau.
Especially since Luminaire Authentik offers products at a lower cost than many of its competitors. "I ensure my own distribution, which allows me to create a short-cut in the chain, thus offering highly competitive prices while giving me an interesting profit margin," she analyzes. In addition, the entrepreneur identifies her company's strong presence on the Web and social networks as a key element to its success.
Judging by the increasing importance of decorative lighting in recent years, the expansion of Luminaire Athentik is not slowing down anytime soon. On the contrary. "It is in our plans to explode our trademark and develop collections of products related to lighting," confides Maude Rondeau, who is always on the lookout for trends.
Luminaire Authentik
7000: The square footage of the company's new factory
700: The square footage of the company's old workshop
10: The number of employees
950 000: The company's sales in 2016
 
Want to learn more?
Visit the Luminaire Authentik website