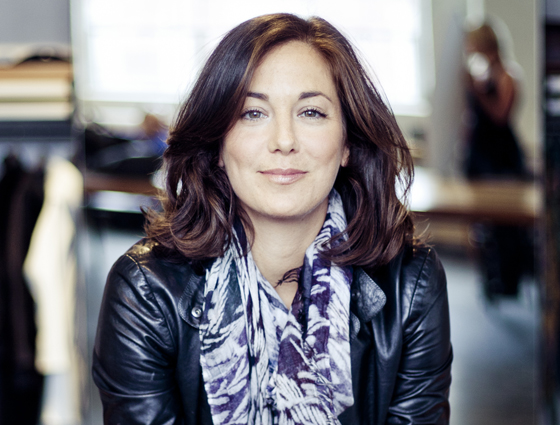 m0851: Bringing Creativity and Humanity Together
Faye Mamarbachi's Story
Wednesday, November 30, 2016
As a child, Faye Mamarbachi traced drawings of the bags designed by her father, Frédéric Mamarbachi, founder of the leather goods brand m0851. Almost 30 years later, she is Vice President and affirms that the freedom to create is her motivation.
Faye Mamarbachi has always been drawn to art, especially photography. "My father's drawings have always touched me, his creativity has been and remains a strong source of inspiration for me," she explains. "You can be creative in any field, even accounting!"
At 23 she started working at the m0851 office as a graphic designer after cutting her teeth as a saleswoman in their New York and Vancouver stores.
She subsequently took the lead as m0851's artistic director, and was responsible for all branding, marketing and communications, before taking over sales as well. "I've always felt comfortable here," says the thirty-year-old and mother of four-year-old twins. Being part of this company is second nature to me; it is visceral."
Discover also : Isaac Larose: The Modern Hatter
Faye Mamarbachi's owes her 15 years of experience to growing up in the retail business.  Frédéric Mamarbachi already owned leather goods stores before launching Rugby North America, which became m0851 in 2003, "I've always been very impressed by the way my father creates, manages a team and made his dream a reality," she recalls. He's a visionary, what he did is magic."
Today, the retail enthusiast oversees m0851's 24 boutiques throughout the world and is preparing for the opening of four other points of sale. "My father has always remained somewhat discreet, but I want m0851 to gain visibility," explains Faye Mamarbachi. The objective is to open more stores in high traffic areas."
Growth combining tradition and innovation
Thanks to their expansion, as well as the efforts invested in the development of their e-commerce, the company aims to double in size over the next three years. "Ecommerce is essential because it would allow us to grow abroad while remaining a small team," says Faye Mamarbachi.
A graduate in psychology and anthropology, Faye has also found a way to satisfy her need to be close to people through her work at m0851.
"It is a brand that is recognized for its human side. Our buyers are more like fans than customers. They talk about m0851 with enthusiasm and are eager to share their experiences with the brand."
The Montreal company has managed to develop an authentic relationship through an unwavering dedication to making quality products that are manufactured locally and honestly.
Maintaining an artisanal approach is a challenge, especially as the specialized workforce in leather goods is aging and successors are difficult to find. Moreover, the stress of production is accompanied by the stress of marketing. But, Faye Mamarbachi has nerves of steel! "I am thankful for the obstacles because they are opportunities to surpass ourselves,she explains. With experience, we learn to not become overwhelmed by the emotions that each day brings."
Faye Mamarbachi's human approach is apparent in the way she encourages teamwork amongst her employees. "I firmly believe that the success of our projects is a result of effective teamwork," she says. Every employee has an entrepreneurial spirit."
The desire to build a collective is also shared by Frédéric Mamarbachi, who in the late 1980s opted for a loft style open office concept. "As a result, we are all very close," she adds. I like the idea that we help bring out the best in each other."
M0851 in Numbers
53: Percentage of revenue growth for 2016 - 2017
70: the percentage of production produced internally
200: the number of employees
24: number of stores in North America, Asia and Europe
Want to learn more?
Visit m0851's website