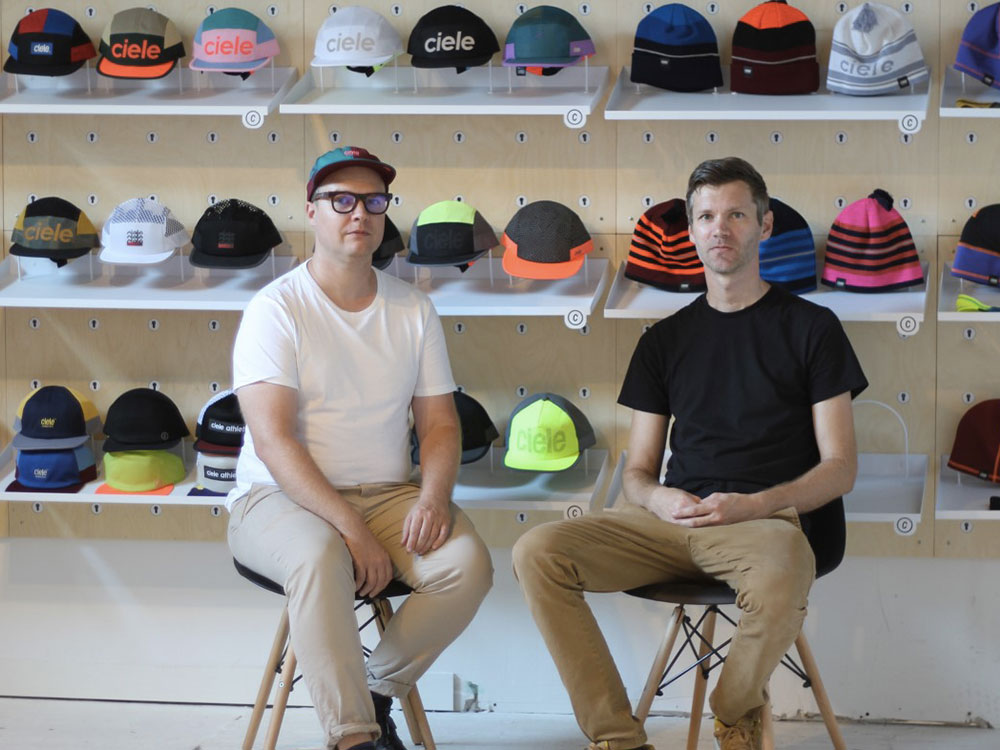 Ciele Athletics: Setting your cap for entrepreneurship
Jeremy Bresnen's Story
The colourful caps from Ciele Athletics are becoming increasingly visible on the heads of runners, but also on fans of Quebec-made products. This proudly Montreal label is the result of the efforts of two fans of sports and design who got together to create a powerful, strong brand based out of offices in the Notre-Dame-de-Grâce neighbourhood. Here's an interview with Ciele Athletics co-founder Jeremy Bresnen.
Jeremy Bresnen and Mike Giles are crazy about brands, sports and design, and always have been, so it was natural they would want to create a venture involving these domains. Bresnen had worked in the sporting goods industry for a long time, first in retail and later when he launched his own store dedicated to skateboarding. Later he spent several years working as lead designer at Orage creating ski and snowboard clothing. Giles, on the other hand, evolved within the home accessory and object design field, creating companies whose products were often featured in specialized design media. Thanks to their experience, the two friends had the expertise they needed to launch a company, but they still had to find the right project.
Bresnen knew he wanted to launch a clothing company, more specifically technical apparel, to address gaps in the marketplace. "I run a lot, even to get to work, and I couldn't find products I liked. Either the clothing was very specialized but ugly or the reverse." But that idea was still too vague to create a well-rounded business plan.
Launching a company is not a race
While participating in a sporting event, Bresnen noticed caps that were very stylish, but not adapted to running. All he needed to do was combine purpose with pleasure. "That really appealed to me," says Bresnen. "I had found a kind of product that didn't exist yet. I called Mike and said, 'I've found it, I know what we're going to make.'" They soon set about designing prototypes, and the teammates discovered they had a viable project. By first launching a single unisex cap in one size and one colourway, they could perfect the design and test out the market for a product that may have been a bit pricey for a cap, but overall was not that expensive. "We wanted to make it as simple as possible, even though it's still a complex product."
Bresnen quickly realized that he couldn't find a Canadian manufacturer to produce his caps, which are made from specialized fabrics in several colours with a bill composed of EVA foam. So he spent some time searching for a factory that would accept the challenge of producing such a technical product at a small scale and succeeded in negotiating his first production contract. "We're a problem for our suppliers," explains the entrepreneur with amusement. "We produce at least a hundred styles a year given that we offer our models in several colour combinations."
In 2014, the co-founder left his job as a designer in order to launch his product. While the co-founders would have liked to offer their caps only through direct sales, the importance of in-store sales was obvious. "At first, we wanted to go with a direct-to-consumer sales model, but then we realized that being represented by recognized retailers would give the brand credibility."
Thanks to their first retailers and some visibility on Instagram, Ciele sold around 400 caps in its first year. It was enough to confirm that a market existed for their product, especially since reactions to it were really positive. 
A marathon instead of a sprint
In their first years, their website generated close to 40 percent of their sales, a figure that increased to 50 percent during the COVID-19 crisis. The online store had always been a valuable showcase for the two entrepreneurs, since it allowed them to display their product in their own way.
"It's important to us to control the way the brand is presented since we want to be part of the running community. We're as proud of our product as we are of our relationship with runners."
Jeremy Bresnen
Slowly, Ciele built a network of hand-picked retailers to ensure they respected the co-founders' vision. Today the brand is stocked by close to 400 sporting goods stores, and more often retailers devoted to running particularly, spread throughout the U.S., Europe, Asia and Oceania.
The team has also grown with the arrival of new employees in finance, marketing and sales, enabling Bresnen to concentrate on product creation and brand expansion alongside Giles, who also takes care of the brand as well as web design, logistics and store placement.
The team are banking on strong, yet organic growth so they can take their time and do things right. "We're always rushing, but taking our time doing it," laughs Bresnen. "Design is important to me, but product performance takes precedence because that's where our credibility lies."
Strengthening their presence
It should be noted that Bresnen, who launched his first clothing company in 1992 and worked for a long time in ski apparel design, has an eye for what consumers want, in both aesthetic and technical terms. And he really loves to analyze brands and products that are on the market, as does his partner. 
The pair have learned that to stand out in a crowd, you need to hold your course. "You could just quickly sell products, but building brand recognition takes time." The co-founders have always aimed to extend their activities to offer a range of products, but the importance they place on product performance has led them to continue to refine their headgear in order to respond to every last customer expectation before they move on to something else. "The aesthetic side is always there, but that wasn't our primary goal. As a designer that's important to me," explains Bresnen, "but for the consumer, I think first about quality and comfort. And every time a product gets added, a layer of complexity comes with it. It always pays to take your time." Just the same, the pair are still willing to listen, and occasionally accept leaving their comfort zone if they can stay within their chosen field of running. Thus to answer runners' repeated demands for different kinds of headgear, the designer also created visors and bucket hats.
With this great success under their belts, the founders of Ciele Athletics are working to conquer the running world one giant, yet careful step at a time. While production decreased during the COVID-19 situation despite an exceptional start to the year, the company is still doing well thanks to online sales and the diversification of its points of sale.
 
Ciele in Numbers
400: Approximate number of retailers of Ciele Athletics products
4: Number of continents on which Ciele Athletics products are distributed
70: Percentage of sales that come from their first model, the Gocap
 
On the cover, from left to right: Jeremy Bresnen and Mike Giles