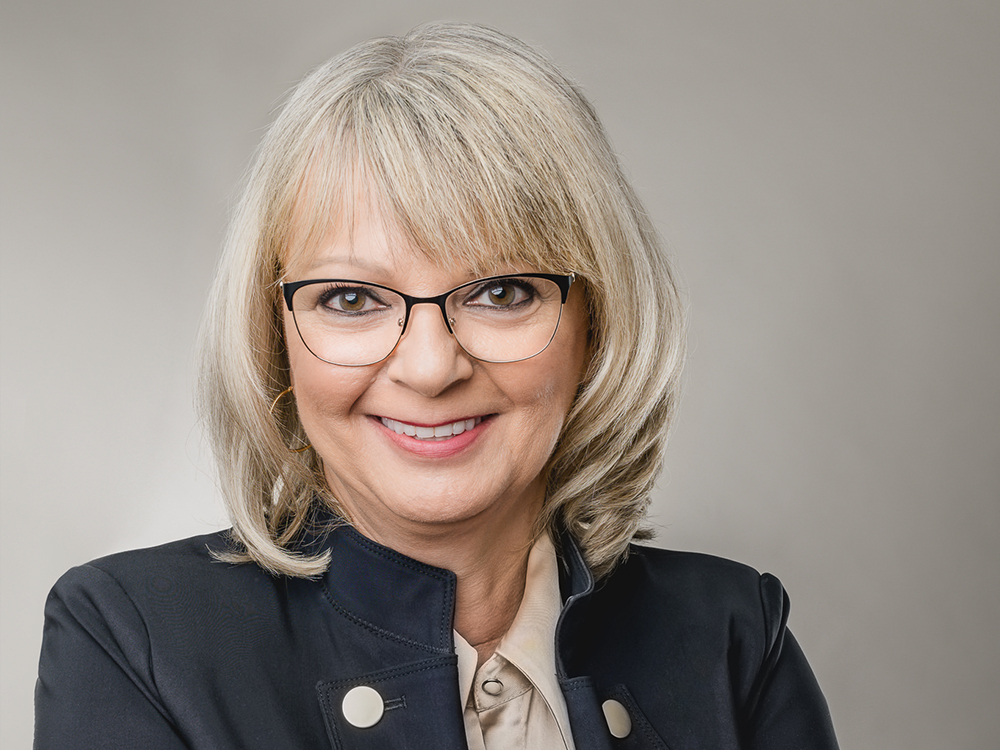 Mercier Wood Flooring: Built from the floor up
Marielle Mercier's Story
Monday, November 30, 2020
Handing over the reins of a company is sometimes hard for leaders of family businesses. But Marielle Mercier and her brother were lucky to have an entrepreneurial father who believed in letting his children stand on their own two feet. And did they ever—under their leadership the prefinished wood flooring company's revenues have reached $50 million.
When she was young, Marielle Mercier worked in a high-end clothing store. Even at the age of 16, she quickly earned the trust of the business's owners, who gave her the keys to the store without so much as a second thought. "When I worked there it was almost like I owned the place," she explains.
Despite her natural predisposition for leadership, Mercier didn't begin her entrepreneurial journey until she started working for Mouvement Desjardins after finishing her studies in administration. That was when her father, Marcel, who founded Mercier Wood Flooring 40 years earlier, asked for her help with the accounts. This was how she started working for the family business at the age of 25. Less than ten years later, in the mid-1990s, she and her brother Richard became partners in the company and replaced their father in senior management.
Moving up from the ground floor
When the brother-and-sister team took over the company, it was still a small business with revenues of merely a few million dollars. "We had just relocated the company to the industrial park in Montmagny," recalls Marielle Mercier. But in less than four years, demand exploded and they had to move again to a larger building in the area.
One of the first projects launched by the Mercier siblings was to digitize the company, a major step that might seem odd when looking back from a time when everything is highly computerized. Yet the advent of the computer age isn't so far in the past. "It was complex, because no one was familiar with it," explains Marielle. "We had to review all our processes, especially payroll, which used to be done by hand." In addition to computerization, Mercier Wood Flooring needed to automate certain tasks over the years, particularly to make up for a lack of workers in the sector.
While Mercier relied on representatives to sell its products, the arrival of a sales director to structure their team was a new milestone in the company's development. Their market, initially limited to the province of Quebec, was enlarged to include Ontario, then later the United States in the early 1980s. Today, sales to Canadian retailers represent 75 percent of their sales revenue, with 25 percent attributed to American distributors.
In 1995, Mercier Wood Flooring partnered with Bois-Francs St-Charles, a manufacturer of hardwood floors located in Drummondville. "After vertically integrating our activities, we finally acquired the company when the owners were forced to sell, since they didn't have successors," explains Marielle. Today the Drummondville plant employs 225 people, with 75 at the Montmagny plant.
While the company evolved very quickly, so did the market. "When my father was running it, Mercier Wood Flooring offered two types of wood in three colours, and we stuck with those models for 15 years," states Marielle. "Now we put new products on the market every three months."
When the market changes so quickly, you need to constantly innovate. Marielle doubts whether her father, who has since passed on, would have enjoyed heading the company he founded as it currently stands today. "It's not the company he built," she affirms. "You need to set aside a lot of time to do everything that needs to be done today, and that takes a lot of energy."
Taking over a business without losing ground
The leadership change at Mercier happened very smoothly. "My brother and I didn't just arrive on the scene unexpectedly," she emphasizes. "We both had already worked with most of the employees, and since my father had less and less of a presence, people already knew that we were going to take over."
At that time, Mercier had around fifty employees, with three working only in the office. "When my father left the business, we were young, but we had experience. That didn't stop us from seeking his advice from time to time when we felt discouraged, but he gave us free rein."
Marielle intends to handle the takeover by the next generation in the same way. "To me it's important that they have the full experience of being an entrepreneur and don't feel like they're being overshadowed." She has decided to begin her retirement on June 22, 2022. "We announced it three years ago and we're already organizing everything for the takeover." Her younger brother Richard will stay on for a few years longer. Marielle's son, Jean-Philippe Dumas, will be head of sales, and her brother's son, Sébastien Mercier, will be head of operations. Both have been developing within the organization for around twelve years, following in the same footsteps as their parents: Since they first started they've learned how to execute a variety of tasks, to the point where they now have a very good understanding of the company's inner workings.
In the next three years, Mercier Wood Flooring plans to extend its activities further into the United States and in Europe, amongst other projects. "Unless an opportunity arises, we're not planning any acquisitions—the company's performance is good enough that it can continue its growth in the years to come," emphasizes Marielle.

Mercier Wood Flooring in Numbers
300: Total number of employees at both Mercier plants
$50 M: Sales revenue
75%: Sales made within Canada

WANT TO LEARN MORE?
Visit the Mercier Wood Flooring website