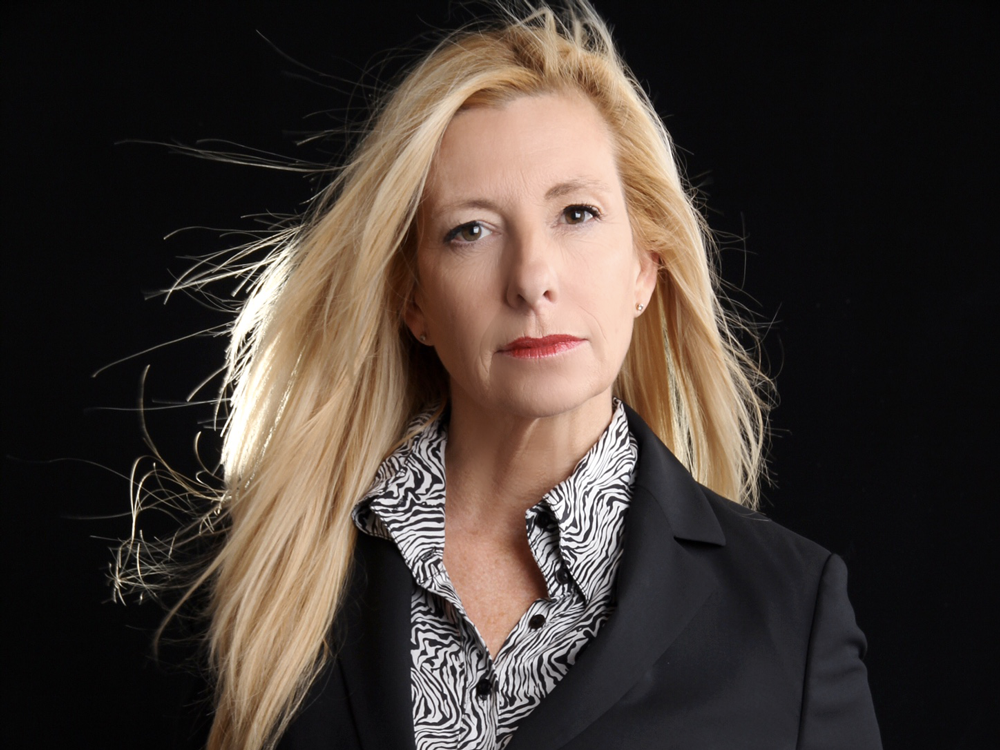 Archex: Carving out a place at the world's biggest trade shows
Anik Forest's Story
Anik Forest and her sister took over the convention kiosk design and construction business started by their father. While Anik once believed that the word "entrepreneur" only applied to those who had built companies from scratch, like her father did, today she wears the title with humility after having taken the bold step of transforming Archex's original vision.
Even since high school, Anik Forest has had a very clear idea of what she wanted to do as a career, even down to the colour of her office, which she imagined in a minimalist style, in very pale colours or immaculate white.
"When I think back, I wasn't necessarily the boss, but I was in upper management and would go about my work in a very calm way… and I wore a suit," explains Forest, laughing, who is now the president of a company. "It looks a lot like my life today, except I swapped the suit for jeans and my office is messier than the idea I had back then."
In 1991, she joined the family business, which instigated a faster transition process than she had anticipated, since at the time her father was sick and wanted to sell the company.
Forest had only just barely finished her studies in business administration at UQAM. "I had wanted to get some experience somewhere else first, but I indicated that I was interested," she emphasizes.
His reaction was surprising. "I was greeted with 'But you're a girl!' even if he probably doesn't remember having said that," she says. "Now I understand his insecurity: This field used to be very male dominated, I was only 23, I was pregnant and the company's activities spanned from one ocean to the other."
Nevertheless, she jumped into the adventure by starting off working in the accounting department.
A transition of more than a decade
Her father ended up getting over his health issues and worked beside her for the following 15 years.
"During the first five years, I was more in training than anything else: I went with him to meetings, I took notes, and as we left I would ask him questions," she explains.
Over time, she was promoted, first to sales, a field she took to like a fish to water, then becoming administrative director. In this role, she dealt more with human resources, including interviewing, performance evaluations and end-of-contract management.
It was at the end of the 1990s that she was promoted to general manager, while her father divided his time between Quebec and Florida, where he would spend the winter.
"I took on more responsibilities during this period, to the point where in 2002, I became vice-president," she adds. In the meantime, her sister Stéphanie, who was a bush pilot, had also joined Archex.
Anik had already proven herself to the company's clients, employees and suppliers when her father died suddenly in 2008, in Florida.
She then became president, following the plan established between herself and her father, with her sister Stéphanie becoming director of operations. Their mother kept 20 percent of the company's shares until 2018, when the two sisters purchased them in equal portions to officially become co-owners of Archex.
Not content with the status quo
The arrival of Anik Forest at the head of the business happened in the midst of a recession. Her first year mainly consisted of safeguarding the activities of Archex, which had lost three major contracts during that economic period.
Starting in 2010, she revitalized their brand image, which was made more feminine—a positioning that enabled the company stand apart from other businesses operating in the male-dominated sector.
Internationalization of the company's activities was one of the main drivers of growth under her presidency.
"When I arrived in 1991, around 5 percent of our contracts originated outside of Quebec, while today this figure has risen to around 40 percent," she explains.
Most of the mandates come from Quebec manufacturing companies that exhibit their products or services overseas.
The American market was a more natural fit for Archex, given the strategic alliances the company had developed there over the years, with partners based in cities with large conference centres.
Despite this, Archex today actually has 150 partners spread across 70 different countries. "For me it's an insurance policy," she emphasizes. "They have the same quality standards as we do, they know their territory, their sites, and they handle the event for our clients."
They also developed their "international partner" niche at the same time. For example, a Russian client entrusted Archex to make them a kiosk in Montreal that would be installed in the U.S.
"It's risky for people to  exhibit in the U.S. if they aren't familiar with the country, especially when it comes to how American unions, regulations and customs work," she explains. "In addition to the quality of our products, we offer them peace of mind when they exhibit abroad."
Growth with one foot on the brake
Since the internationalization of Archex, Anik Forest has doubled the company's revenue. Its growth is going so well that Archex has to constantly turn down contracts.
"As an entrepreneur, you don't want to do that, but we had to make a few decisions at a certain point for the sake of our health," she admits. "So we chose to grow in an organic way, meaning by choosing higher paying contracts like those offered internationally, but also by improving our internal processes."
This is how the company's sales doubled and profitability quintupled since she took over the business from her father.
Both sisters have been training people internally for the past five years to ensure the company's continuity into the future.
Evolving in an industry that's all about the short-term—their kiosks are used just for a few days—Archex is also trying to come up with more sustainable and ecologically friendly solutions.
"We also want to rethink our manufacturing process to give a second life to materials used to make the kiosks," says Forest. "For example, it's possible to reuse a counter, a carpet or a lightbox for another client by changing the colours and logo to respect the client's branding. This enables us to prolong the life of a product and offer attractive cost efficiencies."
Every situation has a solution
Faced with the unprecedented event that is the current international pandemic, the Archex team needed to reinvent themselves, again. Although the commercial trade show and event sector had practically been entirely put on hold, the company's leaders quickly found a solution that enabled them to both save jobs internally and promote the relaunch of other companies: Archex launched itself into the fabrication of made-to-measure physical distancing devices. Whether for restaurants, hair salons or offices, these personalized solutions created by Archex's team of designers were adapted to each environment in order to render locations safer without impairing their operations. The work undertaken by Archex had in a sense remained the same, in that they were still presenting companies and their visions, but this time they were doing it within a social distancing context rather than for trade shows. In the coming months, the company is expecting many businesses to look for more permanent solutions to the measures quickly put in place at the beginning of the summer. The Forest sisters therefore remain cautious given the uncertainty of the situation, but they are continuing to develop new markets and new solutions in their usual spirit of empathy and mutual aid. 

Archex in Numbers
5: Since Archex's takeover, its profitability has increased five-fold
700: Number of projects developed each year, both small and large 
27: Number of employees
1976: Year Archex was founded 
 
WANT TO LEARN MORE?
Visit Archex's website