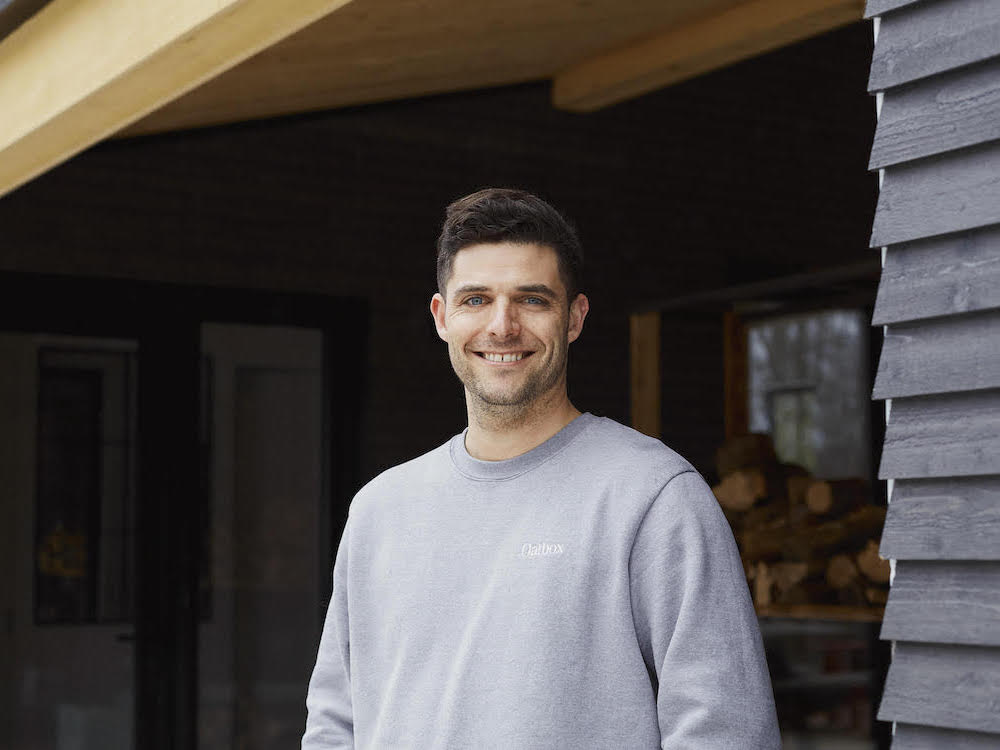 Oatbox: Placing Oats at the Heart of Food Innovation
Marc-Antoine Bovet's Story
At only 34 years old, Marc-Antoine Bovet has been an entrepreneur for almost half his life. In a few months, he will launch an Oatbox product that will completely revolutionize Quebec's food landscape. Marc-Antoine shares his story.
In 2014, Marc-Antoine created Oatbox with the help of Laurent Laferrière, Pierre-Luc Laparé, Julie Zyromski and Jean-François Kabbani. Since then, only Pierre-Luc and Jean-François remain as shareholders alongside Marc-Antoine, now the company's president and CEO. Today, he recounts all the steps that led to the upcoming launch of Oatbox's new oat milk.
"I have one piece of advice: don't be afraid to make drastic changes. Eight years ago, we didn't even know oat milk existed and now we're about to produce one," says Marc-Antoine.
The businessman points out that you don't see many entrepreneurs still working on the first idea they came up with twenty years down the line—or eight years, in his case. It's always better to dare make changes to your business now rather than waiting indefinitely until you have the perfect idea.
A FRONT-ROW SEAT ON MONTHLY SUBSCRIPTIONS
Once upon a time, Oatbox offered its customers a monthly granola and oatmeal subscription plan. In 2017, in the face of Oatbox's great success in Quebec and in Canada, the team decided to focus on acquiring a new market: the United States. After working on this for some time, they decided to drastically change the business's distribution strategy.
In 2018, the organization made the decision to pivot to retail while keeping its subscription plans and direct web distribution active, even if they quickly became a secondary source of sales. Their products first arrived in grocery stores in the summer of 2019. With this shift, the majority of Oatbox's products were now sold B2B to supermarkets, instead of B2C online.
A NEW PACKAGING FOR A NEW BRAND IMAGE
Oatbox's oatmeal, granola and bars made their grand entrance into grocery store aisles adorned with different packaging than the products sold online. Customers didn't yet know that Oatbox was about to take a major step: changing from a breakfast brand to an innovative oat brand.
"We were really at a crossroads with Oatbox's identity. It was the perfect time to look at what was next and, most importantly, to question ourselves," explains Marc-Antoine.
Oatbox took advantage of this rebranding to rethink everything, from its mission to its logo and the material it uses to manufacture its packaging. On November 8, 2021, its new brand image was finally launched.
BETTING ON THE POWER OF OATS
The organization has also revised its product's ingredients to remove anything non-vegan, making its recipes 100% plant-based.
"These are very big changes for a business of our size, but I think companies have the duty of listening to consumers' demands. They must put pressure on stakeholders to bring positive change while keeping a viable value chain," explains Marc-Antoine.
Oatbox has also made Canadian oats, a tiny grain that doesn't require much water and energy to grow and be processed, the focus of its repositioning. With oats, the company is able to manufacture and market responsible food alternatives. And because it couldn't find a manufacturer that supplies oat concentrate, it took the plunge and decided to open its own manufacturing facility.
"If we continue to produce and consume the way we have for decades, it's not going to be pretty. It's our duty to change our ways," explains Marc-Antoine.
Since he became a father two years ago, Marc-Antoine is very aware of climate issues and wants to take part in this front-line fight for environmental transformation. For his daughter and her generation, he has dared to change his business completely.
FOOD INNOVATION AT THE HEART OF HIS BUSINESS MODEL
In St-Damase, one third of an Agropur plant is currently being rebuilt: it is slowly becoming Oatbox's new manufacturing plant. It will be specialized in the manufacturing of oat concentrate, which will be used to develop an oat milk expected to be made available in grocery stores by the end of 2023. This will make Oatbox the very first company to market both dry oat-based products and oat milk.
It also intends to develop other products made oat concentrate and, potentially, to commercialize it so that other local companies can develop more responsible food products.
A FEW FIGURES
22,000 square feet in the new manufacturing facility
25–30 employees
15 jobs will be created to run the manufacturing plant
4 product lines available (oatmeal, granola, overnight oatmeal and oatmeal bars)
LEARN MORE
Visit Oatbox's website to learn more about its vision of oats and responsible food.