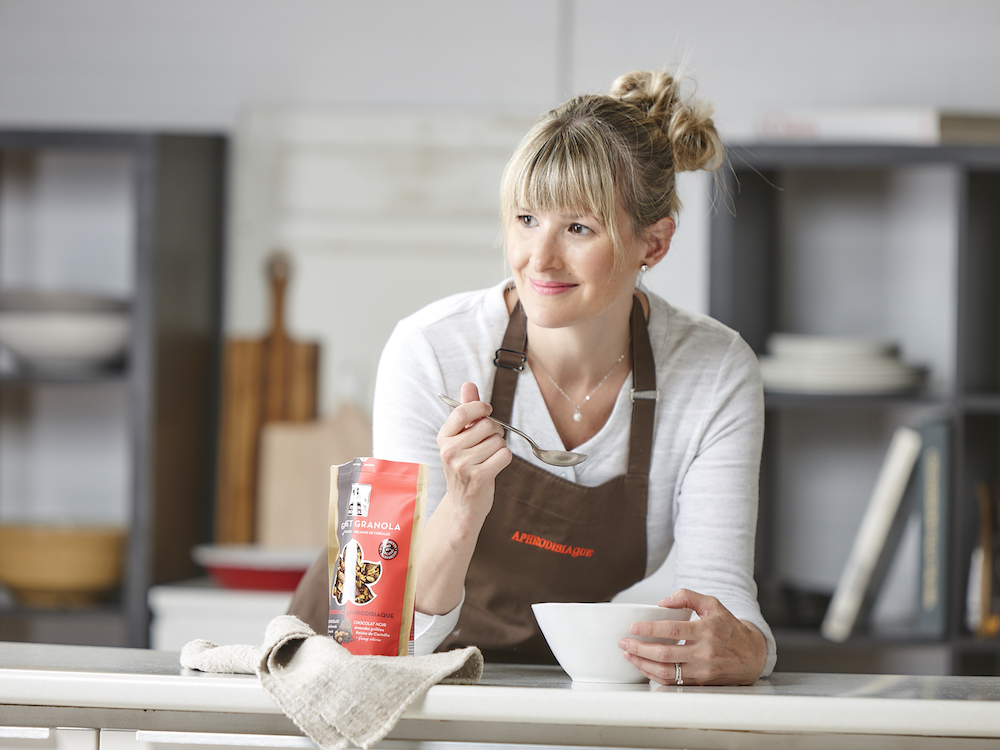 Fourmi Bionique: Healthy Breakfast Granola Blends with Quebec Flavours
Geneviève Gagnon's Story
As a breakfast lover, Geneviève Gagnon had perfected her recipe for homemade granola at home before founding Fourmi Bionique in 2004. Her company makes original blends of healthy gourmet cereal using natural, organic, and fair trade ingredients.
The Montreal-based granola and muesli brand has been growing steadily since its creation, but pace picked up quickly in 2017. Within just six years, Fourmi Bionique has grown from a single product line to four complete product lines.
FROM SLOW FOOD TO B CORP CERTIFICATION
Geneviève got involved in the Slow Food eco-gastronomic movement as she founded her company. While the Slow Food movement began in the late 1980s, it was still very little known in Quebec in the 2000s.
"I saw an opportunity! I was really interested in Slow Food and I figured there must be other people like me, who want to eat better while having fun eating."
Since the business owner had a focus on manufacturers' social and environmental responsibility from the early days of her company, Fourmi Bionique performed exceedingly well when it qualified for its very first B Corp certification in December 2021.
RESPONSIBLE, INSIDE AND OUT
The brand was one of the first to sell its granola in a resealable, reusable, recyclable bag. The brand stood out very quickly in its category by also offering a family size option, a volume the equivalent of three regular-size bags, with the aim of reducing packaging waste.
Fourmi Biologique's cereal blends are made with local ingredients from Quebec. "We have always been for buying local. Buying local reduces our ecological footprint, because less transportation is needed."
BETTER PRODUCT CONSERVATION TO MINIMIZE WASTE
It quickly becomes clear in talking with Geneviève, that product conservation is a major issue for her, and also a source of innovation for her company. In her sector of activity, losses linked to the products' short shelf-life are a major contributor to food waste.
Geneviève tackled the problem head-on: evaluating new products' shelf-life is an integral part of the commercialization process at Fourmi Bionique. On a site of just 11,000 square feet, the company houses administration, production, and warehousing, and the brand has all the equipment it needs to carry out in-house food conservation tests.
"We have always worked to develop the food conservation process for our products, to avoid food waste in all our product lines. It's a really important pillar for us."
CONSISTENCY, FOR HEALTHY GROWTH
Geneviève is proud that one of her company's greatest strengths is its determination to grow without compromising the quality of its product and the well-being of its staff. The entrepreneur and mother of three has shown resilience to raise a large family while leading her business to growth.
"We've been in a constant growth phase, really, and we're aware of the fact that the seeds we sow now will produce real abundance in the future."
The executive points out that a company can't double its staff or its production capacity overnight. That's why with Fourmi Bionique, the focus is on consistency rather than speed of growth.
Geneviève certainly intends to ensure she has what it takes: an upcoming production facility acquisition will allow her to meet the increased demand for her products online and in stores.
In the coming year, Fourmi Bionique plans to solidify its presence in existing markets and to make an incursion into several new ones. All signs suggest that 2022 will be another strong year of growth for the company.
A FEW FIGURES
20 employees
75-80% of product ingredients are locally sourced in Quebec
85 SKUs
100% turnover growth in the last five years
1 700 points of sale in Canada and 300 in France
WANT TO LEARN MORE?
Visit the Fourmi Bionique website to learn more about the brand and its original, healthy, gourmet cereal blends.