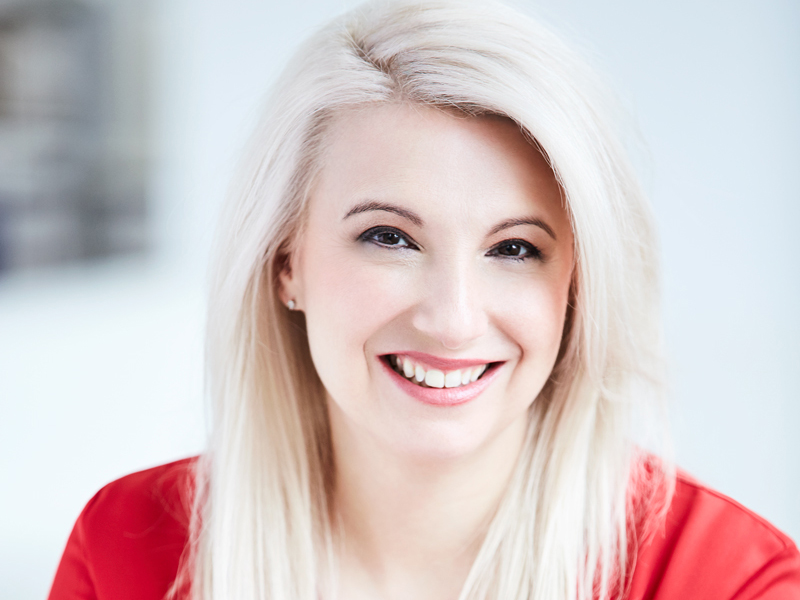 Karine Joncas: Beautiful growth
Karine Joncas's Story
Well before launching her eponymous line of cosmetics, Karine Joncas was immersed in the universe of beauty as an in-home makeup consultant, a job that enabled her to support herself as a student. Today, she heads a growing Quebec company and has reconnected with her first love, direct marketing, a tactic often used by our neighbours to the south.
Karine Joncas comes from a family of entrepreneurs, from whom she inherited her innate business skills. Having always been fascinated by makeup, Joncas started making her own cosmetics with her grandmother when she was quite young, in addition to spending innumerable hours at her mother's hair salon. In her student years, she started going door to door with a bag of brand-name cosmetics tucked under her arm. Despite a brief stint in education, her desire to try her luck in the cosmetics business resurfaced after learning about transdermal patches during a trip to Europe. "I have a strong entrepreneurial streak. I got started because I wanted to introduce Quebecers to transdermal patches, a technology that comes from the medical sector, but that's used in the cosmetics field."
A good foundation
The Karine Joncas brand first saw the light of day in 2001, initially offering only cosmetic patches for use in skincare. Five years later, the entrepreneur founded her first laboratory in order to develop her complete care line, particularly creams and serums, with the help of her team of scientists. Celebrating the 10th anniversary of the launch of her original anti-aging cream, which she considers her "baby," Joncas now sells over 30 products in 800 pharmacies across the province. "Research and development is a long process and we never know what it will lead to," says Joncas. "But seeing how popular my first cream still is today makes me want to keep going."
An international marketing plan
Now well established in her home province, the brand has started expanding into the U.S., which is considered a more favourable market than English Canada for the company's first phase of expansion. Requiring two years of preparation, the expansion project was particularly complex because a different business model needed to be adopted for the United States. In Quebec, the line's success was partly based on the presence of cosmeticians in pharmacies (and the brand's relationship with them, which was built up over time), but U.S. pharmacies do not have cosmeticians.
So how could the company recreate this relationship built on direct contact and interaction in order to promote its products' benefits to customers? "It seemed essential to me that we should continue to use  word of mouth in order to raise our profile and serve our customers well. So I decided to go back to my first love, at-home consulting. This is why we set up a different kind of distribution in the United States." So the company traversed the States in October of 2018 to not just export its products, but establish a second entity, Karine Joncas USA, which would be responsible for its own distribution using its own relational marketing network.
Six months after the launch, the team congratulated itself on having distributed its products throughout approximately forty states thanks to a local team of 400 advisors, some of whom already looked like promising team builders.
By women, for women
Passionate about female entrepreneurship, Joncas is happy to be able to allow women in the U.S. to get into business through her products. Using the active woman as her muse, Joncas believes that her products can appeal to any woman who sees herself the same way, no matter where she lives, and that they're brought to life by the company's representatives, who are active women themselves. This latest development, although exciting, also represents a new responsibility for the entrepreneur.
"I'm not alone anymore. I have women working with me who've launched themselves into business. They're counting on me to grow. We need to be at the top of our game, because if we don't meet our objectives, we'll slow them down too. I feel this huge responsibility, but I'm handling it well. I made this decision knowing that I'm capable of leading the company further by enabling these women to thrive."
Karine Joncas
It should be said that growth and change have long been a part of Karine Joncas's day-to-day reality. While she has sometimes found that the growth process can be a bit too slow for her taste, she understands that, looking back, slow, well-thought-out growth has definitely enabled her to avoid turmoil. "Change is constant and involves always being shaken out of your comfort zone. But by staying true to your convictions, surrounding yourself with proactive, positive people that are like yourself, it's enjoyable. I'm proud of establishing a culture of intrapreneurship within my company, since in my opinion, entrepreneurship is shared by everyone involved."
Joncas now aims the achieve the goals she's set herself and continue to inspire other women to take action and make their entrepreneurial dreams a reality.
 
Karine Joncas in Numbers
800: Number of pharmacies distributing Karine Joncas products in Quebec
40: Number of U.S. states where Karine Joncas products are distributed
40: Number of employees at the company's head office in Montreal
 
WANT TO LEARN MORE?
Visit the Karine Joncas website