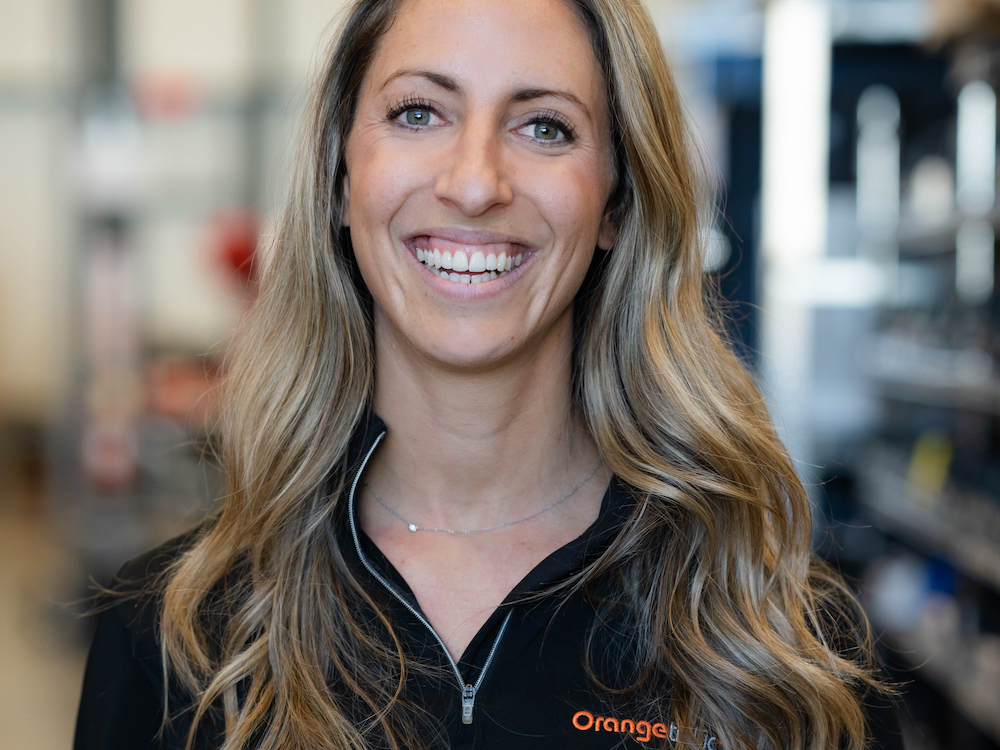 Orange Traffic: Giving the Green Light to Growth
Stéphanie Fugère's Story
Orange Traffic's smart signage specialists have been optimizing traffic flow and safety in several cities across Canada and the United States since 1988. In the coming years, General Mmanager Stéphanie Fugère will be taking the wheel of the company from her father, Roger Fugère.
Charles Tousignant, Stéphanie's spouse and VP of sales, is also part of the family business. Together, the couple will ensure the future of the innovative Mirabel-based company.
USING THE RIGHT TOOLS TO ACCELERATE MODERNIZATION
Stéphanie made her debut at Orange Traffic nearly eight years ago, but not in a glass office next to her father's. "When you're the boss's daughter, you're already branded. So I didn't want to come in wearing a suit and heels. I put on my steel-capped boots and worked in production in the back."
Stéphanie spent her first two years at Orange Traffic implementing an ERP (Enterprise Resource Planning) system. This initiative helped identify what parts were in stock by showing their real-time availability, which became a major asset for the sales team.
"This project taught me everything! Today, I understand all our processes. When you implement an ERP system, you have no choice but to get involved in every department, from supply to sales."
The ERP system laid a solid foundation for the company's growth while also improving its production efficiency. Among other things, Orange Traffic designs ATC cabinets, the large black boxes installed at street intersections to control the rotation of car, bike and pedestrian traffic lights.
ON THE ROAD TOWARD GROWTH
In addition to traffic cabinets, Orange Traffic manufactures LED signage that can be used to indicate the opening and closing of traffic lanes. The family-owned company sells many of these signs in Quebec and the rest of Canada, but also in the United States.
South of the border, Orange Traffic does business with 20 companies who distribute their products. When Stéphanie started at the company, their relationship with the U.S. market was underdeveloped. "We were in Texas last week because we have yet to do business with that state."
Although Orange traffic had about 20 people on its team 10 years ago, the company now has more than 50. Its expansion into the American market certainly played an important role in its growth as it has now seen its sales quadruple over the last decade.
KNOWLEDGE AS A DRIVING FORCE TO TAKE OVER THE FAMILY BUSINESS
It's no secret that dealing with the succession of a family company can't be done standing on one's head. Because Stéphanie and her father Roger knew this from the start, the father-daughter duo chose to surround themselves with specialists in the field of business takeovers.
A firm has been working with them for the past two years to ensure that the transition goes according to plan. Roger no longer has to manage operations, which have been taken over by Stephanie and Charles, and can now focus his energy on business strategy and vision before retiring.
Although smart cities are not yet widespread, the company is keeping an eye on innovations in the field of autonomous vehicles. "We have to think about it! It's still a long way off, but we read a lot about it. Being at intersections, where smart cars will drive, is certainly an advantage. We must not miss the boat."
We can bet that Orange Traffic's growth in the years to come is nowhere near slowing down! After all, the company does specialize in optimized traffic flow.
A FEW FIGURES
50 : the number of employees
18 million : the company's sales in dollars
3,000 : the number of traffic lights sold in 2021 for 50 intersections, plus 1,500 more LED signs
10,000 : the number of products listed in Orange Traffic's inventory
WANT TO LEARN MORE?
Browse Orange Traffic's website to learn more about their products and services in smart signage.