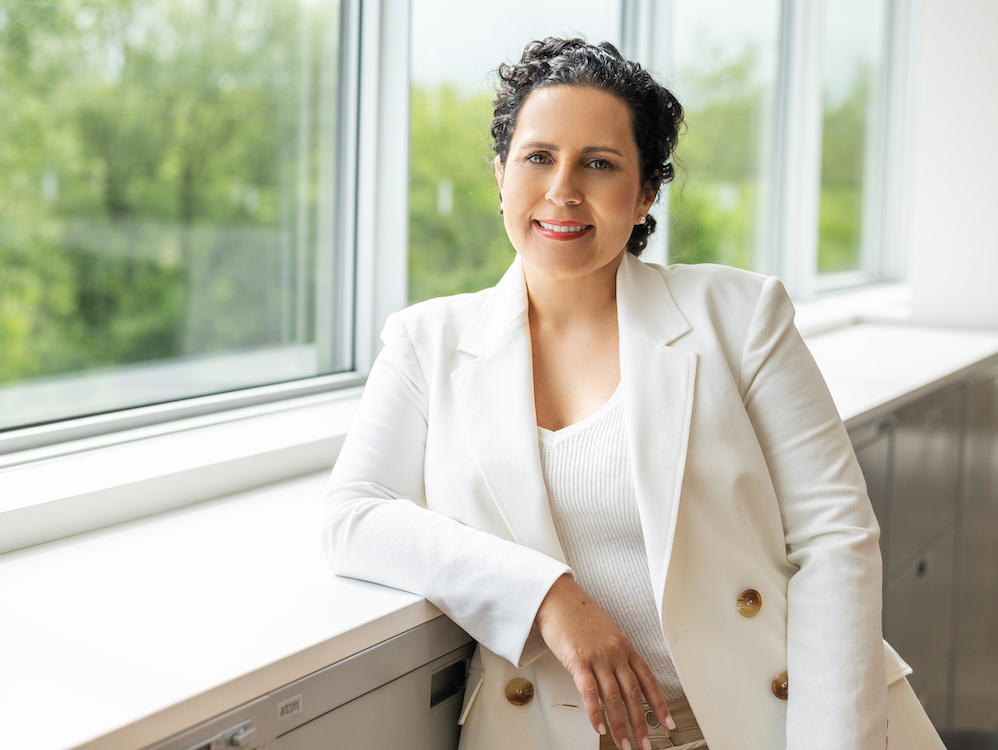 Topring: Taking the Time to Take Over
Anne-Catherine Ménard's Story
Anne-Catherine Ménard had no intention of taking over Topring, her family's business, when she first started studying marketing at HEC Montreal. Yet, she is now the co-president.
Based in Granby, the company that specializes in the design, assembly and distribution of pneumatic components for compressed air networks is growing and Anne-Catherine is determined to follow this momentum.
A THIRD GENERATION OF MÉNARD'S
Anne-Catherine's grandfather first founded an industrial distribution company in Granby during the 1920s. His son, Louis Ménard, took over the business and acquired Topring, a pneumatic components manufacturer, in the early 1980s.
The market for compressed air was very promising, and still is today. Compressed air is used in the vast majority of manufacturing and automotive businesses. Louis sold his father's business and focused on growing Topring.
After her studies in marketing, Anne-Catherine made her professional debut in the wine and spirits industry. When she was employed in a family business, she got a glimpse at the reality shared by brothers and sisters working together in a friendly atmosphere.
"I had an epiphany! I, myself, have a family business where I could develop my career and learn, especially as a manager."
TAKING THE TIME TO PREPARE THE TAKE OVER
To familiarize herself with the company, Anne-Catherine started at Topring as a project coordinator and held various positions. Her father soon asked her if she would be interested in taking over the business with her brother Alexandre, her sister Marie-Christine and the general manager, Frédéric Théroux.
Thus started a hybrid succession project that would bring together three members of the Ménard family and a key employee. For the next ten years, Louis and his successors would surround themselves with experts to work together toward personal growth and skills development.
"It's important to prepare oneself well in advance to avoid a hasty takeover. One has to understand what challenges lie ahead and must gain the staff's trust." This process can take time, so patience is key.
"Successors and transferrers do not always move at the same pace. Both parties need to move forward at their own rhythm as it's an important step in their lives."
A CO-PRESIDENCY MODEL
In February 2020, after a decade of preparing for the takeover, Anne-Catherine and Frédéric stepped up as co-presidents of Topring. "We took on the position with a positive energy, ready to give it our own colours. Our approach is based on communication, employee well-being and a strong corporate culture."
With a co-presidency model, it is important to have complementary talents. Anne-Catherine had an interest in corporate culture, marketing and strategy. Frédéric was more interested in finances, IT and operations.
"You have to take the time to look at each responsibility and determine who is the best person to handle it. Good communication is essential to avoid confusion among staff. Otherwise, it's a little like having two parents who contradict each other!"
While a co-presidency model may not be for everyone, as Anne-Catherine points out, it certainly holds promise for Topring. On June 8th, the company won a gold medal in the Family Succession category at the 15th edition of the Médaillés de la relève competition, initiated by PwC. The success of their hybrid takeover may inspire other family businesses to do the same!
A FEW FIGURES
67 employees
50-50 gender parity in almost all departments
20 million dollars in sales
8,500 compressed air products available
LEARN MORE
Visit Topring's website to learn more about the Granby-based company.