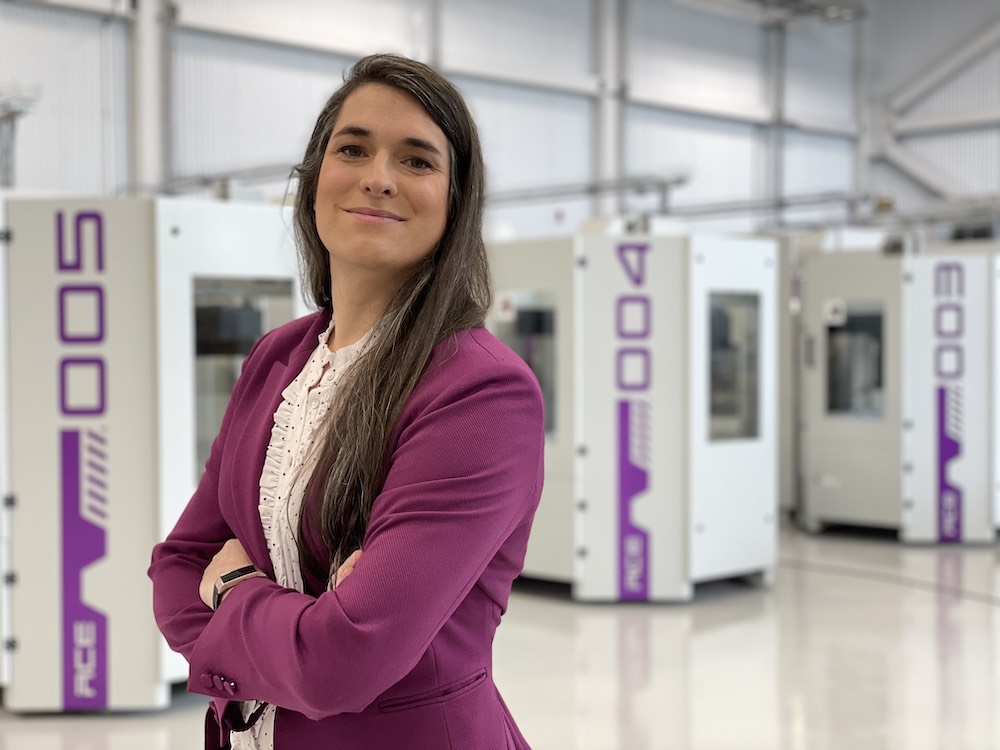 Panthera Dental: Fostering Diversity and Innovation in Business
Béatrice Robichaud's story
Wednesday, March 30, 2022
Since 2012, Panthera Dental has been designing and manufacturing state-of-the-art technology for dental restorations, cranio-maxillofacial surgeries and the treatment of sleep apnea. The innovation-driven manufacturer was co-founded by Béatrice Robichaud and her brother Gabriel.
Located in the heart of the Capitale-Nationale, in Quebec City, Panthera Dental boasts an impressive 40,000-square-foot factory. In fact, it is one of the most technologically advanced dental centres in North America.
GETTING A TASTE FOR HIGH-TECH
They say that the apple doesn't fall far from the tree and the birth of Panthera Dental is proof enough. Béatrice and Gabriel's father, Jean Robichaud, is a seasoned businessman and a dental technician. "At Christmas dinner, it's all business talk. It's a true passion of ours!"
Even though Béatrice and her brother grew up in the industry, the businesswoman promised herself she would never work in the dental field. It was the technology that got her interested.
"Medicine is often inspired by the innovations introduced by the dental industry, because it is the most technologically advanced."
MANUFACTURER 4.0
For Béatrice, the best example of technological advancement in her sector is 3D printing. "The dental industry continues to push the boundaries of 3D printing, even today."
Indeed, Panthera Dental's field of work has been robotized and computerized over the past decades, mainly because of a lack of skilled labour.
"Our customers, dentists or even doctors in hospitals, need our computerized solutions to quickly get their hands on products which require fewer adjustments, but that are still custom-made for the people in need of treatment."
As proof of their excellence in state-of-the-art technology, Panthera Dental is among the finalists of the 42nd edition of Les Mercuriades 2022 competition in the "Innovative Manufacturer" and "Increased Productivity" categories.
DIVERSITY: A DRIVER FOR CREATIVITY
Innovation isn't just about robots! First and foremost, it lies in the hands of the individuals who make up Panthera Dental's diverse team. "As soon as a company is open to ideas, they become an asset for the company and they monetize themselves."
"When faced with a problem, a person who thinks differently from you and who is willing to challenge you will bring a new perspective for problem solving," Béatrice explains.
"Many of our inventions have come to fruition thanks to diverse teams. My brother and I share this openness to help young companies that are starting out in business."
AN INSPIRATION FOR THE LGBTQ+ COMMUNITY
Béatrice, for whom an involvement in the business industry is of great importance, does not hesitate to share her vision and experience on the matter of diversity. As a trans businesswoman, she is an inspiration to the LGBTQ+ community as a whole.
As a matter of fact, Béatrice received the prestigious "Relève, femme d'exception" award at the 41st Les Mercuriades 2021 gala. She was the first transgender women to be granted this honour.
"For me, and for my community, it is a beautiful mark of recognition that shows that we have our place in society."
A FEW FIGURES
100: the number of employees
35: the number of patents and industrial designs developed by Panthera Dental in recent years
100%: the percentage of Quebec-based production
3,000: the number of Panthera Dental customers in more than 30 countries
WANT TO LEARN MORE?
Browse Panthera Dental's website to learn more about their state-of-the-art dental technology.