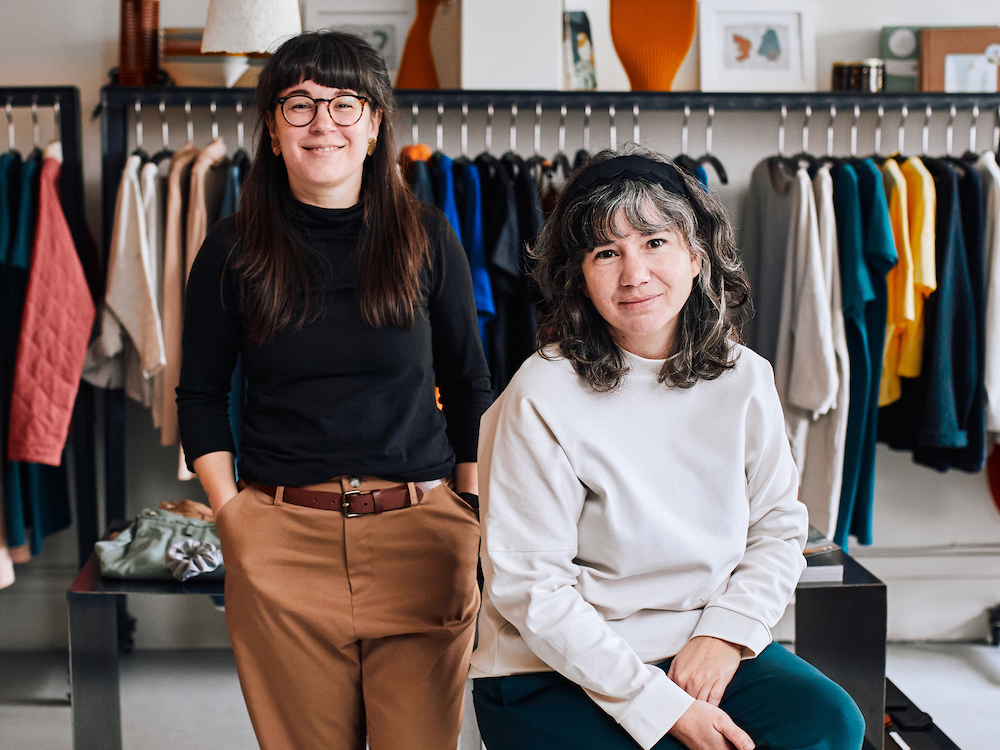 atelier b: Weaving a Success Story Through Sustainable and Inclusive Fashion
Anne-Marie Laflamme and Catherine Métivier's Story
Anne-Marie Laflamme and Catherine Métivier can be found on the first floor of a century-old building in the Mile-End, in a workshop-boutique with a rich history. Since 2009, the two friends and owners of the brand atelier b have been designing sustainable clothing for women, men and children alongside their team.
Ever since the creation of their project, Anne-Marie and Catherine have favored natural fibres and timeless silhouettes, while valuing body diversity and responsible fashion.
A WORKSHOP-BOUTIQUE FOCUSED ON GROWTH
The story of atelier b is first and foremost a tale of friendship that began when Anne-Marie and Catherine were studying fashion design at Cégep Marie-Victorin. "We started doing our homework together and quickly realized that we were complementary," says Anne-Marie.
Things happened quite quickly for this duo of designers. A first article in a Montreal magazine put their style on the map. The phone was ringing off the hook. "We started sewing small productions, selling in public markets and distributing in a few retailers in 2009," recalls Catherine.
The second— and certainly the most important—milestone for the company was the opening of their workshop-boutique two years later.
"Opening the storefront was a big step in our growth. Even though the store was quite small, it had a major impact on us, our business's structure and our sales' growth," explains Anne-Marie.
A GARMENT COLLECTION PROGRAM TO LEAVE NOTHING BEHIND
The scourge of unsold clothing is a source of concern for the duo. Anne-Marie admits to having nightmares of being drowned under the clothes designed by atelier b over the years.
Since then, several solutions have been implemented to make the brand responsible for the entire life cycle of its products. Collections are now available for pre-order to avoid overproduction. A new collection program also allows customers to bring back atelier b clothing they no longer intend to wear.
Items that are in good condition are sold at a reduced price, while the remaining pieces are donated to organizations that help women, or are integrated into the company's circular economy project.
WEAVING INNOVATION AND CIRCULAR ECONOMY INTO THE SAME CORPORATE FABRIC
Despite their best efforts to optimize the use of raw materials, Anne-Marie and Catherine had to send one to two tons of scrap to landfills every year. The entrepreneurs came up with the idea of pulverizing this surplus of fabric to make new material and utilitarian objects.
"We went through a whole research and development process to test the compact material, similar to compressed wood, but made with textile fibres," recalls Anne-Marie. "We are now working with a laboratory in Trois-Rivières to find out how to industrialize the process and to produce a series of objects designed in the same spirit as our clothing, with the same aesthetic, utilitarian and sustainable development values."
DEVOTING TIME TO RESEARCH AND CREATIVITY
According to Anne-Marie, a company must devote time to innovation and research to remain relevant. Otherwise, operations management and the urgency of daily life take over.
"You have to have the patience and long-term vision to accomplish large-scale projects. It's important to have research protocols to leave room for innovation and creativity," adds Anne-Marie.
The company has taken the time in the last year to publish a book celebrating its workshop-boutique's tenth anniversary, and, this summer, they will introduce the size 5X.
Their next challenge? "To make the brand even more inclusive for people with reduced mobility," Catherine answers. "That means creating wheelchair access to the boutique and allowing for customization of our clothing and single piece orders for people with limitations," concludes Anne-Marie.
A FEW FIGURES
13 years since the brand's creation
8 employees
100% of their garments are produced in Quebec
45% of their revenue goes to creating local employment opportunitie
2 tons of recycled fibres each year
WANT TO LEARN MORE?
Browse atelier b's website to discover their clothing for women, men and children, as well as their selection of home objects and their sewing lessons.
Photo credit: Myriam Baril-Tessier