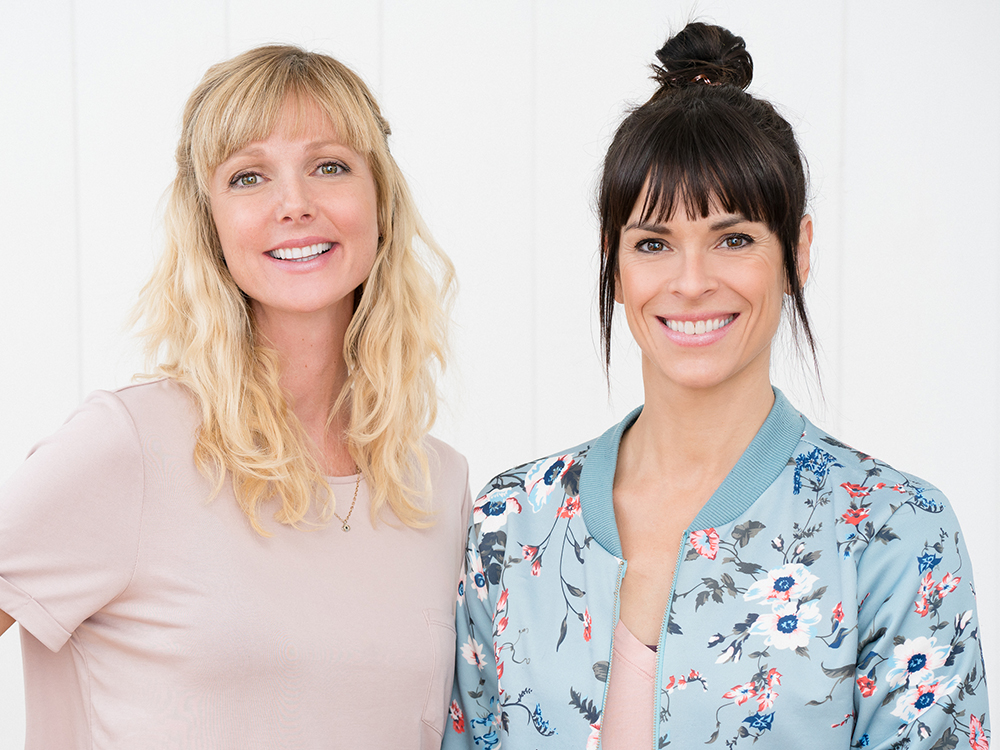 Rose Buddha: Dressing for success
Madeleine Arcand's Story
Madeleine Arcand and Maxime Morin were good friends working in the communications and theatre sectors before they launched a business making environmentally friendly clothing and accessories. Today they're fulfilling their dream of creating a company that exists in harmony with their values and encompasses their love of yoga and meditation.
The moment of realization
The pair's interest in starting a company began once they had children. It was a time when they both had become involved in yoga and meditation and felt the need to get involved in a project that would be more in line with "what [they] really cared about, that corresponded with [their] deepest values and what [they] wanted to invest time and energy in." Without yet knowing in concrete terms what the company would be about, the women decided the project would have a significant environmental and human aspect. 
During a trip to Bali, Arcand just happened to notice a pair of yoga leggings featuring a colourful design. Intrigued by the technique for applying this type of print, she learned that it was possible to apply designs to recycled polyester fabric—a material produced using plastic bottles—using a method called sublimation, an eco-friendly process. "When we found that out, Maxime and I flipped out," explains Arcand. 
The legging concept
Deciding to create their own leggings, the founders bought 200 metres of recycled polyester and hunted down people within their network of acquaintances that could help them turn their idea into a reality. Through recommendations, they found a specialist in making clothing from stretch fabrics, a pattern maker and a seamstress to create their first pair of leggings. 
The young entrepreneurs then slowly set about finding local suppliers and battled to keep production within Quebec. They won, and this figures amongst Rose Buddha's greatest accomplishments: All their resources, from creation through to warehousing, are paid a fair price for their labour and are therefore respected for the work they do. 
Their first leggings were for sale by the end of November 2016. "When we started with our first batch of 200 leggings, we thought we'd end up wearing them for the rest of our lives and giving a lot away. But after an article appeared in La Press +, we sold all our leggings in just one day. That's how it started. Then we produced 400 more and they were all sold in a month."
One thing leads to another
After this initial success, the entrepreneurs evolved their brand and product line. Rose Buddha now offers, in addition to classic reversible leggings, winter leggings with leg warmers made in Montreal from organic bamboo and merino wool, tops, jewellery (made out of scrap fabric), children's leggings and maternity and gym bags of pineapple leather. 
At the start of 2018, Rose Buddha launched an eponymously named meditation app, a first for the company. At $3.99, the app wasn't created to generate profits, but because its creators "wanted Rose Buddha to be about not just products, but a way of seeing life." 
In the same vein, the company developed yoga and meditation workshops and retreats, which led to the opening, in February 2019, of its first yoga studio and boutique in Montreal's Hochelaga-Maisonneuve neighbourhood.
Personal and professional growth
Because of the company's rapid growth, the co-founders have had to put a lot of work into structuring and needed to call in the right resources so they could concentrate on Rose Buddha's expansion. "We found that growth was the biggest challenge," explains Arcand. "Until recently, I was handling parcel shipping. But I understand now that you need to delegate, because that's how you'll accomplish growth." 
The company attained $150,000 in sales in its first year. After two years, this figure increased to $1 million. While the increase is impressive, it was also necessary, since the company's profit margins are slim given its very high production costs. This means Rose Buddha's viability is achieved through sales volume. To this end, the co-founders will be focusing on marketing their new products in the coming months, including pants, long-sleeved sweaters and fleece hoodies, and on targeting new markets in Canada. Growth can also be attained so long as the company's co-founders remember to remain unconstrained and surrounded by a good team. "We don't aim to be huge. We'd rather be happy and surrounded by other people that are happy too."
In Arcand's eyes, success has many dimensions. Not only have the leggings they've produced given new life to almost 100,000 bottles to date and enabled them to plant many trees (the company promises to plant one tree for every purchase), but they've allowed them to support the work of local craftspeople. "We count ourselves lucky to have entered the market at the right moment and responded to consumer needs locally, sustainably and ethically, while providing a way for the works of Canadian illustrators to be displayed."
Rose Buddha in Numbers
83%: Plastic bottle composition of one pair of leggings

10: Number of bottles recycled per pair of pants
566%: Sales revenue increase in the past year
 
WANT TO LEARN MORE?
Visit Rose Buddha's website

Pictured (from left to right): Maxime Morin et Madeleine Arcand