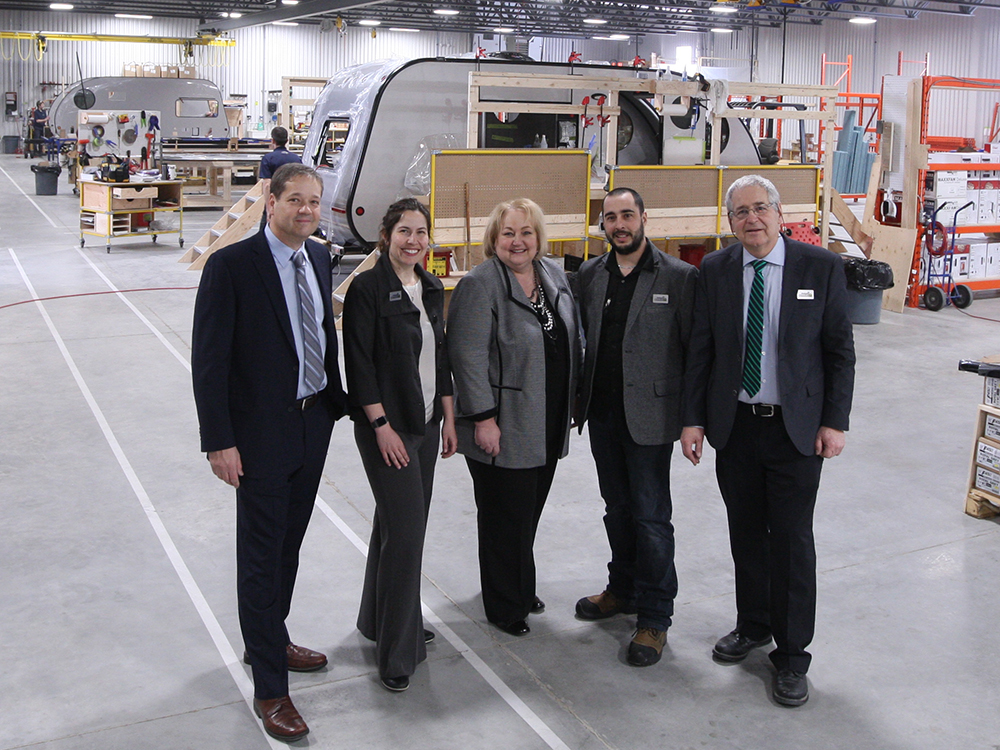 Safari Condo: The great outdoors in an RV
Daniel Nadeau's Story
After deciding to specialize in the creation of small recreational vehicles, Daniel Nadeau created a whole new community of consumers that gets bigger with each passing year.
Daniel Nadeau clearly remembers his first camping trip with his parents in Maine when he was five. As a young boy from Beauce born into a family of entrepreneurs—his father owned an electronics store—camping had been a heartfelt passion from a very young age. But one day, around the end of the 90s, the transmission on his Volkswagen Westphalia broke down, threatening to ruin the last leg of his vacation in the U.S. Disappointed by the lack of support he received from the German company, he swore he would never use the vehicle again. "When I got back, I decided to create my own recreational vehicle with a retractable roof out of a GMC Safari chassis," explains Nadeau. "I had no idea I'd just landed on the idea that would launch my entrepreneurial career."
H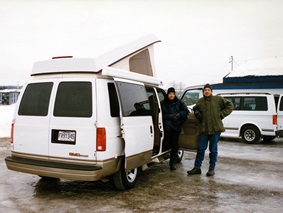 e presented his first model in March of 1998 at his local GM dealer, then a few weeks later at the Montreal and Quebec City RV Shows. That was all it took to attract a crowd of camping fans who placed their orders for vehicles. Nadeau's company, first named Par Nado, then later Safari Condo starting in 2003, specializes in the creation of small recreational vehicles that are versatile as well as economical in terms of fuel. Over the years, Safari Condo has added other vehicle lines based on GM, Mercedes and Dodge models to its offering. The team has also developed a lightweight trailer concept, called the Alto, which was launched in 2007. Today Safari Condo vehicles can be found on roads around the world, from the polar circles to Fire Island.
Satisfying business demands and anticipating growth
Nadeau has never been afraid to take on risk to achieve his objectives. "You need to be able to keep pushing forward with your head down, and to know how to convince other people of your idea's potential," he states. In 1998, he faced a sizeable challenge: It wasn't easy at the time to find suppliers and obtain financing from banks to develop recreational vehicles. He could, however, count on the support of his brother, Stéphane Nadeau, as his investment partner and marketing director.
Crucial help also came in the form of a business mentor: Lucien Barbeau, a retired former owner of the company CampWagon. "We were able to learn to use the language of finance and to foresee our various phases of expansion, dreaming of moving to a bigger space before even the paint had dried on our latest building," explains the entrepreneur. While the company's first models were built in Nadeau's backyard, he soon moved to a factory in Vallée-Jonction. And less than one year later, he found the perfect location that would enable the company to fulfill demand for its products. All their hard work soon paid off in an avalanche of awards: the Desjardins Mérite commercial award and the Perséides trophy for technology and innovation in 2004, the Sustainable Development prize at the CLD Robert-Cliche Soirée des Sommets in 2015, and Business of the Year at the same event in 2017.
Listening to your customers to create a close-knit community
Safari Condo is a family business: In addition to his brother Stéphane, Johanne Nadeau, Daniel's sister, joined the team as sales director in 1999, and Daniel's daughter, Dominique Nadeau, became general manager in 2015. His employees include mothers and their sons, brothers and even couples working side by side. "We've always made everything ourselves because our strong relationships bring us together," says Nadeau.
The same idea lies at the heart of Safari Condo and its relationship to its customers. "In the first few years, we knew every customer individually. Some of them even became close friends," explains Nadeau. Every year, the company organizes meet-ups where customers can share their love of camping trips. Through these sessions they can learn more and trade suggestions on the best places to visit, whether it's in Alaska, Louisiana or James Bay. "Being attentive to the needs of customers who have placed their trust in us is fundamental. And it enables us to keep doing better and working harder."
The company has undergone several major changes in the last three years, including in particular the inauguration of a new manufacturing plant of over 26,000 square feet in Saint-Frédéric in 2017, to reduce wait times and delivery of new vehicles. Today, Safari Condo has a presence in the provinces of Quebec, Ontario and British Columbia, as well as in the U.S. and Australia. "Building your own business means you have a lot of work ahead of you, and you have to be ready to invest time, energy and money to achieve your dream," concludes Nadeau.
"You need to keep your passion alive, which is why we've continued to grow for more than 21 years."
Daniel Nadeau
Safari Condo in Numbers
38: Number of recreational vehicles produced during the first year of business, while the company's initial business plan provided for the production of 13 vehicles
170: Number of employees at Safari Condo
Want to learn more?
Visit Safari Condo's website