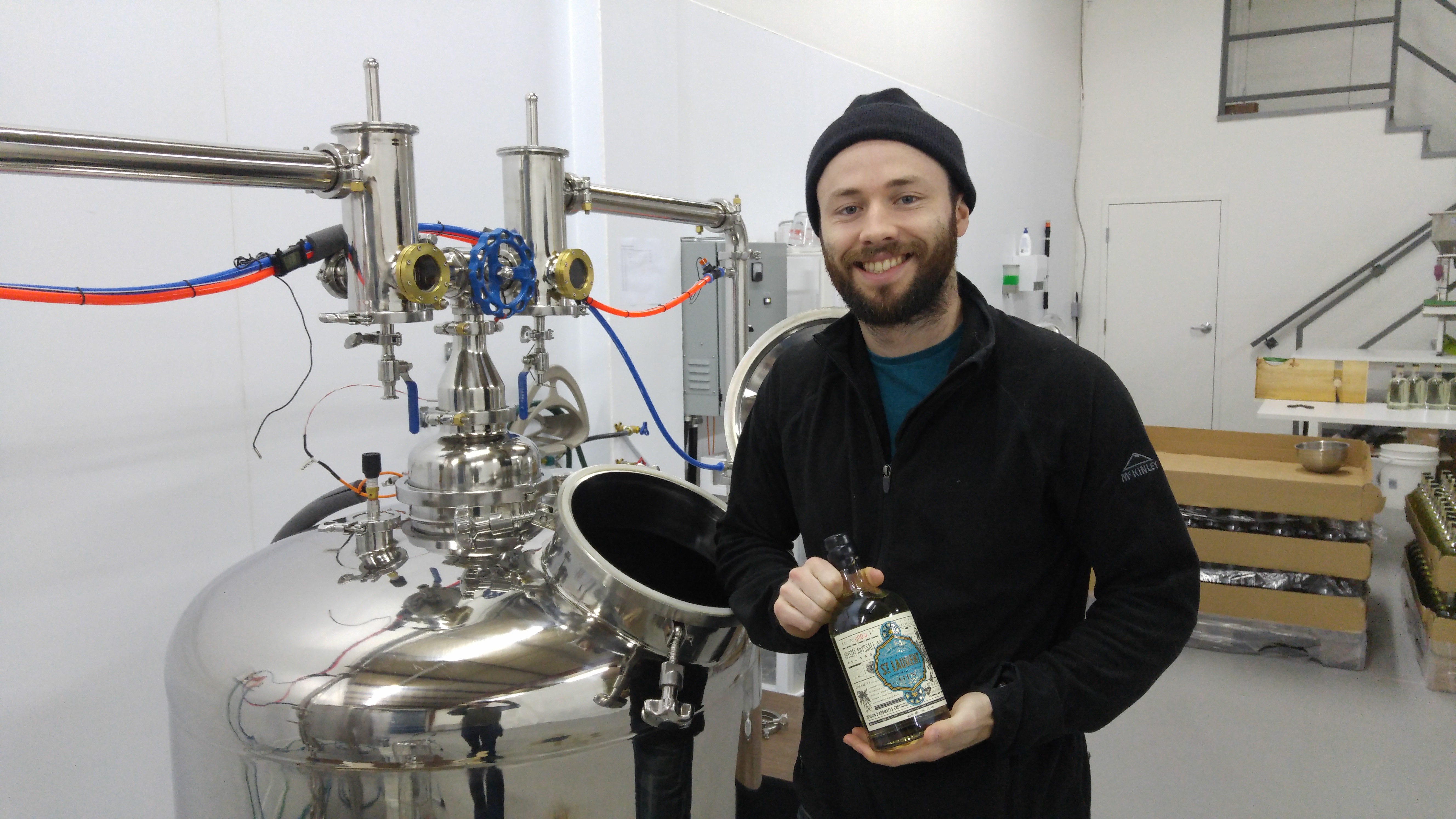 Seaweed and fresh water – the story of two determined entrepreneurs
Two Bas-St-Laurent entrepreneurs's Story
Thursday, October 20, 2016
Content presented by
Two entrepreneurs from Bas St-Laurent share with us how they successfully financed their first project and went into business. Their unfailing perseverance enabled them to quit their respective jobs to dedicate themselves entirely to developing their business. 
"Initially we wanted to produce whisky," says Pelletier. This production requires 3 main ingredients: barley, fresh water and yeast. "Our region, the Lower St. Lawrence, is the biggest producer of barley in Quebec. We've also got lots of fresh water! All that was missing was a still and expertise, which we're still developing."

In the meantime, Joël Pelletier and Jean-François Cloutier launched Gin St. Laurent: gin infused with Laminaria Longicruris, a locally hand-harvested seaweed that grows in the St. Lawrence River. The gin, which doesn't have to be aged as long as whisky, allowed them to make a name (and a living) for themselves, before moving on phase 2 of their venture--whisky. 
Double or nothing
The young entrepreneurs faced many challenges, and had to do double or nothing. They had to get two licenses from the federal government, and another from the provincial government to produce their spirits. And to get those licenses, they needed the necessary facilities and equipment first. "When we were approaching possible financing partners, saying that we wanted to distill spirits, we weren't taken very seriously," recalls  Pelletier with a smile. "We had to prove that we were good enough to interest the SAQ, the only potential avenue for a business like ours. But that challenge was motivation in itself!" he says.

In the beginning, the only thing the 2 intrepid entrepreneurs had was their own savings and "love money" from family and friends. "We were like cow-boys!" says Pelletier. "Fortunately, Desjardins showed confidence in us by giving us a small line of credit. That saved us at a key point in our venture, when we really needed the cash."

And then, they got a small loan from the community credit organization Réseau Accès Crédit (RAC), a partner of the Desjardins caisses in the Desjardins Microcredit to Businesses program. "They really got on board right from the start, even though our venture involved lots of challenges and risks. We definitely wouldn't have been able to launch without their confidence and financial support," says Pelletier.
Want to know more?
Read the full article on Desjardins' website