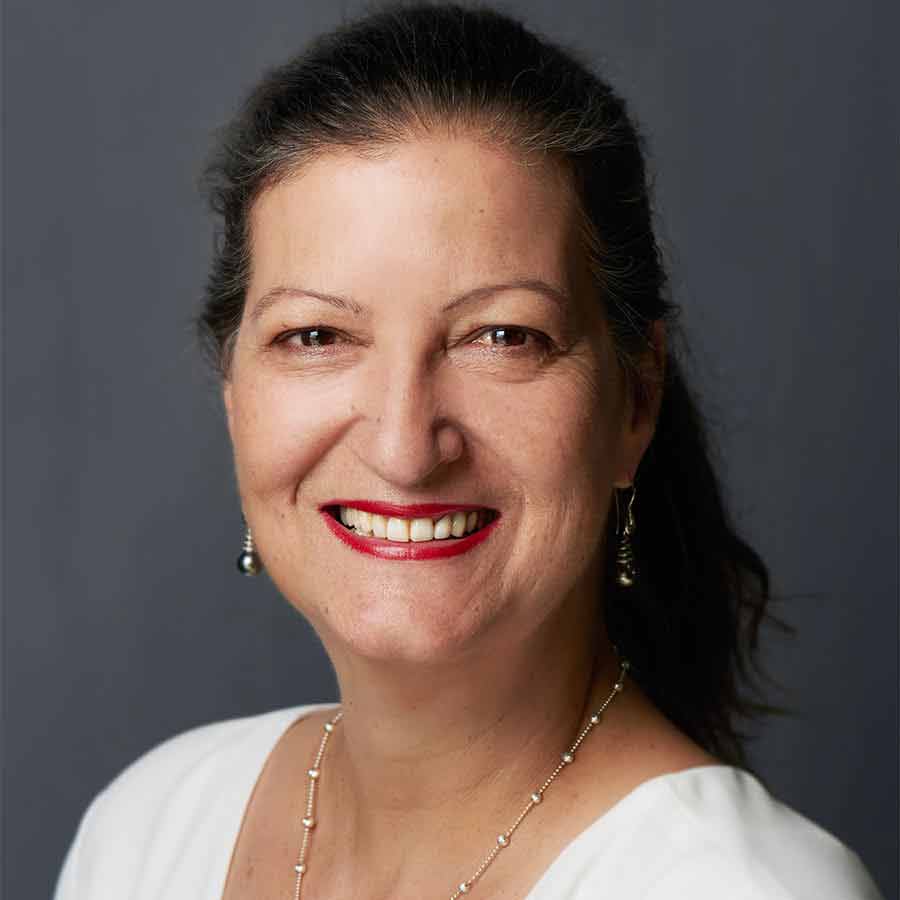 Setting the scene for your success
Hélène Demers's Story
Friday, February 16, 2018
Hélène Demers turned her passion for theatre first into a job, then into a business. Today, Scène Éthique, the company she founded with spouse Martin Ouellet, is expanding across the globe.
Hélène Demers's passion for the entertainment industry started in a theatre in Val d'Or, in Abitibi. At the time, the young 20-something worked as part of a team of technicians setting up stage sets and loading trucks. "We hosted around forty touring shows a year," she recalls. "That's how I spent my evenings and weekends, since I worked as a special education community worker during the day." But after two-and-a-half years of evenings and weekends only, she found her side gig so compelling that she decided to make it her full-time job.
She ended up being promoted to technical director for the theatre, then later started a career working on contract as a stage tech, helping out with touring companies as opportunities arose. That was when she met Martin Ouellet, who would eventually become her spouse, the father of her four children and her business partner.
"In our thirties we came up with the idea of starting our own business after noticing how hard it was to age well in the entertainment industry as a freelancer. There's always someone younger and more creative that might replace you."
Hélène Demers
Thus Scène Éthique, a human resources agency for theatre, was born in 1988. 
See also: Five tips for turning your passion into a business
Serving creators
The company's beginnings were difficult. The services it offered were so niche it was hard for Demers and her partner to receive financing. It took quite a few years for them to build their credibility. "Our first line of credit came from Martin's mother, who had to take out a mortgage on her house to provide it," explains Demers. In 1995, Scène Éthique changed its mission and became a workshop for the creation and fabrication of stage sets and infrastructure. "Martin is a natural handyman. He understands what sets are and how to improve them," she asserts. "We built our business on this strength."
Their first big contract, the 1998 World Expo in Lisbon, pushed their business to the forefront. "We were still young parents at the time," recalls the mother of four. "It was a big relief to see our bet pay off. As opposed to what you might think, family is actually a big motivator and pushes you to go beyond your limits."
After that first big break, contracts started coming in more regularly and continue to this day. Today the SME based in Varennes, Quebec, is growing internationally through prestigious contracts with Cirque du Soleil, Robert Lepage and Céline Dion. Most notably, they were responsible for the 45-tonne machine which served as the mobile set for the Met's four Wagner "Ring cycle" operas. Closer to home, the lampposts on Cartier Street in Quebec City were created by Scène Éthique, as was the roof of Wendake's new outdoor amphitheatre.
Despite their impressive list of accomplishments, 90% of which were seen outside of Quebec, the Scène Éthique co-founders intend to stay focused on what's most important: pushing the limits of what is considered possible, no matter who the client is. "We make it a point of pride to always exceed our clients' expectations," states Demers. 
The next generation
At 55, the couple are aware that it will soon be time to pass on the torch to the next generation. For the past seven years they have been planning Scène Éthique's business transfer and have identified two possible future owners: Alexandre Couillard, the current director of the art department, and Guillaume Chayer, their director of operations. "Both have worked with us for several years. We need to start the transfer this year," Demers emphasizes.
Although one of their children, who is 24, currently works for the company, there are no plans to entrust him with its leadership for the time being. "He could be included as part of management during a second wave of share capital, but only if he's interested of course. We've never forced the business onto our children. Scène Éthique was our dream, not theirs," Demers concludes.
Scène Éthique in Numbers
63: Number of employees
$8 million: Sales revenue in 2017
45,000: Size in square feet of Scène Éthique installations
$2.4 million: Investment to increase the size of installations to 12,500 square feet in 2018
Want to learn more?
Visit Scène Éthique's website